Exmouth is a beautiful coastal town located in the northern end of Western Australia, a part of the Coral Coast. You may recognise Exmouth as the gateway to Ningaloo Reef, a Western Australian iconic gem or for its other natural landmarks such as Cape Range National Park. No matter where your interests lie, we're sure there's something for the whole family to enjoy on your upcoming Perth to Exmouth family caravan trip. The Perth to Exmouth drive takes approximately 13 hours straight. However, with so many iconic Western Australian landmarks along the journey, you'll want to make a few stops. That's why we've put together this guide to help you plan your Perth to Exmouth road trip each and every stop along the way!
Perth to Geraldton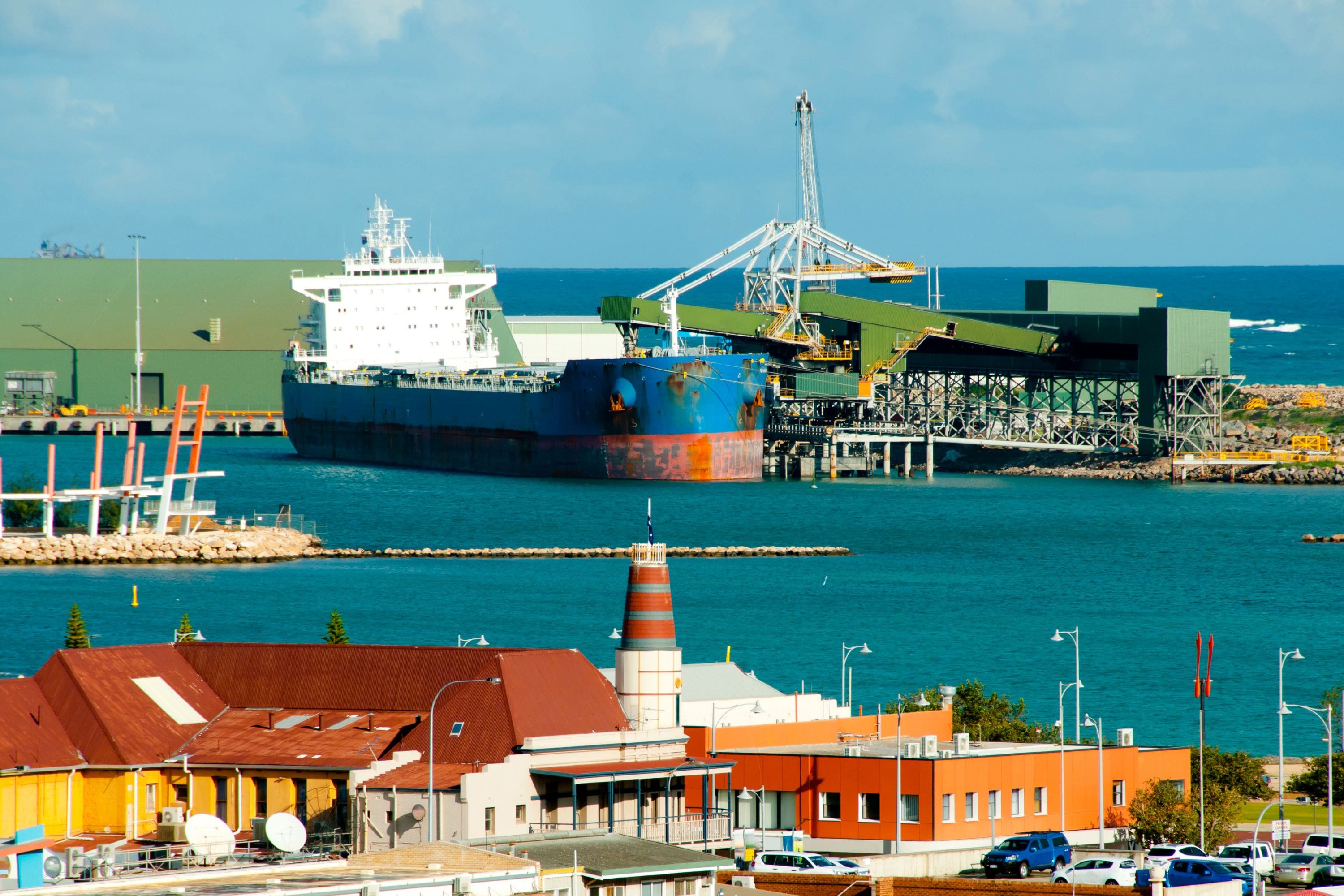 The drive from Perth to Geraldton can take between 4-5 hours making it an ideal town to stop off at on your journey from Perth to Exmouth. This mid-west beachside town is known for its beautiful beaches, historic attractions and laid-back vibes. If you are after a quick stopover, a one-night stay in your caravan should suffice. However, if you've got a little extra time on your hands, you could easily extend your stay in Geraldton to a couple of days! Here are some items you can add to your itinerary:
Museum of Geraldton
Whether you're a history buff or just want to learn a little bit more about Geraldton, the Museum of Geraldton should be your go-to! The museum overlooks the Indian Ocean and is the place to discover ancient landforms, Yamahi history and Geraldton's marine environment. You have the option to explore the artefacts yourself or join a guided tour.
Town Beach
All coastal towns in Western Australia are known for their beautiful beaches. Town Beach is a calm protected beach that is perfect for taking the kids for a swim. There's also a large grassed area for you to enjoy a picnic by the beach or a general stroll along the water.
Abrolhos Islands
Nature lovers, this one's for you. The Abrolhos Islands are often described as the Galapagos Islands of Western Australia. The islands are a marine national park and have a variety of activities for everyone including fishing, snorkelling, wildlife and marine life spotting and more! The Abrolhos Islands are located about 60km west of Geraldton and can be accessed by a ferry, flight or charter boat. There's no accommodation on the islands so it's an ideal spot for a day trip. If that's not enough, you can book a short cruise around the islands with cabin accommodation.
Where to stay in Geraldton
Geraldton Belair Gardens Caravan Park
BIG4 Sunset Beach Holiday Park
Geraldton Caravan Park
Geraldton to Kalbarri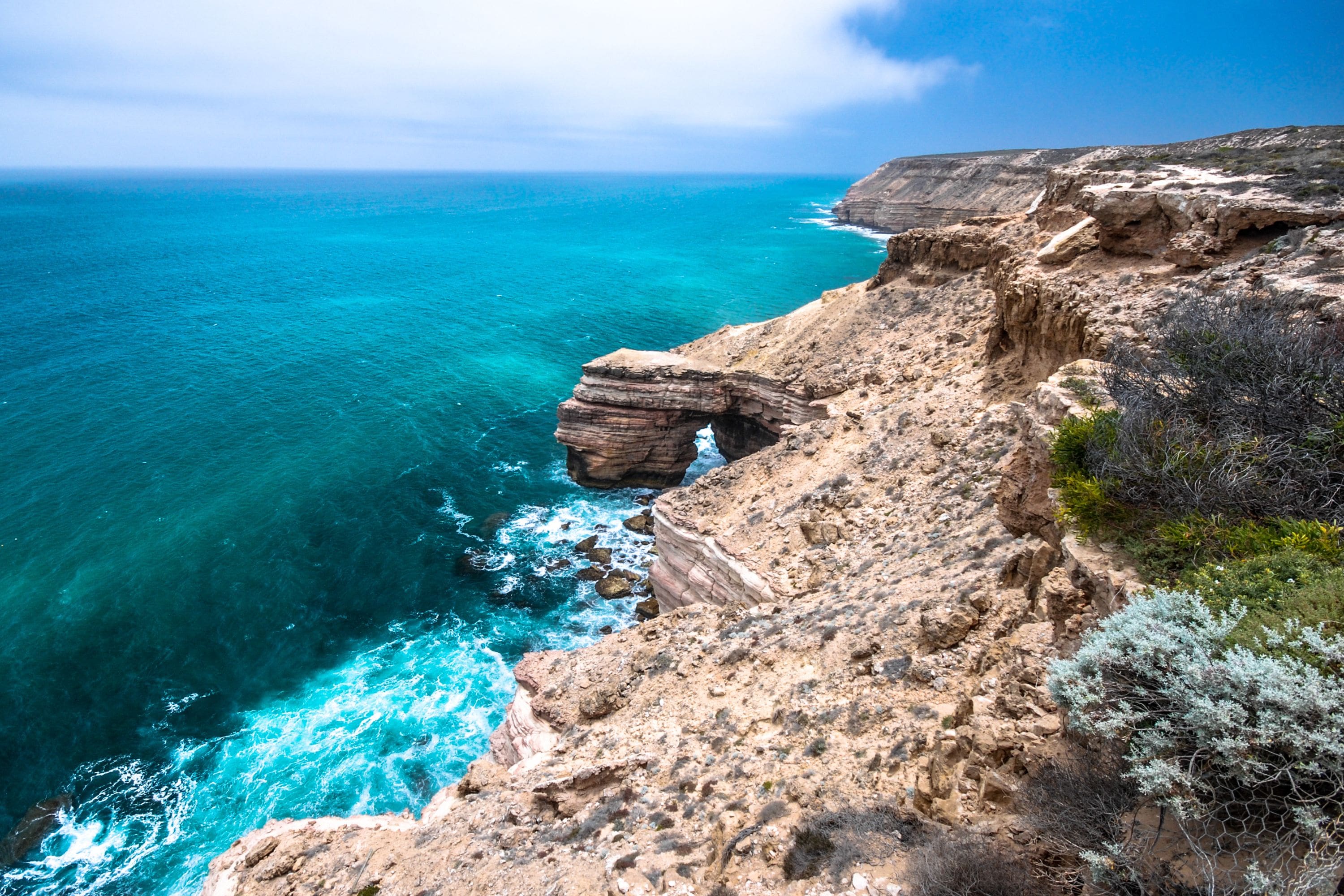 Once you've spent enough time in Geraldton, it's time to continue on your Exmouth road trip towards Kalbarri. The drive from Geraldton to Kalbarri is just under two hours. The main attraction here is Kalbarri National Park which is home to Nature's Window (Kalbarri's natural rock arch) and a variety of other spectacular sights. 1 or 2 days should be enough time to spend in Kalbarri however, If you're considering taking some extra time off for this road trip, you may want to also check out our Perth to Kalbarri road trip itinerary guide for some added destinations you can check out along the way!
Kalbarri National Park
No road trip to Kalbarri is complete without exploring Kalbarri National Park. The national park offers scenic hiking trails and camping opportunities. Kalbarri National Park is also home to a variety of well-known Kalbarri attractions including the Murchison River, Pot Alley, the Natural Bridge and more.
Port Gregory's Pink Lake
Within 30 minutes of Kalbarri is the bubblegum pink lake of Port Gregory. Where does the pink appearance of the pink lake come from? The lake gives off a pink colour due to its high level of salinity. It's a spectacular sight, to see the pink lake in all its glory. The best time to visit is on a clear day around mid-morning or sunset.
Scenic Flight Above the Coastal Cliffs
Why not take a scenic flight over the beautiful Australian coast? You'll be able to see kilometres of rugged cliffs and breathtaking views that are otherwise inaccessible. These include an aerial view of the Abrolhos Islands, Kalbarri National Park and more. What better way to experience the stunning sights of Kalbarri National Park than from above? Plus, we hear seeing the pink lake from the sky is the only way!
Where to stay in Kalbarri
Kalbarri Anchorage Caravan Park
Kalbarri Red Bluff Tourist Park
Murchison River Caravan Park
Kalbarri to Shark Bay & Monkey Mia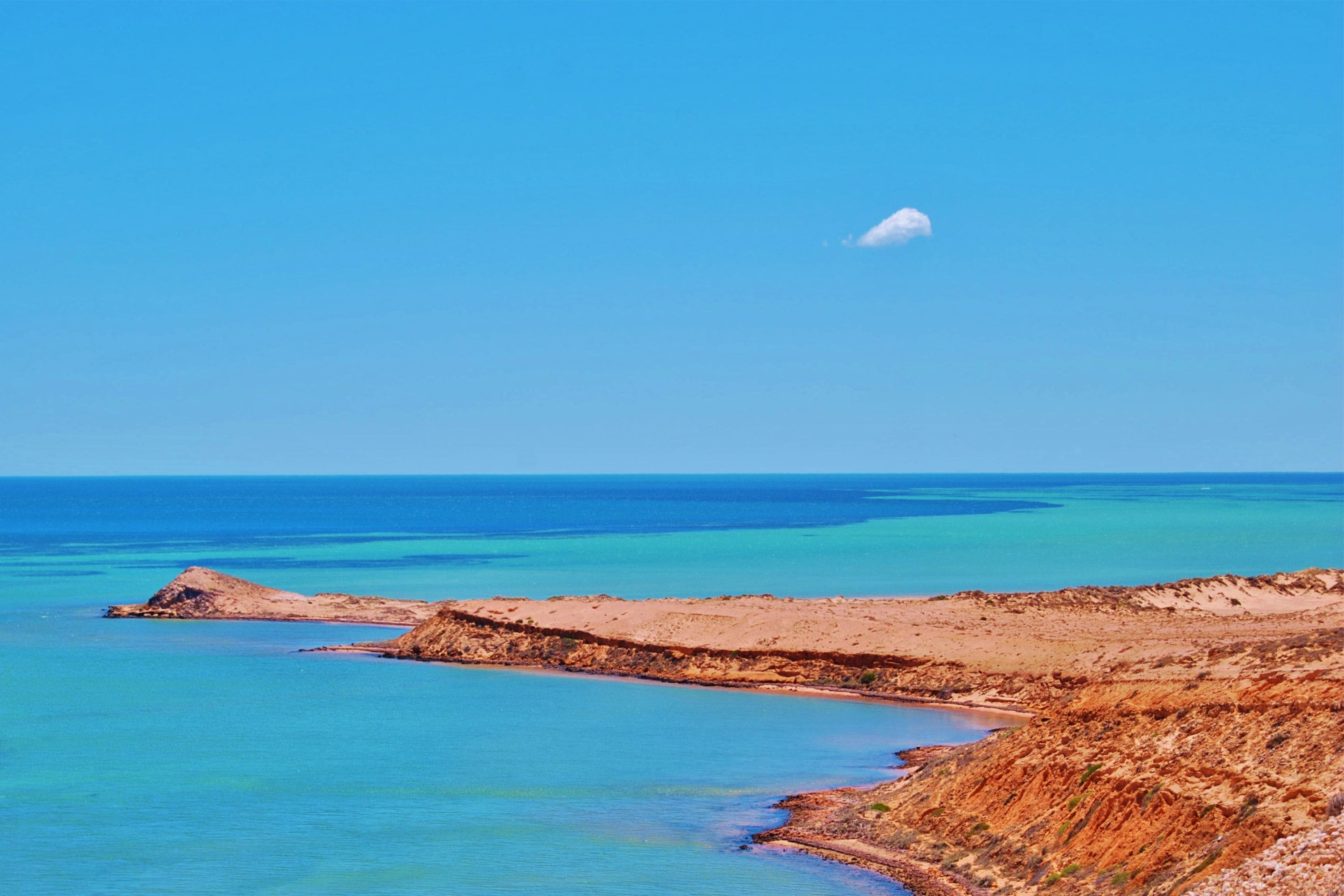 After exploring all the natural wonders of Kalbarri National Park it's time to embark on the next part of your Perth to Exmouth road trip. From Kalbarri, you'll be driving towards Shark Bay, which is approximately 3 hours away. Whilst exploring everything Shark Bay has to offer, you can also take advantage of all the attractions in the nearby Monkey Mia, which is only a short drive away! Some attractions you may want to explore include:
Francois Peron National Park
Francois Peron National Park is where the red desert meets the blue ocean. It's a great place for those looking for an outdoor adventure. The park offers activities such as 4WD safaris, camping, fishing, and bird watching. Visitors can also explore the area on foot or by bike.
Shark Bay World Heritage & Discovery Centre
Road trips are great for learning about the history of each town you visit along the way. The Shark Bay Discovery Centre tells the story of one bay in Australia through its history and significance. From displays to soundscapes, this centre has it all!
Eagle Bluff Lookout
The magnificent, awe-inspiring sights at Eagle Bluff lookout are enough to leave your mouth agape. You can see for miles in every direction and feel like you're standing on top of the world as waves break against rugged rocks offshore. This spot has been named after the osprey or sea eagles which nest on one of many rock islands.
Where to stay in Shark Bay or Monkey Mia
Shark Bay Caravan Park
Denham Seaside Caravan Park
RAC Monkey Mia Dolphin Resort
Shark Bay to Carnarvon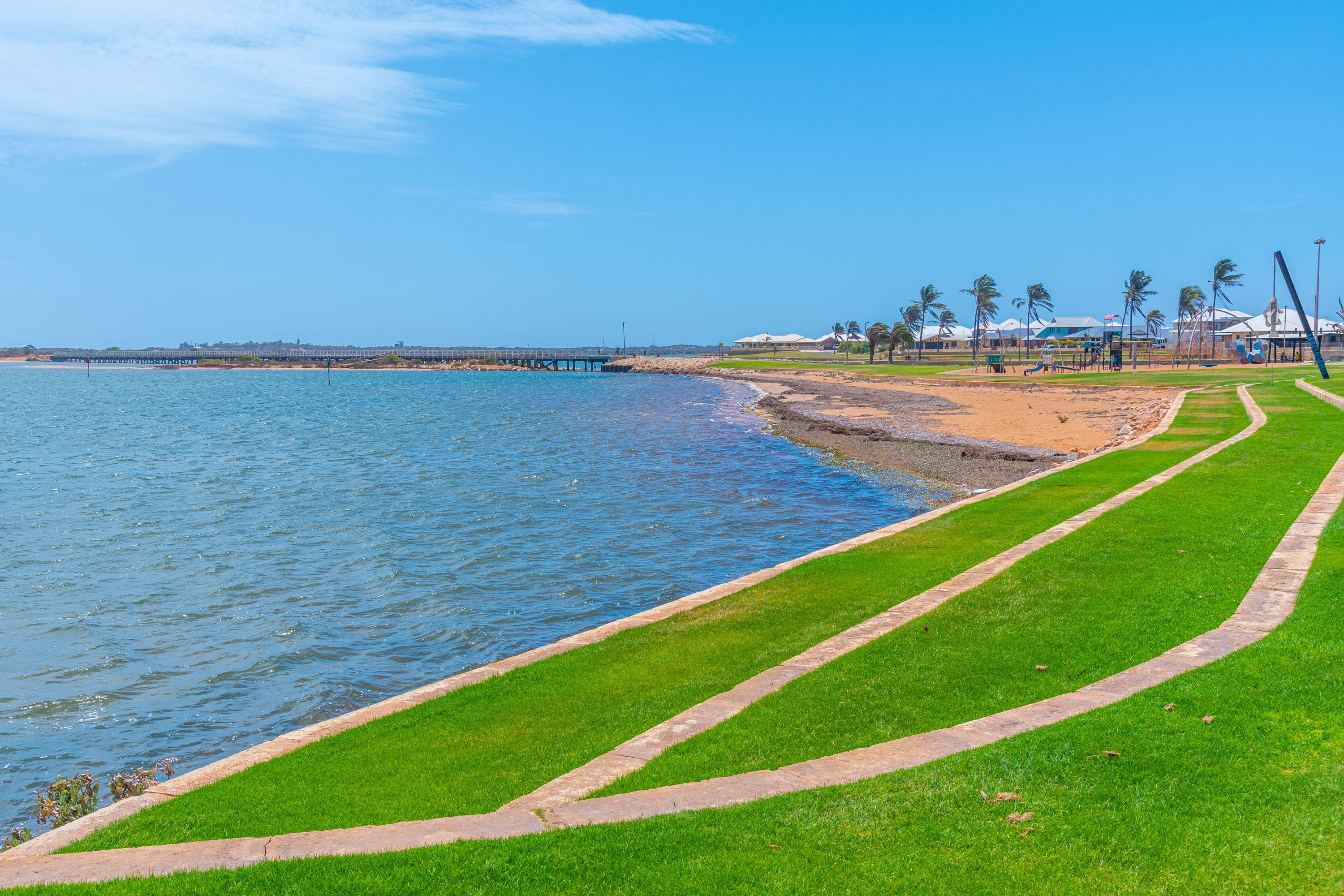 Once you're done exploring everything Shark Bay and Monkey Mia have to offer, it's time to continue on your Perth to Exmouth road trip up to Carnarvon. Carnarvon is approximately 3 hours and 20 minutes along the north west coastal highway making it an ideal place to park up for the night whilst on your Exmouth road trip. You will be hard-pressed to find a place in Northern Western Australia that is more unique and filled with adventure than Carnarvon. From its bustling coastal town life, with all the fresh food you can handle between trips out on your boat or onto larger vessels for exploring new areas of the sea. Plus, did you know? 80% of Western Australia's total fruit crops come from these shores.
Gwoonwardu Mia, Gascoyne Aboriginal Heritage and Cultural Centre
Gwoonwardu Mia is a place that celebrates the rich heritage and culture in Gascoyne. The multipurpose centre contains exhibits about their culture and country, as well as an interactive history lesson on how they were able to survive against all odds in this harsh environment with so few resources available.
One Mile Jetty
No trip to Carnarvon is complete without a visit to the One Mile Jetty, located right in town and filled with history. The jetty was constructed in 1897 and was used to export wool and livestock to Fremantle. It ceased operation by 1966 and now serves as a cultural heritage precinct.
Carnarvon Space and Technology Museum
Celebrate the little-known history of Carnarvon's role in space exploration and Australian satellite communications. Carnarvon Space and Technology Museum offers an experience like no other! You can jump inside a full-size Apollo capsule that will make your heart pound, browse the interactive displays or spend some time exploring space in the planetarium.
Where to stay in Carnarvon
Carnarvon Caravan Park
Outback Oasis Caravan Park
Coral Coast Tourist Park
Carnarvon to Coral Bay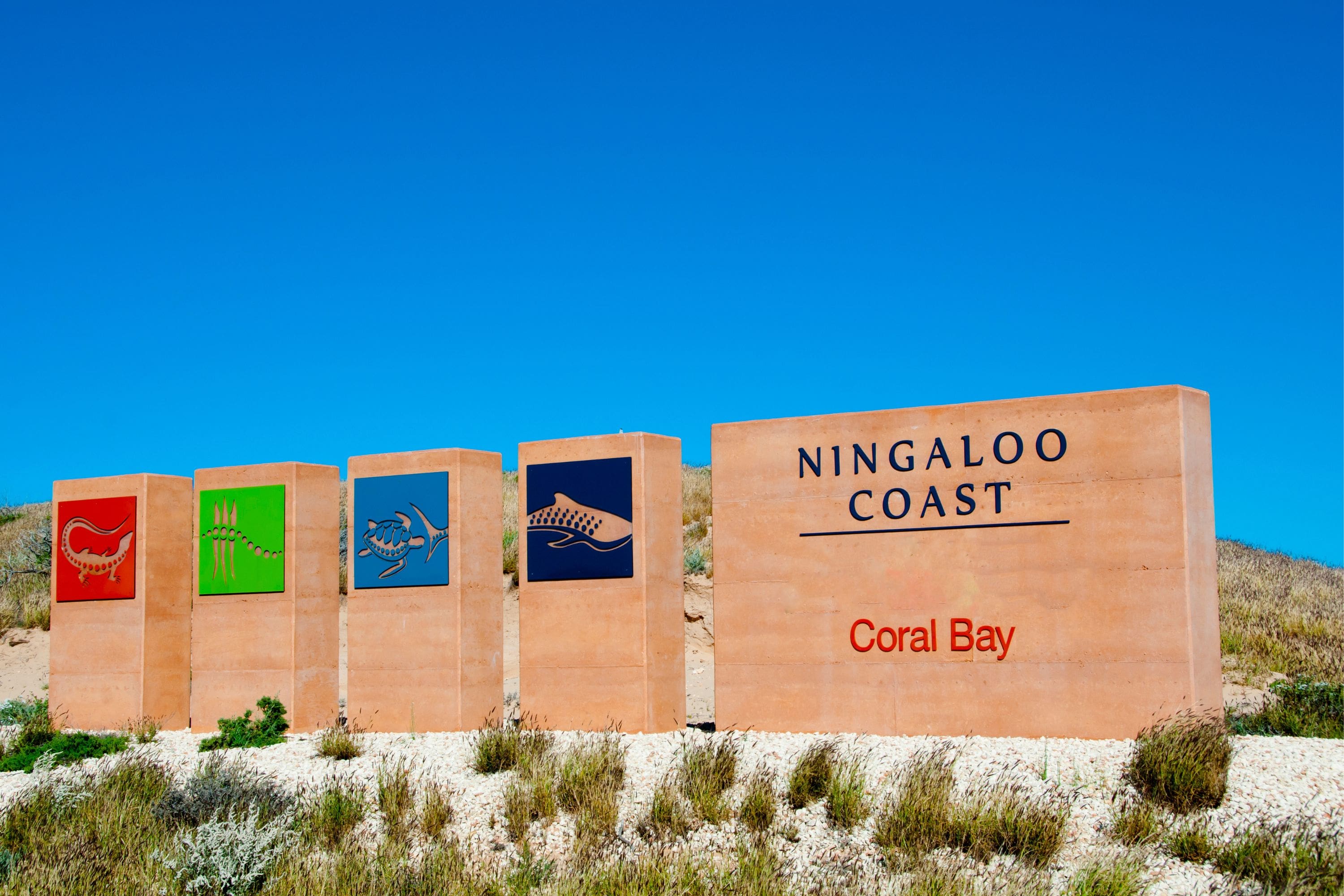 From Carnarvon, you can continue driving for about 2 and a half hours until you reach Coral Bay, a popular landmark along Australia's coral coast. Along this route, you'll find plenty of attractions to break up the drive including Quobba Station, the Blow Holes, Red Bluff and more. However, we're sure you can't wait to get to Coral Bay to explore the beautiful surroundings or even kick back, relax and take in the relaxing vibes of this idyllic small coastal town.
Ningaloo Reef
Coral Bay is a small one-road town but what attracts visitors to the area is Ningaloo Reef. Ningaloo Reef is a UNESCO World Heritage-listed site and offers a variety of attractions. You have the opportunity to swim with the giant sea creatures of Western Australia! On your trip, you can find whale sharks, turtles, manta rays and more. Plus there are plenty more fish that live in this reef ecosystem-great for snorkelling or diving too.
Swim with Whale Sharks
For the adventurers at heart, you have the opportunity to swim with some of nature's greatest giants, the Whale Sharks. Tour operators in Coral Bay operate this once-in-a-lifetime experience from March to July each year. It's your chance to get up close and personal with these incredible species.
Glass Bottom Boat Cruise
The beautiful waters of Coral Bay are a must-see for any visitor to Coral Bay and Ningaloo Reef. Of course, swimming with Whale Sharks is not everyone's cup of tea. With the region's amazing glass bottom boat tours, you will be able to get an up-close look at some spectacular coral gardens without getting up or diving into the water!
Where to stay in Coral Bay
People's Park
Ningaloo Coral Bay – Bayview
Coral Coast Tourist Park
Coral bay to Exmouth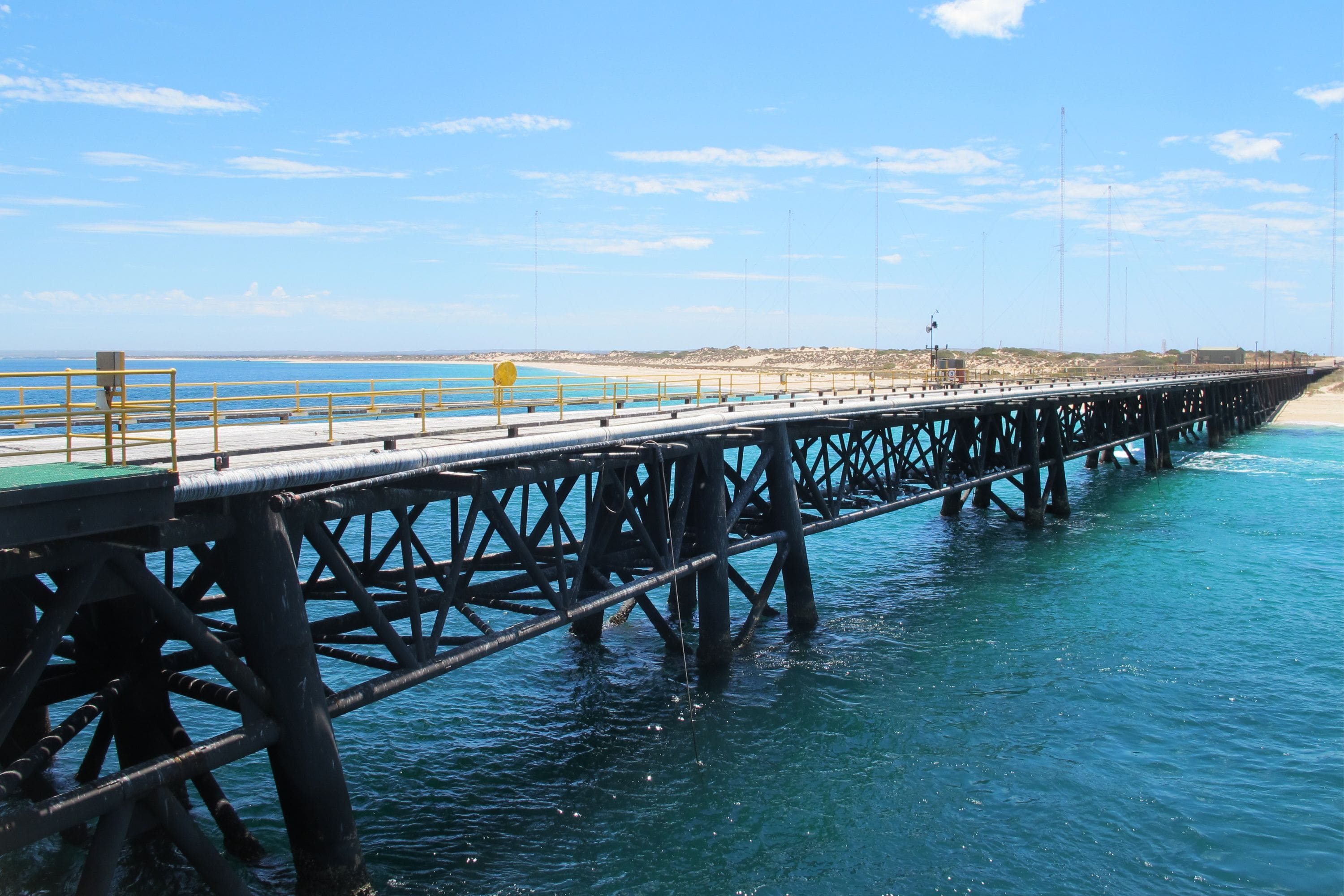 After a couple of days of exploring what nature has to offer in Coral Bay, it's time to embark on the final leg of your Perth to Exmouth road trip. Exmouth is just under 2 hours north of Coral Bay. Whilst Ningaloo Reef expands up to Exmouth from Coral Bay, it also has plenty more on-land attractions all in one location. Here are some sights you should add to your Exmouth road trip itinerary.
Cape Range National Park
The rugged limestone range and arid coastal plain of Cape Range adjoin the pristine waters with spectacular contrast that can be found in Ningaloo Reef Marine Park. Located within this area, there are many animals including kangaroos, emus & echidnas just to name a few!
Indulge in Local Fresh Seafood
Foodies will love all the fresh seafood Exmouth has to offer. The region is home to many great restaurants and if you're feeling adventurous why not try catching your own? You can charter boats or go fishing with equipment provided by the many tour operators in the region.
Turquoise Bay
Australia's coral coast is known for white sandy beaches. Take a dip in the pristine waters of Turquoise Bay. Also known as one of Australia's best beaches, Turquoise Bay is the perfect spot to spend an afternoon relaxing, swimming and snorkelling.
Vlamingh Head Lighthouse
The Vlamingh Head Lighthouse Scenic Drive is a drive that will take you to the top of one-of-a-kind landmarks. As soon as your car stops climbing up, breathtaking views can be seen from here and it doesn't stop at just scenery! Check out what's around for historical information about this lighthouse in history too. If you're visiting between July and October, you may be lucky to spot some humpback whales migrating.
Where to stay in Exmouth
RAC Exmouth Cape Holiday Park
Ningaloo Caravan and Holiday Resort
Yardie Homestead
Start Packing Up Your Caravan For Your Perth to Exmouth Road Trip
There's plenty to see and do along the Perth to Exmouth Road Trip. Now that you've got your list of things to do it's time to start preparing your Exmouth road trip itinerary, getting your caravan in tip-top shape and hit the open road and embark on your epic road trip. At Lewis RV, our team is here to help with everything you may need. From regular caravan servicing and safety checks, caravan and camping accessories or just some advice, don't hesitate to get in contact with us in person or online.
FAQs
There's approximately 1300km between Perth and Exmouth. A drive from Perth to Exmouth takes around 13 hours if you were to drive straight there. You can also fly from Perth to Exmouth and back in about 2 hours however, you'll miss all the exciting sites and national parks to see along the way. Therefore a road trip with a caravan in tow is a popular choice for many West Aussies.
Shark season in Exmouth runs from November to April, with the peak season being from February to March. The best time to see sharks is during daylight hours when they are actively feeding. Exmouth is home to a large number of shark species, including great white sharks, tiger sharks, and bull sharks.
There's no one definitive answer to this question since different people have different opinions on what constitutes the "best time of year" to go to Exmouth. Some people might prefer to visit during the summer when the weather is warm and sunny, while others might prefer to visit during the winter when the beaches are less crowded. Like with many coastal towns, you'll find Western Australian school holiday periods much busier.
Coral Bay and Exmouth are both beautiful places to visit in Western Australia. They both have stunning coral reefs and offer great snorkeling and diving opportunities. However, they each have their own unique attractions and activities that make them special in their own way so why not do both? If you can only pick one, you may want to consider your preferences. Coral Bay is a small seaside town known for it's ocean activities whilst in Exmouth, you can still take advantage of the pristine beaches but also the national parks and different dry landmarks.
We would recommend renting or borrowing a 4WD vehicle if you are planning on visiting Exmouth, especially if you are towing a caravan. The road conditions can be quite challenging in certain areas, and a 4WD will give you the extra traction and clearance that you need. Plus, you'll also be able to take advantage of all the off road tracks along the way.