Looking for the best off-road caravan for sale to accompany you on some amazing adventures? Given that you're going to be living in it and that you may venture pretty far from civilisation, it's critical to make an informed choice on which off-road caravan is right for you.
Not sure how to find the best off-road caravan for 2023? Here's everything you need to know about the features and details you should be looking for before making your purchase.
Solar power and batteries
When taking your adventures off-road, you want to make sure you still have access to power when you need it. Both solar power and high-capacity batteries will give your off-road caravan the energy it needs for your remote travel experiences to be fun, comfortable, and safe.
Purchasing a new off-road caravan that's already outfitted with functional solar panels will save you an incredible amount of stress down the line. With solar panels pre-installed, preferably ones that provide a couple hundred watts of power, you'll be able to power everything, from charging cables, small appliances such as toaster and hairdryer, to a washing machine! All you have to do is park your caravan out into the sun and they'll charge themselves.
This all being said, choosing a caravan with one or two lithium batteries is a major bonus. Just because you're travelling off-road doesn't mean you shouldn't have the basic comforts. The value of having an off-road caravan with a built-in system for acquiring power when you need it cannot be understated. Some great advantages of lithium batteries include the greater storage capacity, the ability to run them right down to empty before recharging and they are lighter in weight.
Temperature control
Temperature control in your caravan is essential, especially for a family off-road caravan. When you have young children or pets travelling with you, you should be taking extra care to ensure that the caravan is never exceeding or falling below a comfortable temperature. Of course, even solo travellers should make temperature control a top priority, as a hot or freezing caravan can easily make the difference between a relaxing vacation and an exhausting endeavour.
What you're looking for is a caravan with a fully insulated composite floor and roof. This will ensure that you're not walking on a freezing floor every morning, as the insulation will help keep the outside elements from affecting the interior. With the addition of ducted gas or diesel heating, high-quality 12volt fans, and a built-in reverse-cycle air conditioning system, you'll have the confidence of knowing that you'll be able to control your caravan's temperature no matter what climate you're travelling in.
Water tanks (grey water too!)
Whether you opt for a small off-road caravan or a larger build, no off-road caravan is complete without water tanks. Needless to say, it's crucial to have access to fresh water. That's why you should opt for built-in tanks that can store well over 100 litres of water. A 10-litre tank just won't be enough if you're really taking this vehicle off-road for an extended period of time.
You should also be looking for a caravan with a tank dedicated to grey water — preferably one outfitted with a washout valve. This will make your life much easier when it comes to having a hygienic and comfortable bathroom system in the caravan. Pair all this with protected plumbing and you're sure to have all the water-related resources you'll need.
Ground clearance
Ground clearance, also known as ride height, is the space between the bottom of your caravan's body and the ground. Given that you may want to venture through tough terrain in your off-road caravan, you'll want a caravan with extra ground clearance, high-grade shock absorbers, and at least 3500 kg of independent suspension on a tandem axle to ensure that your caravan isn't being damaged by any terrain you're driving through. For a single axle van this might be rated from 2700kg.
This is a worthy investment for anyone purchasing an off-road caravan with the intention of truly going off-road. The damage caused by towing an ill-equipped caravan through difficult terrain can be incredibly costly, so ensuring that you have the ground clearance, shock absorbers, and suspension that you need will save you a lot of money, time, and stress in the long run.
Full off road warranty
Too many people make the mistake of buying a caravan and taking it off-road without a full off-road warranty. Not all caravans labelled XC or Cross Country are actually built for true off road use. When you're driving through nature on somewhat or entirely unpaved roads, you never know what kind of wear and tear your caravan could take over time and your warranty may be voided due to mis-use. Without a full off-road warranty, you may not be covered if your caravan takes this kind of damage. This way, you'll be protected financially if your caravan's equipment fails or if your caravan sustains off-road damage.
A resistant roof
The last thing you need when you're trying to get some peace and quiet time is a roof that can't hold up against the elements. A leaky roof is a pain when you're at home but in a caravan, it can become a far worse situation. If a caravan's roof is weak and leaking, then it's going to be letting in the elements and messing with the temperature. It can also put your property at risk of being damaged, as a caravan is a relatively small and contained space.
An off-road caravan with an insulated fibreglass composite roof is sure to protect you and your passengers from the elements. In addition to giving wind, rain and heat protection, a composite fiberglass roof also offers hail-resistance, in comparison to a traditional caravan roof. Nobody needs their roof cracking hundreds of miles from civilisation.
Choose a vehicle that has it all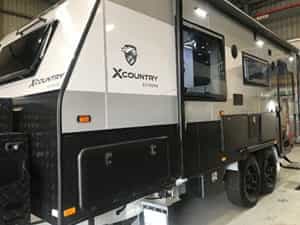 When it comes to choosing an off-road caravan, you should never settle for less than the best. The Crusader XC Extreme has everything you could ever need in a 4WD off-road caravan. It has a full off-road warranty, 3,700 kg independent airbag suspension with an ATM of 3500kg, 2 x120 Ah lithium batteries, 3 x170w solar panels, protected plumbing and wiring, a 12v compressor fridge, and much more. It's the epitome of both luxury and durability, no matter where your adventures take you. 
Also available in a single axle model, the full off-road CrusaderTrailbreaker.
Interested in learning more about what the Crusader XC Extreme has to offer? Our team here at Lewis RV would love to help. We're based in Guildford, a suburb of Perth in Western Australia, but we're proud to provide our services to people throughout the region and beyond. To reach out, please call us at (08) 6555 7755, fill out our online form, email us at sales@lewisrv.com.au, or stop by our shop at 50 James St Guildford. We'd be happy to help you find the off-road caravan of your dreams.
You might also be interested in: The Best Family Caravan: Top 5 Caravans with Bunks