Searching for the perfect caravan can be an exciting process, but during your buying experience, there are a few questions you could ask to improve the chance of purchasing the right caravan .
Having a good idea of your preferences and budget will mean you end up with a caravan that suits your lifestyle and travelling plans.
Before buying a caravan, ask the following questions to help narrow down your search.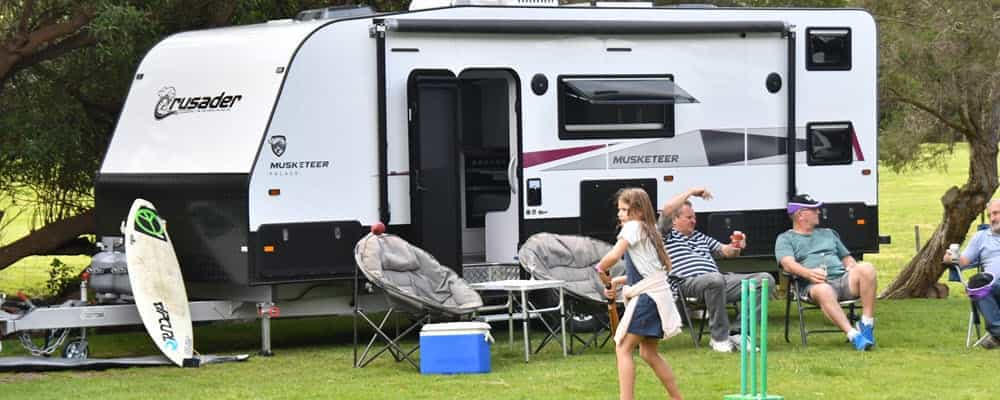 What size caravan do I need?
The most popular size for today's vans is between 15ft (3.3m) and 24ft (7.3m). Smaller vans such as the Nova Bravo 166 are 16.6ft (5m), while larger vans such as the Crusader Excalibur Nobleman are from 22ft (6.7) internally. When deciding on the right size, always consider your towing power and road law requirements.
How much does it weigh and what sort of vehicle will I need to tow it?
Generally, the smaller the van the easier it is to tow, but shape, height and weight will all influence towing performance. Thankfully today's caravans are made with lightweight and durable materials which allow for better towing.
It's important to start with the caravan before selecting the vehicle. Once you know the weights of a caravan that best suits your needs it will be easier to choose the right vehicle to tow it. Some of the best vehicles to tow a caravan include four-wheel drives. Weights to take into account include the Tare, ATM and Ball weight of the caravan, then the maximum towing capacity and maximum ball loading the vehicle is legally allowed to tow. For example, if your vehicle has a maximum towing capacity of 2500kg and the caravan you have chosen has a Tare (weight when empty) of 2400kg, you will only be able to put another 100kg into the van when you travel. That allowance will be used up with water and gas before you have packed any food or clothes, so this caravan is not a good match for your car. If your vehicle has a towing capacity of 3500kg and the caravan has a tare of 2800kg for example, you have a generous "payload" allowance and the caravan will tow well since it will not be overloaded easily.
How long has your company been in business?
Make sure to only purchase your caravan from an established and reputable business. This will help you avoid any complications and ensures that all official paperwork will be looked after. It will also mean that the caravan's condition is assessed accurately and that you'll know exactly what you're buying. The caravans for sale through the business should be build to Australian design standards and have an RVMAP accreditation sticker on them. Used caravans should have been checked over by the dealer to be sure they are road worthy prior to sale.
Lewis RV is a family owned business and has been in the automotive sales business for more than 40 years. They also have a new car dealership which enables cross- knowledge of both cars and caravans when it comes to towing advice and choosing either the vehicle or the caravan.
Do you service and repair caravans?
It's best to buy your caravan from a dealership which also provides servicing and repairs. They'll know you as a customer and be experienced with the make and model of your caravan. This means when it's time for a service or repairs you'll be well looked after by trained and accredited staff.
Lewis RV has an easy-access on-site service centre and will keep your van running smoothly whether you need repairs, maintenance or regular servicing. We recommend three monthly and annual servicing schedules. Warranty from the caravan manufacturers may be impacted if the caravan does not have a service history to show it has been well maintained.
What is your caravanning experience?
Your salesman's experience can be a great resource to help you find the caravan that's right for you. They'll also give you great advice and make sure you get the most from your chosen model, while avoiding any common mistakes.
The team at Lewis RV have all experienced caravanning and camping in WA and can offer advice on the right type of van for your travelling style and destination. Sometimes the caravan you have in mind may not be the best model for where you would like to travel, or you may not need to pay for heavy offroad components if you are only going to travel on bitumen roads. Dealership staff knowledge is valuable in making the right choice.
How much will it cost me to buy?
Caravans can cost anywhere from $20,000 to $120,000 and more depending on their size, features and condition.
Prices on new caravans at Lewis RV range from the affordable Crusader Family "Bunkie" at $57,990 to the luxury Nova Pride Platinum from $123,000. Custom builds can be more expensive if you choose to change the length, add features such as satellite tv or a dishwasher.
Lewis RV sells both new and used caravans suited to a wide range of travellers, from grey nomads to occasional caravanners. They also offer finance options.
Setting your budget in advance is also recommended
How much will it cost me to run?
When thinking about the upfront cost of buying a caravan, it's common for buyers to forget about the costs of running one. Running costs for a caravan can average anywhere between $100 to $200 a month.
Talking to your caravan salesman will help you determine costs including servicing and other fees, so you can balance upfront costs with ones that may come up later. Some ongoing expenses may be extra fuel, refilling gas, running a generator, repairs for general wear and tear. The more care you take of your caravan, the less you will spend on it. Regular servicing will reduce the risk of major repairs.
Can you arrange finance and insurance?
Ask your caravan dealer about whether they offer caravan insurance and finance as a service. Finance options can help you to start enjoying your caravan sooner, while insurance will protect your caravan over the long-term.
Lewis RV offers insurance for caravans including cover against damage from extreme weather, accidental and malicious damage and theft or attempted theft.
How reliable will this caravan be?
Take the time to assess the expected life of the caravan. Most buyers expect their caravan to remain working after 10 years' worth of use. If it is a new caravan, you can expect to enjoy the caravan for much longer.
Checking that the caravan has a strong chassis and a solid, long drawbar are good starting points. Also consider the tyres and hitch of the caravan and whether they're suitable for your travel destination. Appropriate suspension, maintained wheel bearings and internal appliances in a used caravan should be still roadworthy and fit for use. If you do notice any problems with your caravan, ask to have them fixed before purchasing.
Does it have a warranty?
Warranties on new caravans are can vary, while used caravans do not have a warranty on them, Ask if the dealership has put the used caravan through a workshop inspection. If it is a brand new caravan, the manufacturer will offer anything from 1 to 5 year manufacturers warranty, covering the construction components of the caravan. The chassis, electrical appliances, awning and even windows, will probably have their own specific warranty from each supplier. However, your first point of contact is your dealer or the caravan manufacturer. All purchases are ultimately under the umbrella of the Australian Consumer Law.
Make sure to discuss and understand the details of your caravan's warranty with your dealer, so you'll be prepared to claim under the right circumstances.
Thinking about a new caravan? Give the team at Lewis RV a call. With decades of experience selling caravans and vehicles in WA, they're ready to help you find your perfect caravan.