Perth families love travelling across Australia during the warmer months – while many families head to the northern region during Winter for warm, sunny weather. No matter how you like to travel, there's often periods where you store your caravan for a few months at a time. Lewis RV have compiled a list of 12 handy caravan storage ideas to increase the longevity of your van and keep it free from insects, rodents and mould. It also reduces the chance of common caravan problems when your about to head off on your next adventure.
While these tips are great for winter caravan storage, they can also be applied to year-round storage – making them ideal for all caravan enthusiasts, no matter your preference in travel times. Read on to find out more: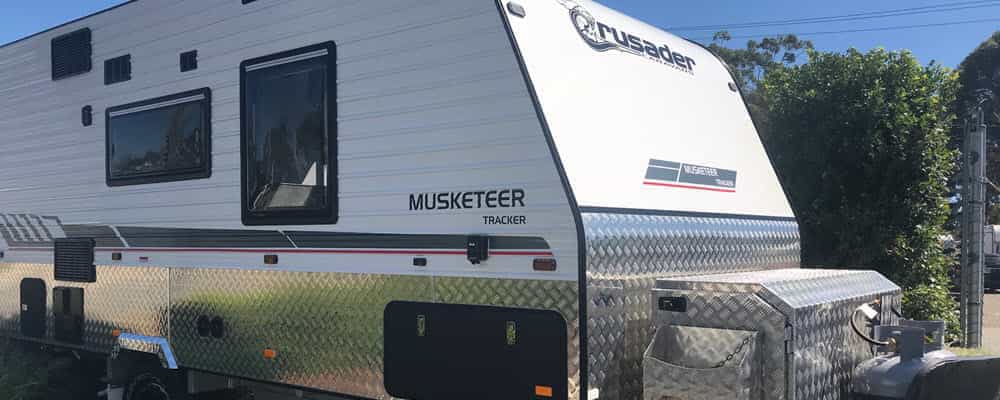 1. Unpack then repack your caravan
Once you finish your final trip of the year, unload everything from your caravan. This includes perishable items like food, as well as non-perishable things, including clothing, sporting equipment, children's toys, safety equipment and more. Ensure you not only wipe out the pantry and shelving, but also all food cabinets and storage containers to reduce the change of ant or cockroach infestations.
When you come back to your caravan, the last thing you want is to find a half-dried wetsuit that now smells like mildew or leftover food containers filled with mould. Check all of the cupboards and lockers to ensure you haven't missed anything. Finally, repack all the essentials ready for your next caravan adventure.
2. Leave the fridge door open
If your new caravan is equipped with a fridge, clean it out after you have removed all of the items. When you are sure you haven't missed any leftover food residue, leave the door to the fridge open while your caravan is in winter storage. Tuck a box of bicarbonate inside to prevent any odours from forming over time. Leave it in there when everything is back up and running again for extra deodorising power.
3. Check expiration dates on personal care items
As you remove items from your caravan before storing it, take note of the expiration dates on any makeup, first aid items, sunblock and other personal care products. Although these items won't necessarily rot like food products might, they may no longer be effective next year. You may not remember to check when you get back in your caravan next season, so do it now while you are thinking about it.
4. Make a list for next year
This is one of the most helpful caravan storage ideas, and it will save you a lot of time and hassle when you are packing for your first caravan holiday next year. As you remove everything at the end of the season, make a list of all the essential items so that you don't forget to replace anything next year. This way, you'll minimise last-minute items you'll have to purchase while on the road, which can save you a lot of money in the long run.
5. Look after your awnings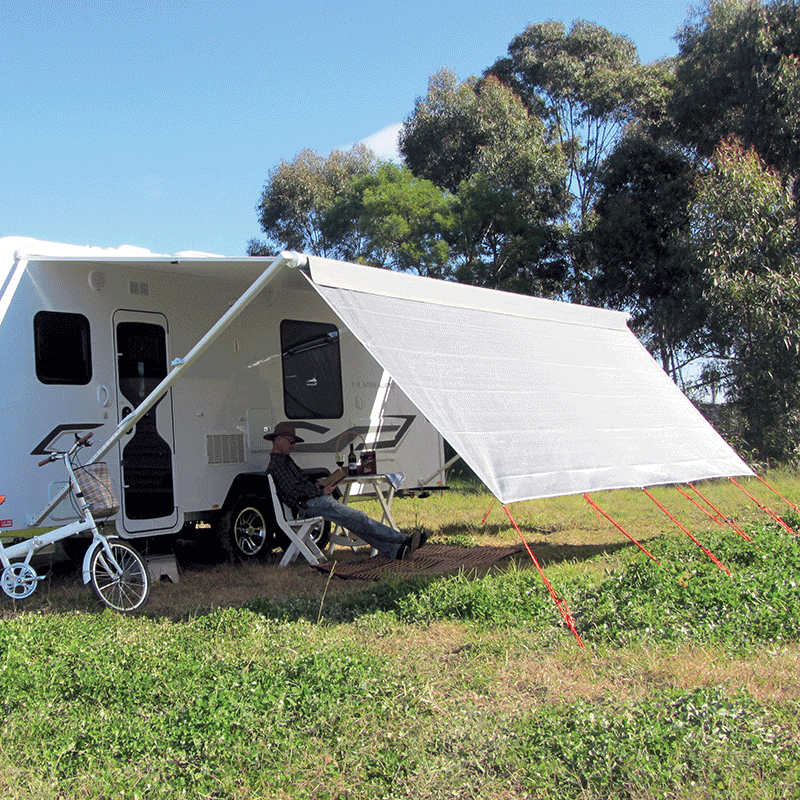 Many families like to add on awnings or shade sails to help provide shade around their caravans. These accessories need to be cared for and stored just like your caravan does, so don't forget about them. Give each awning or shade sail a thorough cleaning to remove any dust and other debris. Always use a cleaning product that is specifically designed for this purpose, as those containing bleach can damage the fabric and shorten the life of your awning. Once everything has dried, add a coating of wax along the seams to prevent leaks. Remember to only roll up your awning when it is completely dry or it may go mouldy when you go to use it again.
6. Clean your floor matting
As you and your family get in and out of your caravan each day, you'll track dirt from outside onto your floor mats. Take the time to give them a good cleaning at the end of caravan season. Hang them on your clothesline to dry and be sure they have dried completely before storing them. Even tiny bits of moisture can cause mould and mildew to form, especially if you keep your floor mats in sealed bags when not in use.
7. Complete any maintenance tasks
Check your owner's manual or your caravan manufacturer's website for any maintenance tasks you should be performing – and book in your caravan for a service with an expert technician. It is a good idea to take care of all of these before you put your caravan in winter storage so that you won't have to do a bunch of work before you can get going again. You should also give everything a quick check-up at the beginning of the season to make sure you didn't miss anything. Be sure to check the tow connection to your vehicle as well.
8. Cleaning out your water tanks
Before storing your caravan, it's recommended that you empty out all fresh water tanks and the grey water tank if your caravan has one. Give all water tanks a thorough clean, ready for storage throughout the winter months. Your toilet storage tank, toilet itself and the waste cassette will also need to be emptied and given a thorough clean and sterilisation.
9. Keep your caravan powered
If your caravan winter storage is under cover or inside a shed/garage, the solar panels will not work. Your caravan will need to remain plugged in to a 15amp point so the batteries remain charged during storage. This will avoid the inconvenience and costly task of purchasing new batteries before you next caravan trip. Your local caravan shop will likely stock adaptors for residents that don't have access to a 15amp power supply at home. These adaptors step down the 15amp van to 10amp power.
10. Cover all pipes and vents
Rodents and other critters can find their way into your caravan through its pipes, vents and other openings. You don't want to open up your caravan in the spring to find that rats have eaten through your upholstery and left foul-smelling droppings everywhere. You never know what those pests might chew through. To stop rodents and other unwanted pests from gaining access, cover any exterior openings and vents with wire mesh, and make sure it is secure around the opening. This will also prevent wasps from nesting.
11. Clean the exterior
Just as you keep your car clean, you need to keep the exterior of your caravan clean as well. You can use the same types of cleaning products for both types of vehicles, so there is no need to buy anything special. After cleaning, apply a coat of wax or polish to give the paint added protection from the elements during the winter. A quick coat of silicone spray around your windows will prevent them from sticking due to lack of use.
12. Cover your caravan
Whenever possible, choose a caravan winter storage space with a cover. This will minimise the risk of UV damage and other complications from being parked outside for extended periods. Ensure all windows and hatches are secure before covering the van, to prevent insects and rodents getting under your cover and into your caravan.
If you don't have access to covered caravan parking, you may be able to buy a canvas cover that is treated to keep out moisture and dirt while your caravan is in storage. Check with your caravan's manufacturer, as they may make a cover that is specifically designed for your particular caravan. It's also recommended that you avoid storing your caravan under a tree even if it is covered as sap, falling branches or acidic bird dropping could potentially cause damage.
Care for your caravan at Lewis RV
When you follow all of these caravan winter storage tips, you'll keep your caravan in the best shape possible. If you have any questions or need additional caravan storage ideas, don't be shy about reaching out to the experts here at Lewis RV. While we can't help you with cleaning and organising your caravan for winter storage, we can help with any repairs and maintenance. Call us today on (08) 6555 7755 to schedule a service appointment before you store your caravan this winter.