Taking your family on a road trip in a caravan is a great way to see the Australian countryside while also saving money on lodging costs. With your very own caravan, you won't need to spend ridiculous amounts of money on hotel rooms throughout your journey. This will free up a lot of room in your budget for loads of fun and exciting activities along the way.
With so many options on offer, it's important to choose the right caravan to meet your family's needs. Here at Lewis RV, we are proud to stock the full range of Crusader Caravans to bring you a diverse selection for any type of family – whether you're seeking a compact caravan that can still fit the whole family, or the most luxurious family caravan available.
Find the best family caravan with bunks below.
Best family caravan for the minimalist family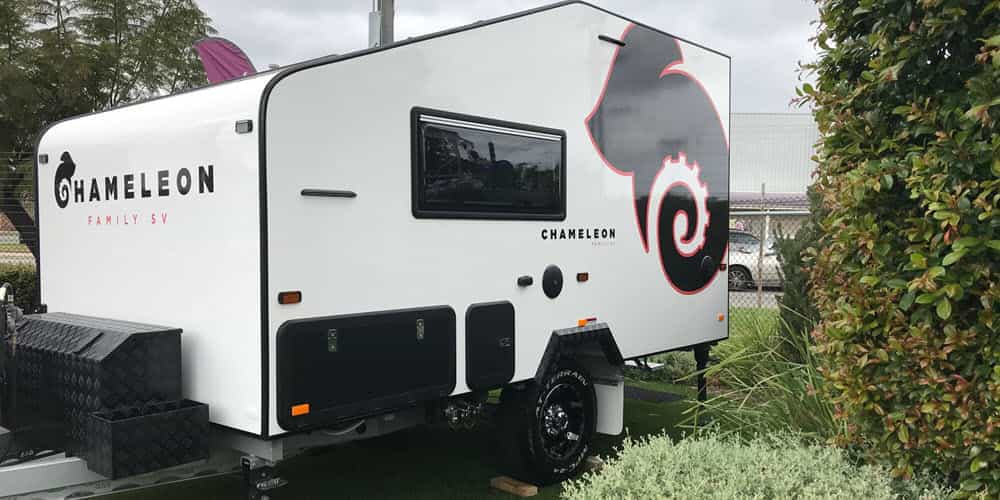 If you're after a family caravan that will get the job done with minimal excess, the Crusader Chameleon Family SV is just what you need. This compact caravan is perfect for those who want to get a great caravan on a budget.
Coming in at about 4 metres in length, you'll have no trouble storing this caravan on your property when it is not in use. This way, you'll be ready to go whenever the mood strikes. Because of its small size, this caravan is relatively lightweight as well, making it easier to find a vehicle with sufficient towing capacity.
The Crusader Chameleon Family SV can accommodate up to four passengers with a full-size bed, as well as two small bunks. It's even got a private bathroom with a shower, a refrigerator, and set-up for an outdoor kitchen.
Key Features of the Crusader Chameleon Family SV:
Compact & lightweight design
Includes private ensuite
Plenty of storage with outside kitchen
Best family caravan for the spacious family
The most spacious of the Crusader Lifechanger range, the Crusader Lifechanger Bunkie offers an affordable caravan option with enough space to comfortably fit the whole family.
The Lifechanger Bunkie includes bunk beds for the kids, a full kitchen and washing machine. It also has ample storage solutions to make storing enough clothes, food and camping equipment for a family of 4 easy.
Key features of the Crusader Lifechanger Bunkie:
Spacious interior
Includes washing machine and large refrigerator
Bunk beds for the kids
Best family caravan with bunks for adventure travellers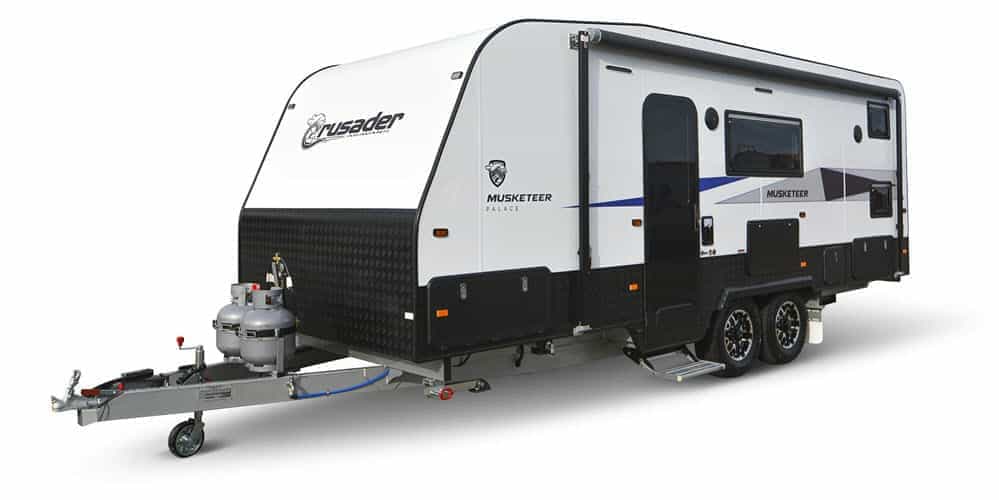 Adventure down red dirt tracks with the Crusader Musketeer Palace. As with all caravans in the Musketeer range, the Crusader Musketeer Palace is rated for semi off-road, meaning you can venture to unique Australian locations off the beaten track.
Recently upgraded from the Family range, this caravan offers little extra to be desired. With a strong 6" Duratech chassis and drawbar, the Palace can handle nearly anything you throw at it. The fully insulated composite roof and floor will keep the whole family cool in summer and warm in winter. The Palace really is the best family caravan for the adventurous family.
Key features of the Crusader Musketeer Palace:
Spacious with luxurious trimmings
High 80" ceilings
Rated for semi off-road travelling
Best caravan for a family of 4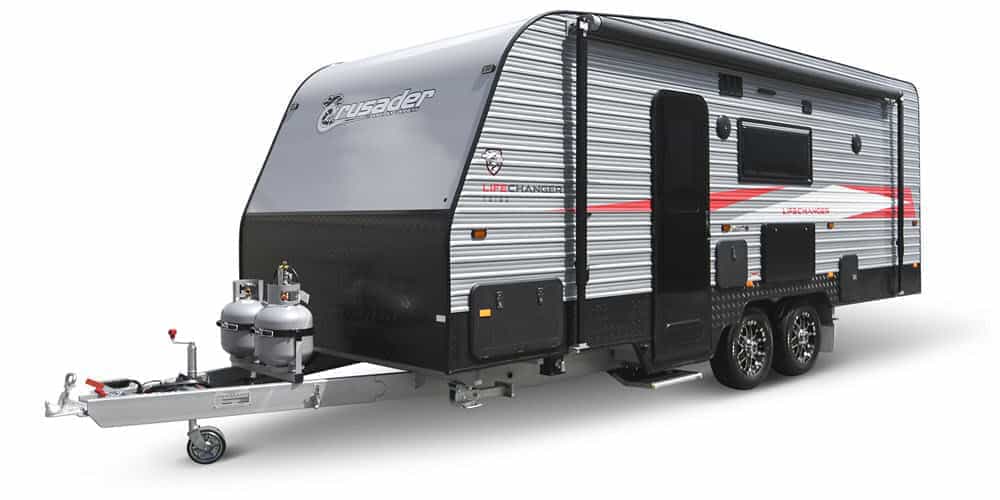 Seeking the perfect caravan for your happy tribe of 4?
The Crusader Lifechanger Tribe is part of Crusaders new range of light-weight and low priced caravans. Featuring a choice of single or tandem axle, the tribe is packed full of award-winning features and accessories.
The van includes an ensuite with separate shower and toilet, as well as a washing machine, ample storage and generous robe for clothing. Grab the kids, load up the camping equipment and head off on an Australian adventure with the Crusader Lifechanger Tribe.
Key features of the Crusader Lifechanger Tribe:
Lightweight design
Comfortable dinette and well-equipped kitchen
Range of finishing's and colours to pick from
Best caravan for a family of 5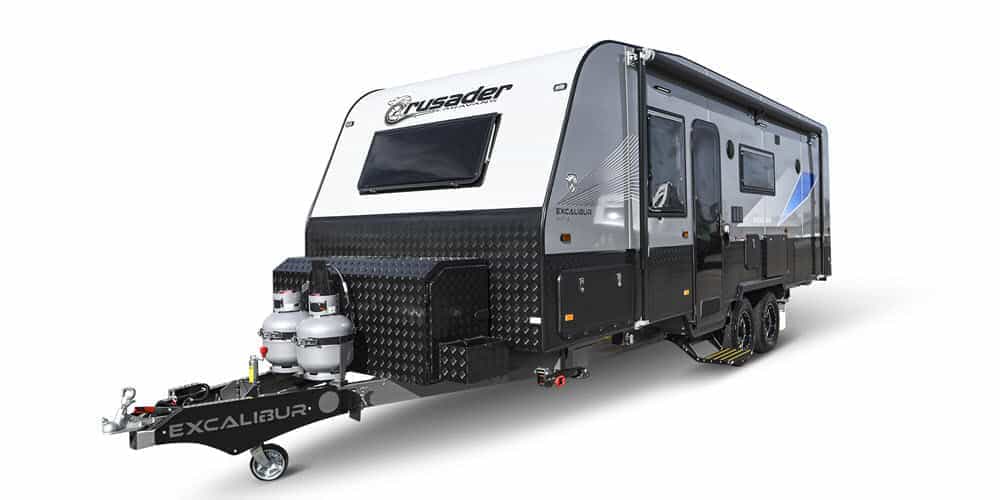 If you have a large family, you're going to need a large caravan!
The best caravan for a family of five is the Crusader Excalibur Castle. This caravan includes a queen bed for the parents, as well as three bunks for the kids. There is also a spacious bathroom and a washing machine for easy clean-up when your little ones get messy.
The spacious cabin is as luxurious as it is large, boasting plenty of space to get up and move around. The dining table can easily accommodate the whole family for meals, and the kitchen is about as close to home as you can get. With a full refrigerator, microwave, oven, and even a stove, you'll have everything you need to cook during your travels.
If you're worried about where you'll stash luggage and gear for five people, there is no need to be. A spacious boot under the caravan provides ample storage, and there is plenty of cabinetry in the interior as well.
Key Features of the Crusader Excalibur Castle:
Room for a family of 5
Spacious bathroom and living area
All terrain wheels and tyres
Find the best family caravan with bunks at Lewis RV
All of the caravans in the Crusader range are designed with comfort and convenience in mind. With minimal wasted space and robust features in every model, you can take your pick from these incredible family caravans, knowing that just about any will be great for your family.
Each of the Crusader Caravan models offers a variety of possible upgrades as well, so you can customise your selection to suit your requirements. Upgrade to a queen bed from a full, or add additional bunks to accommodate more people. Select the off-road package to take just about any model out into the bush.
The expert sales team at Lewis RV can help you identify which caravan will best meet your needs while fitting within your budget. Contact Lewis RV on (08) 6555 7755 today or visit our dealership at 50 James St, Guildford WA 6055.