Caravanning is a popular hobby for people all across Australia, especially here in WA, thanks to so many incredible drives in the area. There are many different types of caravans on the market these days, and they each have unique specifications. This means you'll need to take your vehicle's caravan towing capabilities into account when choosing your caravan.
When you begin researching caravans, you'll likely notice that there are several different weight measurements. They each quantify different things, so it is important to understand the distinctions and what they mean in a practical sense. If you're ever unsure of caravan weights, speak to your local WA caravan dealership, or ask your service professional next time you're getting a caravan service.
A small caravan with 2-4 berths can weigh between 800kg and 1.3t (metric tonnes) or 1.27t (imperial tons). Larger caravans with 4-6 berths can range from 1.3t (metric) to 1.8t (metric) in weight. Considering this massive weight your car needs to tow, it's worth having a good understanding on caravan weights and towing.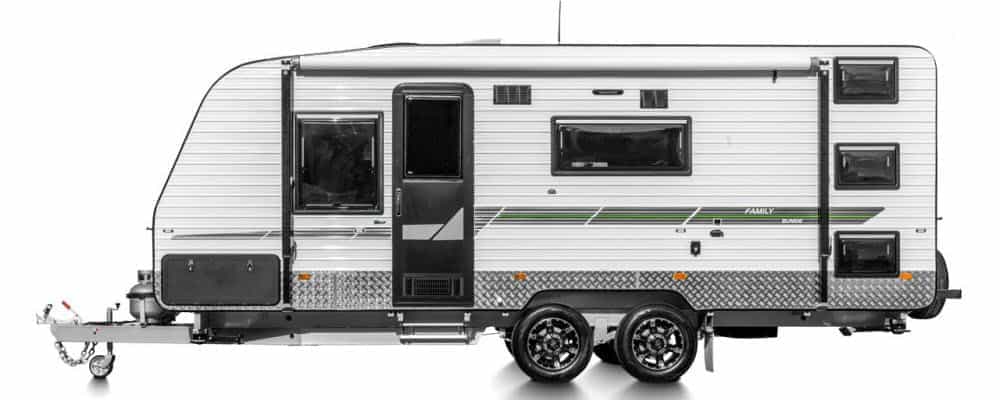 Here's what you need to know to make smart decisions regarding your caravan weight and tow vehicle.
Tare mass
The tare mass, also called the dry weight or empty weight, refers to the total weight of an unladen caravan. This is the weight of your caravan with absolutely nothing in it other than what the manufacturer provided. This means no people, luggage or other personal items. There should not be any water in the tanks or any other fluids such as gas in the caravan.
It is important to note that this measurement comes from the caravan's original manufacturer. If you have added on any aftermarket accessories, their weight will not be included in the specifications, as they were not part of the original design.
Aggregate trailer mass
The aggregate trailer mass (ATM) is set by your caravan's manufacturer and refers to the maximum weight limit for the caravan. This is the highest total weight your caravan can safely reach when it is fully loaded, including passengers, luggage, fluids, caravan accessories and the tare weight of the caravan itself.
It is crucial that you not allow the ATM to exceed the manufacturer's limits, as this could compromise the safety of your caravan. It is always a good idea to leave a bit of a cushion between your caravan's TARE weight and the ATM to minimise risk.
In the event of an insurance claim, car and caravan insurers will inspect that the ATM of your caravan is not higher than the towing capacity of your vehicle.
Gross trailer mass
The gross trailer mass (GTM) is similar to the ATM in that it is set by the manufacturer and refers to a maximum limit. However, rather than measuring the total weight of the caravan, the GTM refers only to the weight that is transmitted from the axle or axles of the caravan to the ground.
As some of the weight of the caravan is distributed through the tow ball, this number will be a bit lower than the ATM. As with the ATM, you should never allow your caravan to exceed the GTM, or you could be putting your safety on the road at risk.
Tow ball weight
This measurement goes hand in hand with the tare weight of your caravan and refers to the amount of pressure the weight of the caravan applies to the tow ball that connects to your vehicle. As with the tare weight, the tow ball weight on the compliance plate assumes that there is absolutely nothing in your caravan outside of the manufacturer's original specifications.
This can significantly change with the way you load your caravan and depend on where you have water tanks, storage compartments, batteries etc. A good caravan design will have these taken into consideration, along with position of axles, appliances and so on.
Maximum tow ball weight
Also called the maximum ball loading, the maximum tow ball weight is the highest amount of force that your caravan can safely exert on its tow ball.
The manufacturer will specify this limit, and it is crucial that you not exceed it. It is important to note that the tow ball weight can vary depending on the way you load your caravan.
You should also be aware that the caravan tow ball capacity is completely separate from the tow ball capacity of your caravan towing vehicle. You'll need to ensure that you don't exceed your vehicle's towing limit either. Otherwise, the weight of your caravan could throw off the balance of your vehicle, making it potentially unsafe to drive with the caravan in tow.
If the towing requirements for your vehicle and caravan are markedly different, always defer to the lower capacity to ensure your safety. Some vehicles have a lower tow ball maximum when the caravan weight increases so its best to check with a knowledgeable dealer if you are purchasing a new tow vehicle.
Load carrying capacity
This is the maximum amount of weight with which you can load your caravan without exceeding the ATM or GTM. If this value is not listed in the manufacturer's specifications, you can calculate it by subtracting the tare mass from the ATM.
As previously mentioned, it is always a good idea to leave a bit of wiggle room between your payload weight and the maximum capacity to ensure you stay well within the required limits. Don't forget to consider any aftermarket accessories that could add weight to your caravan as well.
Commonly added after-market features which take up payload are toolboxes, extra spare wheel, bike racks, jerry cans and added batteries. A more generous payload allowance is achieved with good caravan design, utilizing light but strong construction materials and innovative fixtures.
Legal requirements for caravan weights
In addition to the manufacturer's requirements for caravan weights, you'll also have to follow Australian law.
Fortunately, this is relatively easy to do, as the law across the country states that you must simply follow the specifications set out by the manufacturers of both your caravan and towing vehicle. In addition, any caravan with a GTM of 750 kilos or more must have its own brakes, as the brakes on your towing vehicle will likely not be sufficient for both the vehicle and the caravan, especially at higher speeds.
Most caravans are fitted with 10" brakes but heavier vans and independent suspension will often require upgrading to 12" brakes.
Choose the perfect caravan at Lewis RV
We can't tell you how many times we've had clients bring their caravans to our service centre, thinking that something is wrong with the caravan, only to find out that it is their towing vehicle that is not compatible. For example, if you own a KIA Seltos which has a max towing capacity of 1,250kg, it won't be suitable for many caravan models.
If you don't have a solid understanding of the distinctions between the various caravan weight and towing measurements, you could fall into the trap of buying a caravan that doesn't suit your tow vehicle.
Here at Lewis RV, we specialise in helping out customers find the perfect caravan that their towing vehicle can accommodate. In addition to our caravan dealership, we also operate a Toyota/Holden dealership, which gives us unique insights into both sides.
Our friendly staff are always happy to answer your questions to help you select the best caravan for your needs. Drop in and say hello or give our team a call on (08) 6555 7755.