When thinking of sand dunes in Western Australia, locals immediately think of Lancelin sand dunes. Lancelin is a picturesque coastal town located in Western Australia, about an hour's drive north of Perth.
Founded almost a century ago, Lancelin is known for its stunning natural scenery, including its expansive sand dunes, white sand beaches and crystal-clear waters. The town has a rich history and was originally settled by fishermen seeking to take advantage of the bountiful local fishing grounds. Since then, Lancelin has become a popular tourist destination due to its beautiful landscape and abundance of outdoor activities. Locals can opt for a day trip from Perth or an overnight stay at one of the campsites with a family caravan in tow either in Lancelin or at a nearby small town. Whatever you pick, it's one of the best places in WA to visit with a caravan and we're sure you'll have a fabulous time!
When to visit Lancelin sand dunes
The best time of year to visit Lancelin is during the summer months when the weather is warm and sunny. The town is located on the coast, so visitors can enjoy spending time on the beach and taking in the beautiful views. You also want to ensure you pick a day with low wind to make the most of exploring the sand dunes. A day with strong wind or rain will easily write off your day visiting the dunes.
What to bring to Lancelin sand dunes
When planning a trip to visit the Lancelin sand dunes, we recommend adding these items to your packing list:
Sunscreen, sunglasses, and hats are all essential items to bring with you. The sun can be quite powerful in the middle of the day, so make sure to protect yourself from harmful UV rays.
Bring plenty of water as well. It can get quite hot out there and dehydration is never fun. A water bottle will help keep you hydrated throughout the day.
Be sure to dress appropriately too. Temperatures can vary greatly depending on the time of year, so it's best to come prepared for both warm and cold weather.
Boogie boards or sandboards. No visit to the dunes is complete without sandboarding! If you don't have your own boards, fear not, they can be hired upon arrival.
Getting to Lancelin from Perth
Being roughly an hour's drive north of Perth, Lancelin is the perfect road trip destination to go with your caravan and camping gear. The fastest route there is by taking Mitchell Freeway North until you get to Indian Ocean drive which you can follow straight to Lancelin. 
The Lancelin sand dunes
Once you've made it to Lancelin, you can head straight to the Lancelin sand dunes! Entry to Lancelin dunes is free and opening hours aren't specified, but please note entry is not permitted after sunset. To find the dunes, there is only one entry point. Travel along Bootoo Street until you find the entrance. Upon entrance, you're free to take your car through the dunes or head to the designated car park. If you've only got a 2WD, keep to the track to ensure you don't get bogged. If you want to go deeper within the sand dunes you'll want to bring a 4WD. You won't be able to bring an off road caravan into the dunes itself but it can be parked up at a nearby caravan park.
Alternatively, there are plenty of companies that organise specific Lancelin sand dunes tours if you don't have a car. These tours are a great way to pair up the visit with other local landmarks such as the Pinnacles desert.
Sandboarding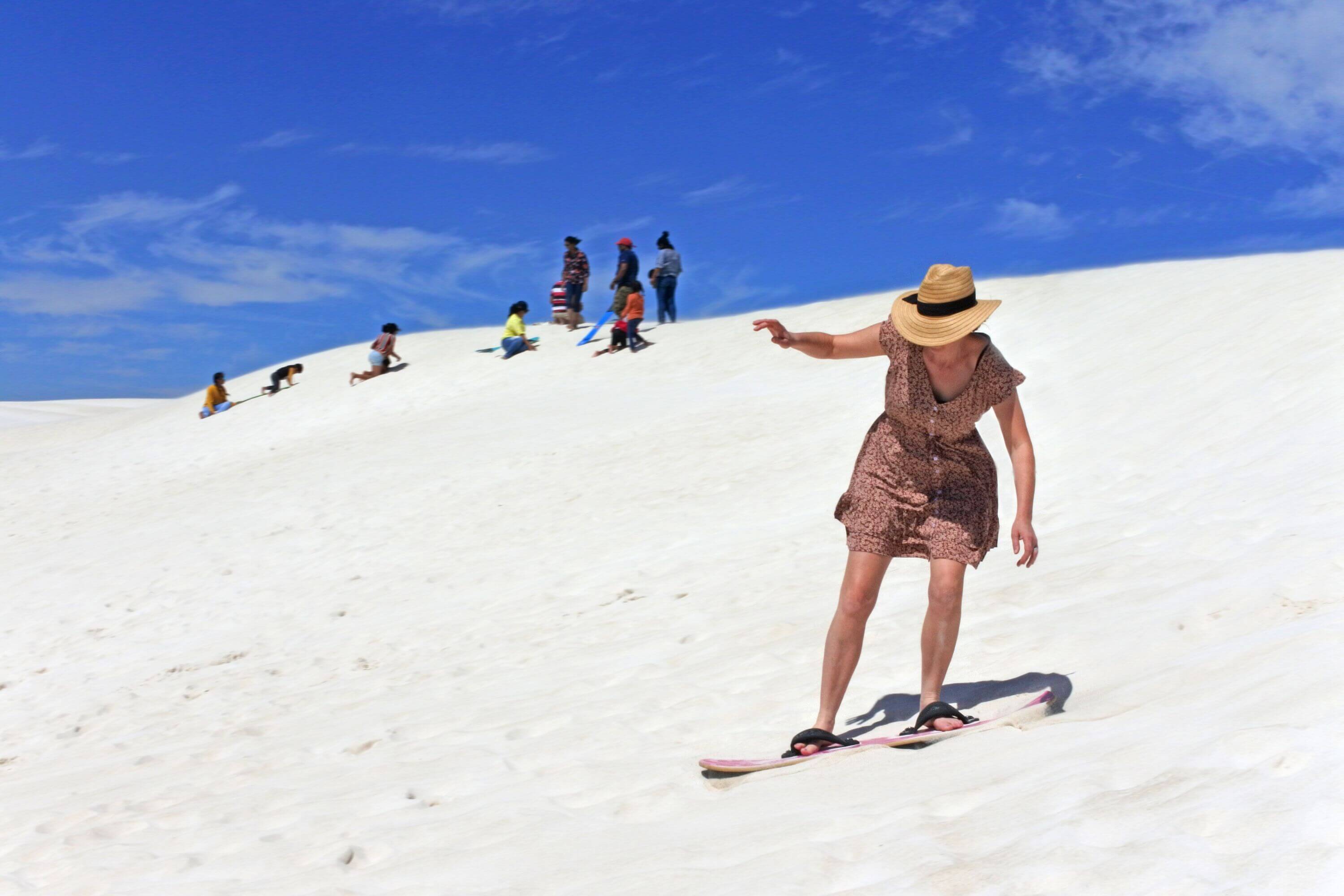 No trip to Lancelin sand dunes is complete without a sandboarding session. Once in the sand dunes, you have the option to bring in your own sandboard or rent a sandboard from the kiosk located on-site. You can also pre-book a sandboard in advance so all you need to do on the day is collect it and take it down the slopes of the white sand dunes.
Quad biking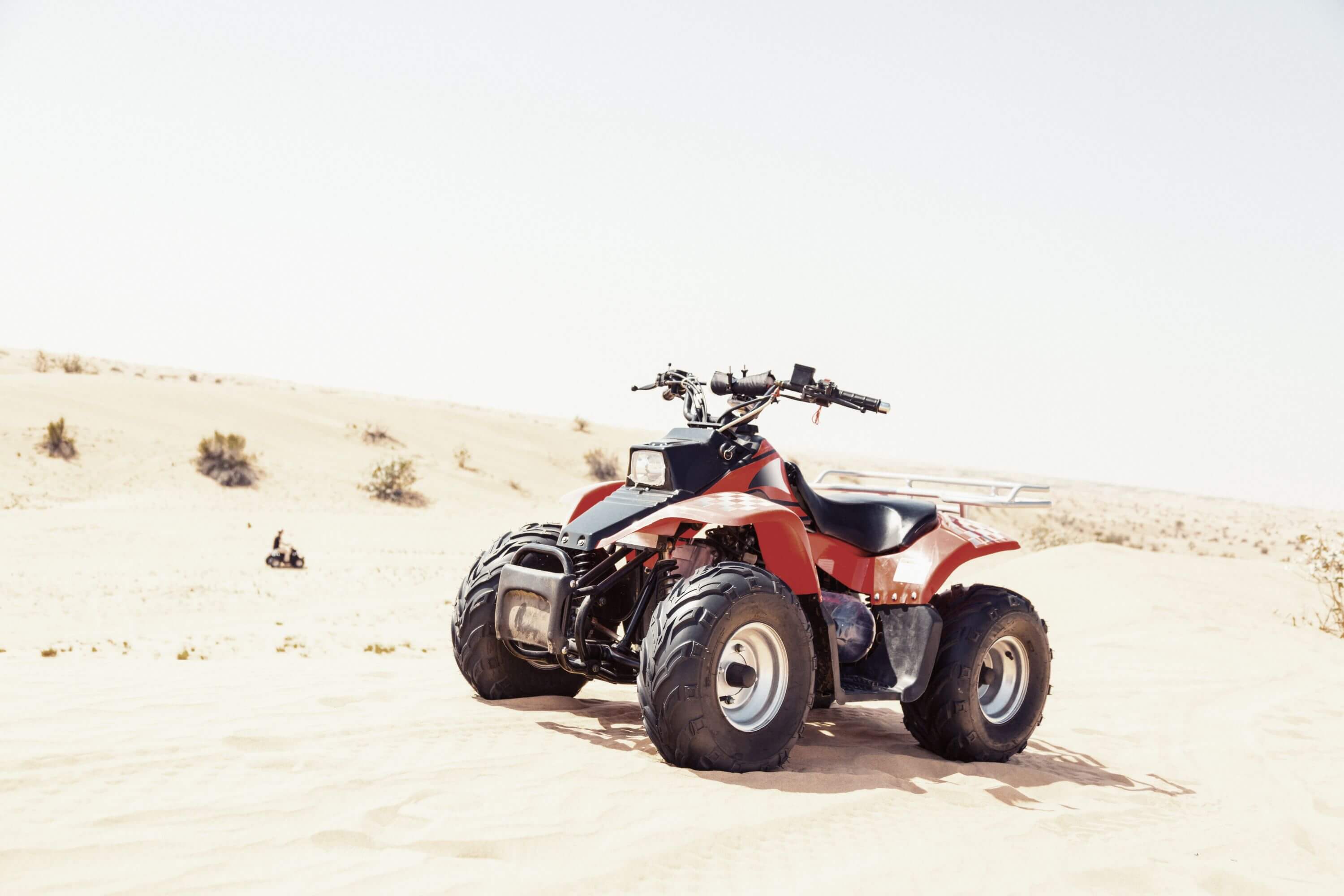 If you are feeling a bit more adventurous, why not experience Lancelin sand dunes with a quad bike? You don't need any experience to take part as you'll be guided throughout the sand dunes by an experienced operator. Plus, there's options for both double and single ride bikes, so the kids can join in on all the action.
Other things to do near Lancelin sand dunes
Whilst you're north of Perth exploring Lancelin, you may want to consider some other local attractions Western Australia has to offer. These include:
Relaxing by Back Beach
Exploring the Pinnacles Desert in Nambung National Park
Snorkelling in Jurien Bay
Where to stay near Lancelin sand dunes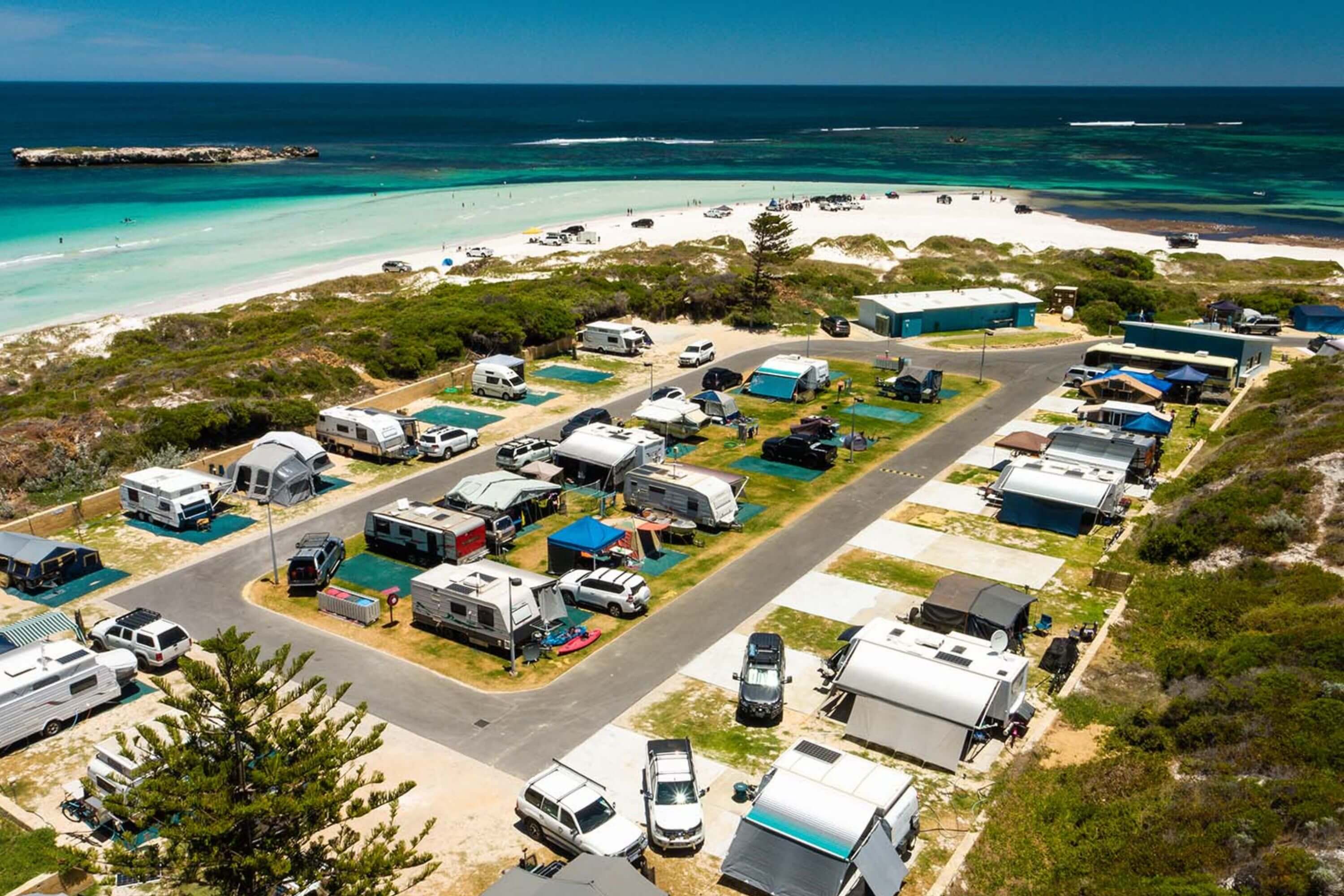 After a long day sandboarding throughout the dunes, it's time to set up camp for the night. You can't bring your caravan or set up camp inside the sand dunes itself, but there are quite a few nearby caravan and camping sites available including:
Experience Lancelin Holiday Park
Lancelin North End Caravan Park
BIG4 Ledge Point Holiday Park
Image credit: Experience Lancelin Holiday Park
Where to eat near Lancelin sand dunes
If you don't feel like cooking and want to take yourself out for a nice meal. Here are some of the region's most popular cafes and restaurants:
Lobster Trap
Endeavour Tavern
Offshore Cafe & Restaurant
Pack up your caravan and get ready to hit the open road!
So what are you waiting for? Load up your caravan, grab some boogie boards or sandboards and get ready to explore Lancelin sand dunes. At Lewis RV, we've got all the caravan accessories and spares you'll need for the road. Be sure to stop by our Guildford dealership to check it all out for yourself.
FAQs
No, you don't need 4WD for Lancelin sand dunes. A standard 2WD vehicle will do just fine.
The sand dunes at Lancelin are a lot of fun to play in, but be aware that they can also be quite dangerous. It's important to take care when driving on the sand and to always stay within your vehicle's capabilities. If you have a standard 2WD vehicle be careful not to venture too deep into the dunes or you will get bogged. Also if you are intending to rent a car, make sure you check whether you're covered as often damage inflicted on the dunes will not be covered in your hire car insurance.
Yes, you can 4WD on the Lancelin dunes. But be careful - they can be quite treacherous, and there have been a number of accidents over the years.
The dunes are a popular spot for 4WDing and sandboarding, but it's important to take care of and know your limitations. The sand can be very soft in some areas, making it difficult to get traction. And if you get stuck, it can be hard to get out without help. So make sure you have plenty of experience driving in the sand before you attempt the dunes - and always travel with someone who knows what they're doing.
Yes, definitely! Lancelin is a beautiful place and well worth visiting. The sand dunes are plenty of fun for people of all ages. Plus, there are some great beaches and fishing spots. It's also close to Perth, so it's convenient for a day trip.
No, camping in the sand dunes is not allowed. While they may seem like a fun place to spend a night under the stars, they are actually an important ecosystem that needs to be protected. Plus, the dunes are not safe to be in after dark.