Embarking on any road trip through Western Australia is a journey that promises adventure, scenic beauty, and the freedom to explore. A Perth to Pemberton road trip is no exception. In this article, we'll cover everything you need to know about going on a caravan road trip from Perth to Pemberton including how to get there, where to stay and things to do. So pack your bag, fasten your seatbelts, prepare your road trip playlists, and get ready to discover the natural wonders and treasures that will make this road trip an unforgettable experience for the entire family!
The Best Time of Year to Drive From Perth to Pemberton
Pemberton offers many different experiences throughout the year. However, many visitors like to plan their trips between January to May and October to December. During these times, you'll enjoy comfortable weather with minimal rain. February is the warmest month, with an average of 26°C, while July brings cooler temperatures at around 15°C. Whether you're a nature enthusiast seeking an off-road adventure or you're a traveller looking forward to tranquillity in the treetops, Pemberton's seasons provide unique experiences for all types of travellers.
Things You Shouldn't Forget to Pack For Your Pemberton Road Trip
When packing for your road trip, here's a list of items to consider:
Maps and navigation: Ensure you have road maps, a GPS, and a UHF radio to ensure you don't get lost on the country roads.
Food and water: Stock up on non-perishable foods, snacks, and ample water for the journey.
First aid kit: A basic first aid kit is essential for minor injuries or health issues when travelling. You'll never know when you might need one!
Vehicle essentials: Check your vehicle's condition, and bring tools, spare tyre torches and other car essentials.
Electronics: Don't forget chargers for your phone, camera, and any other electronic devices.
Cash and cards: Ensure you have a mix of payment options, including cash and credit cards.
Camera: Capture the scenic beauty of Pemberton with your camera.
Safety gear: Safety gear such as a torch, whistle, and a fire blanket can be helpful in case of emergency.
The Perth to Pemberton Drive
The road trip from Perth to Pemberton is a great journey through some of Western Australia's most stunning landscapes. The drive is about 3 to 4 hours depending on traffic but you could easily allow for a few more hours to make some stops along the way in the South West region. As you leave the city behind, you'll venture through the scenic South West, passing by lush vineyards of Margaret River and ancient Karri Forests before reaching Pemberton.
Pemberton Caravan & Camping Accommodations
There are plenty of accommodation options in Pemberton and in nearby towns only a short drive away. These include:
Pemberton Caravan Park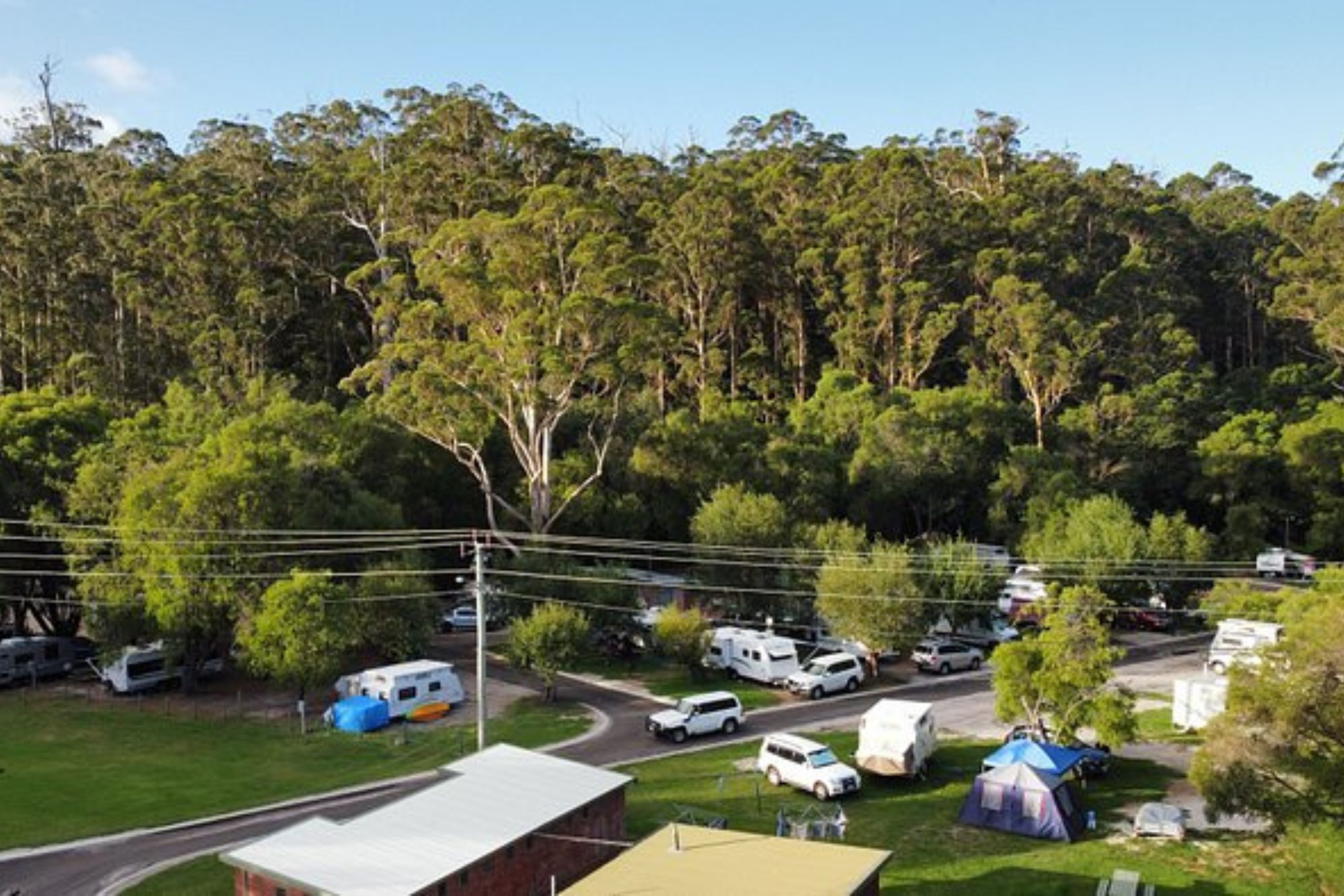 Located in the heart of Pemberton, the Pemberton Caravan Park is a community-owned gem, closely affiliated with the Pemberton Visitor Centre. Perfectly located at the entrance to mountain bike trails and near the refreshing Pemberton Pool, this heritage park is designed to provide an eco-friendly retreat, allowing guests to immerse themselves in the serene forest surroundings, complete with the soothing presence of the Lefroy Brook winding through the landscape.
Image credit: Pemberton Caravan Park
RAC Karri Valley Resort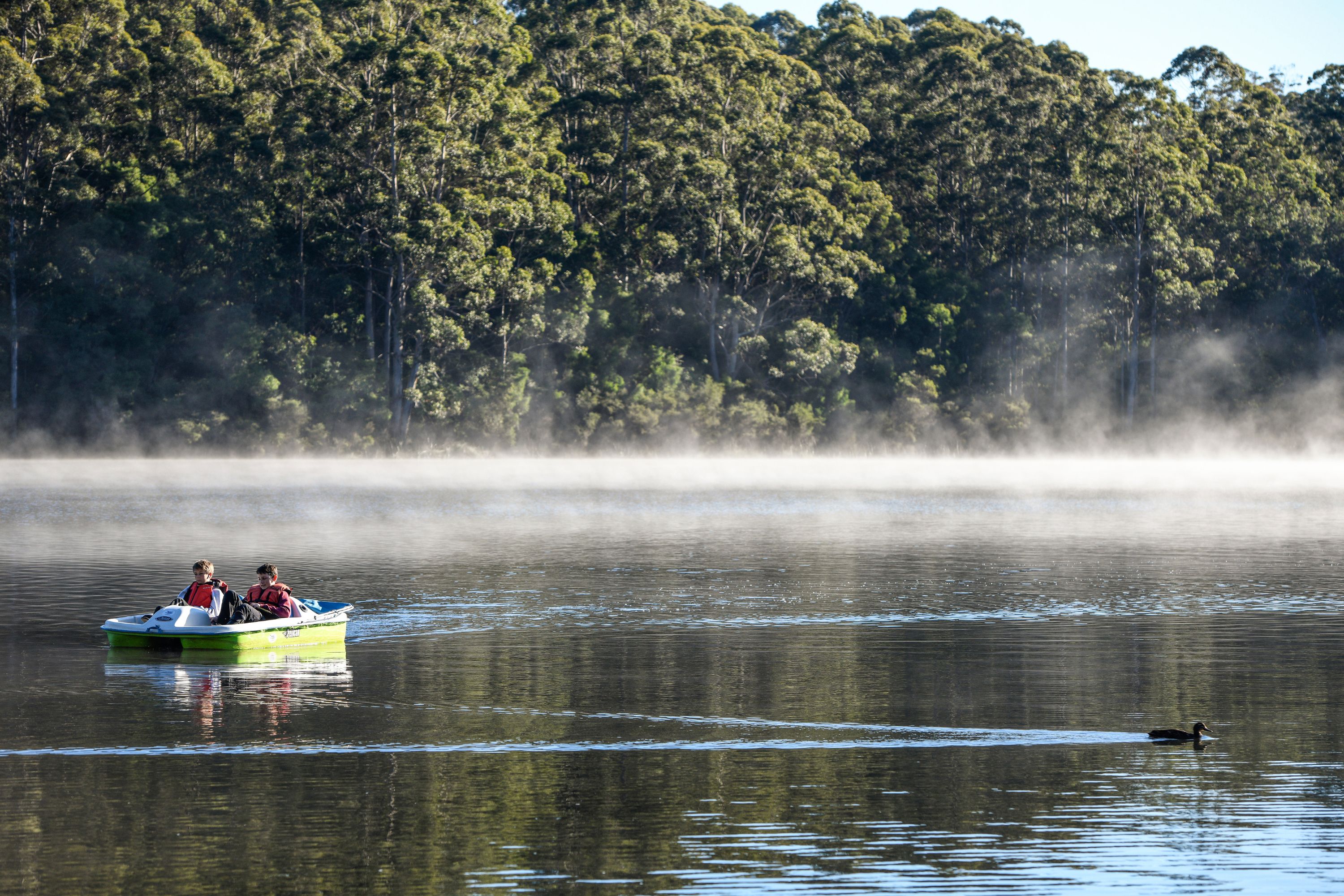 RAC Karri Valley Resort is located on the shores of Lake Beedelup and is surrounded by the enchanting Karri Forest. This caravan park is just a short 20 minute drive from Pemberton's town centre and a plethora of local attractions, allowing you to fully embrace the natural beauty of the region.
Image credit: Tourism WA
Manjimup Central Caravan Park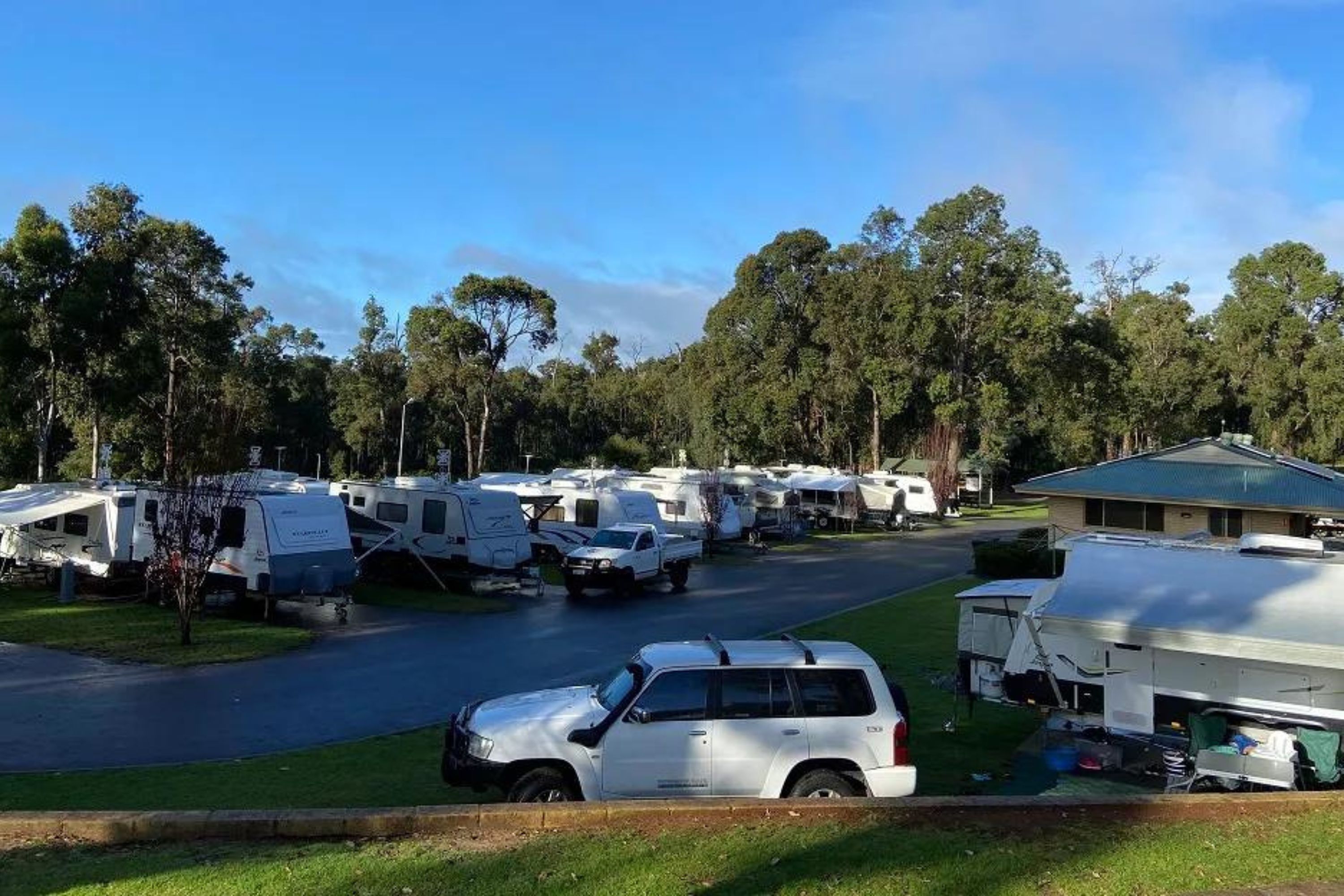 Nestled in the heart of Manjimup, the Manjimup Central Caravan Park is perfectly positioned on the South West Highway. They offer over 35 powered sites, including eight with suites. Did we mention they are also a dog-friendly caravan park? With modern amenities that are well maintained, Manjimup Central Caravan Park ensures a comfortable and enjoyable stay for everyone.
Image credit: Manjimup Central Caravan Park
Things to do in Pemberton
There are plenty of activities in Pemberton for all types of travellers. Whether you're looking forward to an action-packed adventure or a tranquil relaxing retreat, Pemberton caters to everyone.
Gloucester Tree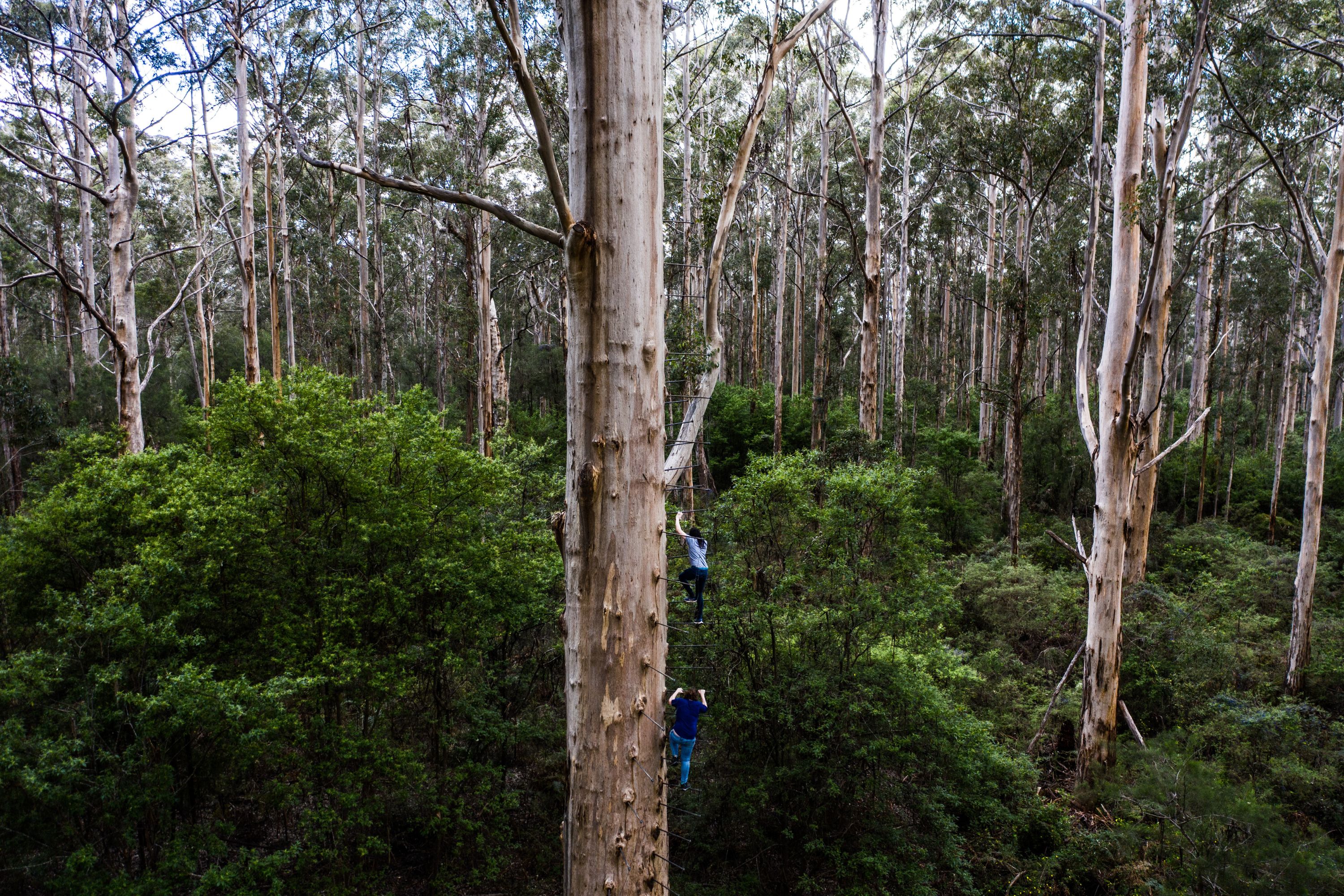 No trip to Pemberton is complete without a visit to the Karri Forests in which you'll find Gloucester Tree. This tree holds a fascinating history, originally chosen as a fire lookout in 1947 by foresters seeking an elevated vantage point in the dense forest. Today, this retired fire lookout tree offers visitors an exciting adventure. Climb the 53 metres to the lookout structure, where breathtaking views of the surrounding karri forest and farmland await, making it a must-do experience for those exploring Pemberton.
Image credit: Tourism WA
Pemberton Mountain Bike Park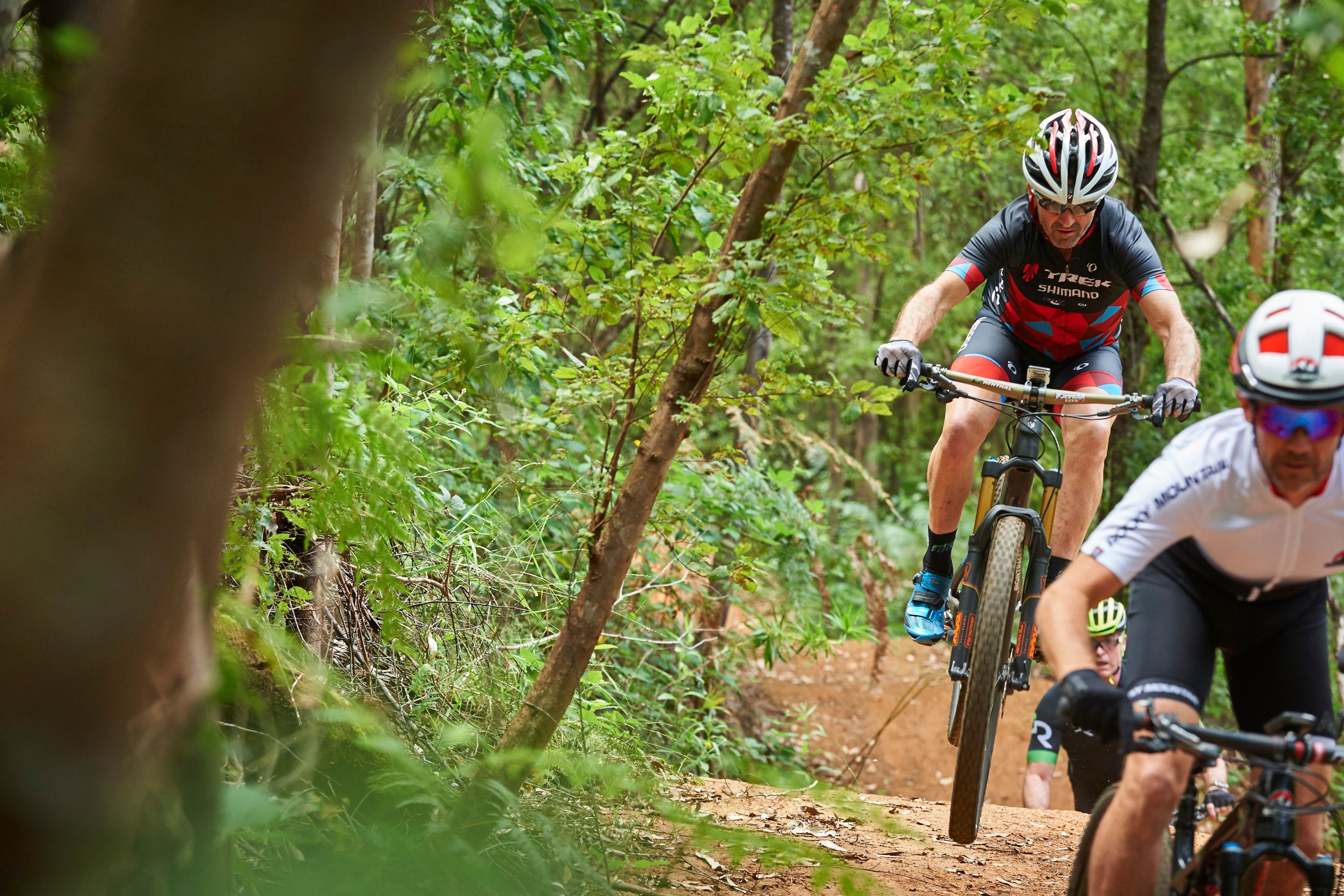 For adrenaline seekers and outdoor enthusiasts, the Pemberton Mountain Bike Park is a thrilling attraction in the heart of the Southern Forests. With trails catering to riders of all levels, from beginners to advanced, this park offers an exhilarating experience in the midst of towering Karri and Jarrah forests. The purpose-built network of trails provides an adventure-packed ride through the breathtaking wilderness, making it a must-visit destination for mountain biking in Pemberton.
Image credit: Tourism WA
Pemberton Swimming Pool
Steeped in history, this charming swimming pool has been a cherished haven since its construction in the late 1920s, originally intended to provide respite to the families of hardworking timber labourers. Throughout the years, it has stood as an enduring icon, welcoming generations of both locals and tourists. Even if you're not taking a dip, the sight of towering Karri trees framing the pool creates a picturesque setting. With ample room for picnics and barbecues, it's an ideal place to relax. During the summer months, live music events often pop up, adding to the vibrant atmosphere and making it a must-visit destination for a leisurely day out in Pemberton.
Image credit: Tourism WA
Dave Evans Bicentennial Tree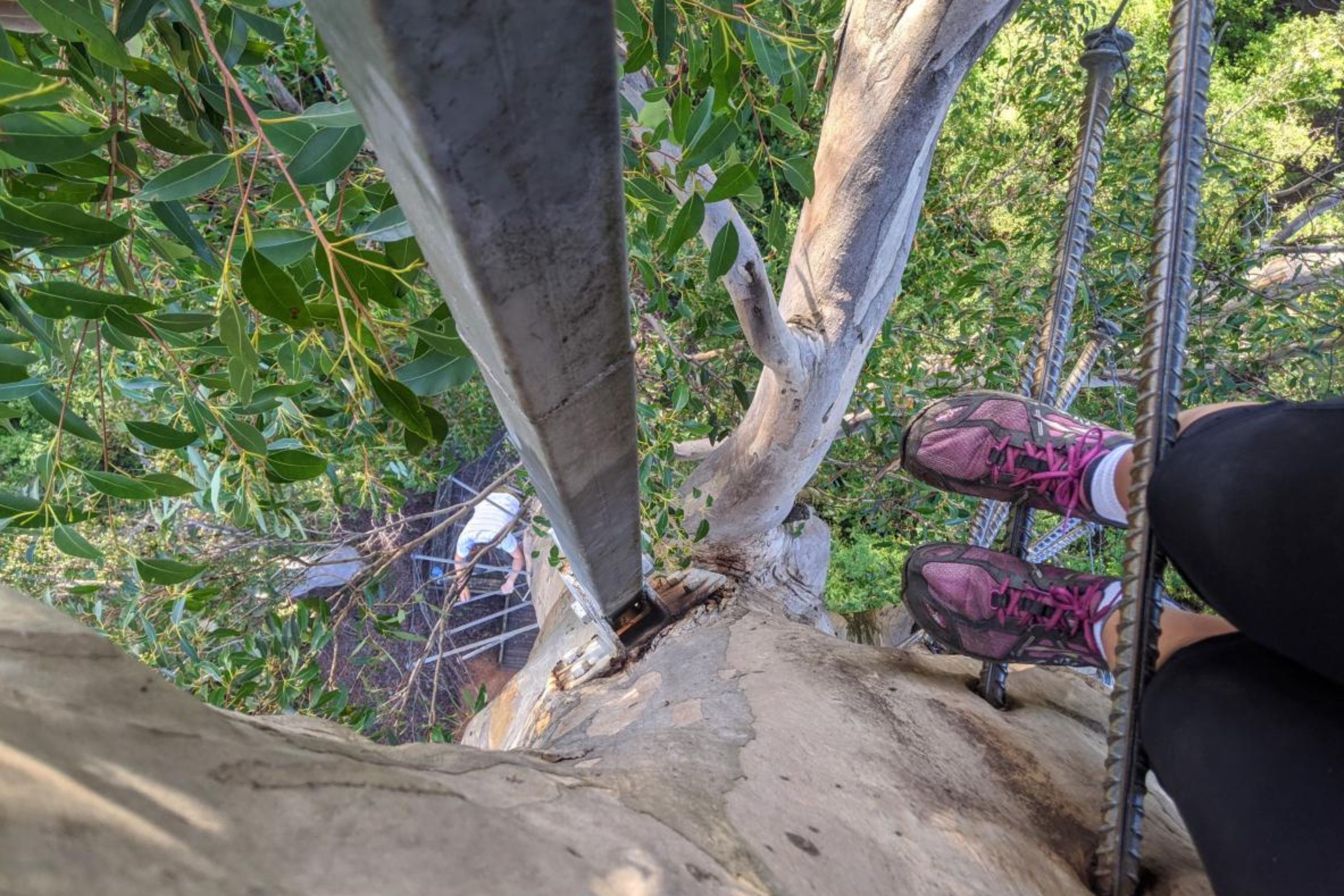 The Dave Evans Bicentennial Tree proudly stands as the tallest of the two fire lookout trees accessible to the public in the Pemberton region. With its genesis in 1988 during Australia's bicentennial celebrations, this majestic giant was originally designed for adventurous climbers and nature enthusiasts. Today it is a popular tourist attraction within Warren National Park.
Image credit: Explore Parks Western Australia
Pemberton Tramway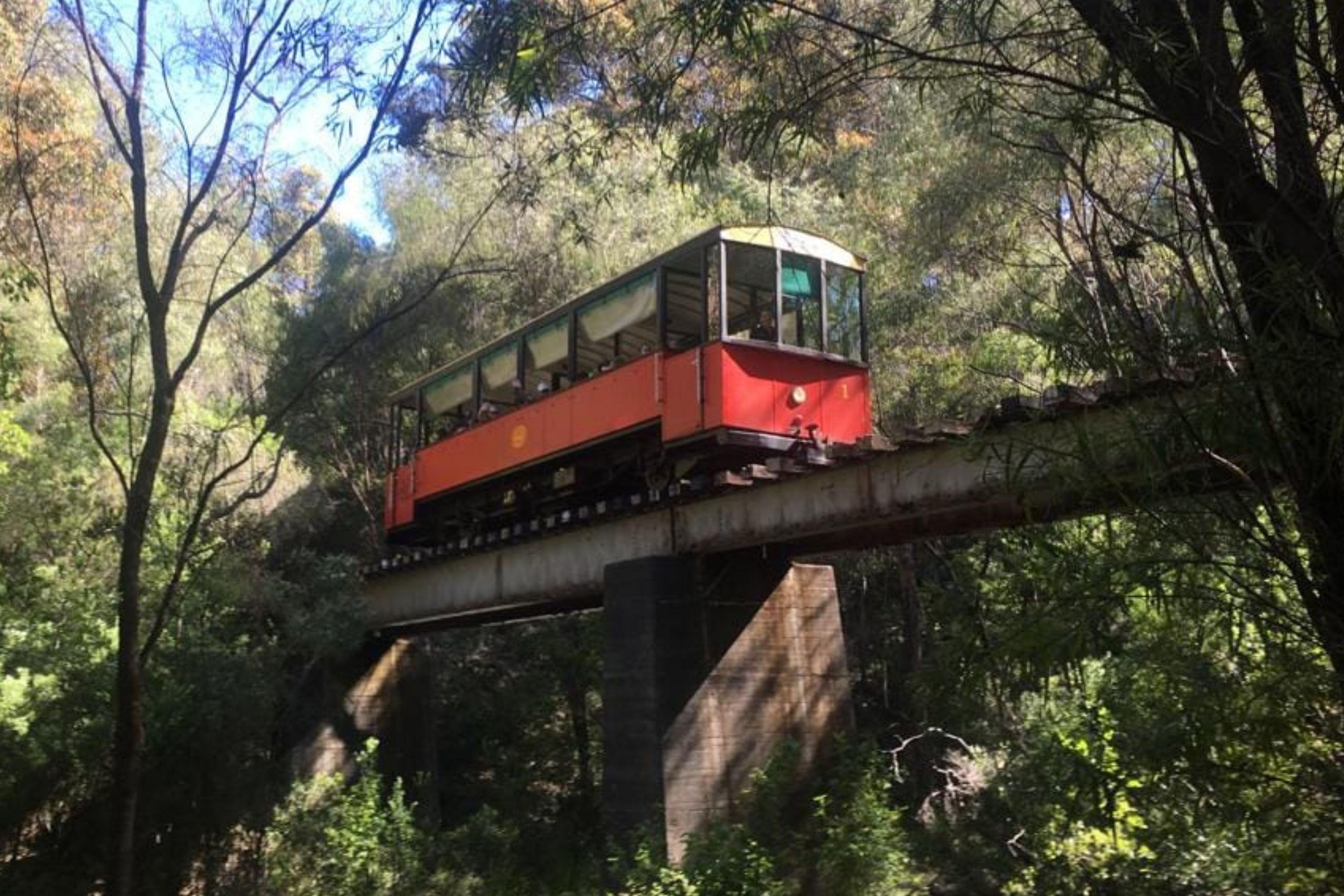 For a scenic adventure in Pemberton, hop aboard the Pemberton Tramway Company's diesel trams, which utilise the tracks of an ex-government railway. This picturesque ride delves deep into the heart of the magnificent Karri Forest, crossing charming wooden trestle bridges over the meandering Warren River and babbling streams, ultimately leading to the serene beauty of the Cascades (Waterfalls located in Pemberton). It's a journey that combines history, nature, and scenic wonder, making it a must-do experience in Pemberton.
Image credit: Pemberton Tramway
Get Your Caravan Ready For a Trip to Pemberton
Pemberton holds something special for every traveller, whether you crave thrilling adventures or a tranquil family retreat. And when you're gearing up to uncover the beauty of Pemberton and its picturesque surroundings in your trusty caravan, remember the must-haves. Lewis RV has got your back with all the caravan and camping essentials that'll add convenience to your journey. Also, don't overlook the importance of regular caravan servicing. Guarantee your caravan is road-trip ready with a thorough check-up from Lewis RV to ensure a safe drive down to Pemberton.