Going on a caravan trip is a great way to explore the beautiful Australian countryside, but dust, dirt and bug splatters can leave your caravan looking a bit worse for the wear. To keep your caravan looking its best and prevent damage over time, it is best to give it a thorough cleaning after each trip.
Here's what you need to know to do it right.
Frequently Asked Questions: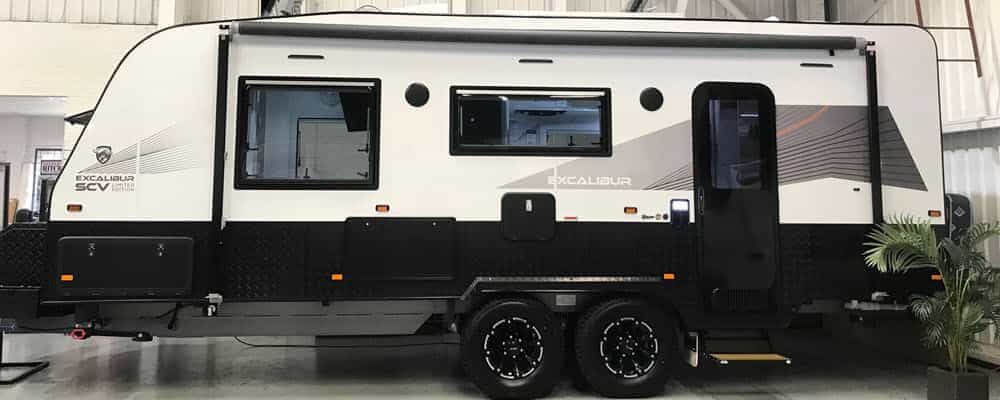 Where should I clean my caravan?
To ensure that all areas of your caravan's exterior are clean, you'll need to choose an area where you can easily access all sides of it, as well as the top. If possible, choose a shady spot so that the sun doesn't dry soap into the caravan's finish. If you can't find a shady area, aim to wash your caravan early in the morning or in the late afternoon when the sun and heat aren't as strong.
What tools or equipment will I need for caravan cleaning?
Unless you plan on scrubbing your entire caravan by hand, you'll need a broom with a long handle and a very soft-bristled brush. It is a good idea to buy a broom specifically for this job, so you don't risk twigs, rocks and other debris from the broom scratching the finish.
You'll also need a bucket large enough to dip the broom head into, as well as soap. The same soap you use to wash your car will do. A hose with an adjustable nozzle will be helpful for rinsing as well.
To prevent water spots as your caravan dries, you'll want to have a soft towel or chamois cloth at the ready. Finally, you'll need a step ladder to give you access to clean the roof. Make sure your ladder has a stable footing as it can often become quite slippery after washing your caravan.
Do I need to prepare my caravan before washing it?
There's not much you need to do to prepare, but you should check all of the roof hatches, windows and doors to ensure they are firmly closed before you start washing. You don't want to end up soaking the interior when you turn on the hose.
If your caravan is equipped with any awnings or annexes, open them up so you can clean them as well. Before starting the clean while your caravan is open, work through all parts and accessories to check for any caravan problems or faults. You should perform routine checks after and before heading off on an Australian adventure.
How do I wash the outside of my caravan?
Start by giving everything a good spray with the hose to remove any dust and debris. Next, prepare the car-washing solution according to the package directions, and lather everything up with your soft-bristled broom, starting from the top and working your way down. If you have a Paint Protection product applied, you may need to use specific products to maintain the warranty.
For any troublesome spots, like bug splatters, scrub by hand to loosen the debris. Don't forget to spray into the wheel wells but avoid spraying water into any exterior vents.
When you are finished, rinse everything with the hose again, ensuring you rinse off all of the soap residues.
For awnings and annexes, simply spray them down with the hose, only scrubbing when necessary. Leave the awnings and annexes open while you allow everything to air-dry or wipe dry with a soft cloth or chamois. Keep the awnings open until they are fully dry.
What if there is mould or mildew on the awnings?
If mould or mildew has formed on awnings, annexes or other canvas camping products due to rain or improper drying, you'll need to treat it with a mould remover. Be sure to choose one that is specifically designed for use on canvas to avoid damaging the fabric. You can find this type of solution at your local caravan shop or home improvement store.
Why do the window and door seals still look yellow after washing?
The sealant used around caravan windows and openings can become discoloured over time, especially if you drive your caravan on dirt frequently.
If the sealant still looks dingy after washing the exterior of your caravan, go over it again by hand, as this will enable you to scrub a bit more thoroughly. If you are still not satisfied with the results, it may be time to replace the seals, which you'll need to do periodically anyway to maintain water-tightness.
Your caravan maintenance specialist can let you know when it is time.
How can I keep the exterior of my caravan clean between washes?
Whenever possible, park your caravan undercover, like in a large carport or garage. Try to avoid parking it under a tree, as falling leaves, bird droppings and other debris can dirty it again. To protect the finish on the paint, you can apply a caravan wax or paint protection treatment after washing or have it done the next time you have your caravan serviced.
However, the best way to reduce all cleaning times, preserve exterior colours and sealants is to have a Paint Protection treatment applied when the caravan is brand new if possible.
How do I clean the interior of my caravan?
Cleaning the inside of a caravan isn't much different from cleaning the inside of your home. The tools and cleaning products you'll need will mostly be the same.
For the best results, be sure to choose cleaning products designed for the specific counter and flooring materials you have in your caravan. Follow the instructions on the packages, and clean surfaces, toilets and appliances as you normally would.
Upholstery can have a protective sealant applied at the same time as the exterior, to help prevent stains and make cleaning easier.
How do I clean my caravan's water tank?
Start by draining all of the water from the system. This includes turning on any faucets to drain any residual water.
When everything is drained, close off the system once again. Add a sanitising solution to the tank and fill with water. It can help to drive around a bit to help clean all of the tank's insides.
Allow the mixture to sit overnight, then drain in the morning. Fill the tank with water again to rinse, draining once more. Repeat this process until you can no longer smell the cleaning solution. After that, you're good to go again.
Is there anything else I need to do to care for my caravan?
Aside from keeping it clean, you'll also want to care for your caravan mechanically. For all your caravan maintenance needs in Perth, you can count on Lewis RV. We'll help you keep your caravan in excellent shape so that it will be ready to hit the road whenever you are. Reach out to us today to schedule a service appointment.