Caravan interior décor and design ideas
If you love travelling in your caravan, you need to have one that'll do more than just move you safely from one place to another. Since you'll be using your caravan as your home on the road, it should reflect your personality or, at the very least, your aesthetic preferences.
Good thing there are many sources you can use to get caravan interior ideas. However, there are two ways to go about it. If you have an old caravan or are planning to purchase a vintage caravan, you can do a full remodel or redesign of the interior.
But if you have a new caravan and think that a total redesign is unnecessary, you can focus on sprucing up the interior with décor and furnishings that'll best reflect your taste and character. If you need a little help getting started on your project, here are some caravan ideas you can use.
Caravan interior design
When it comes to caravan interior design, it's usually more cost-effective to remodel an old or vintage caravan than to buy a new one and replace all those shiny new parts with something else. This is because changing the interior design of your caravan entails the installation of the fittings, accessories and hard furnishings if you want to achieve a certain look.
If you're after a certain theme, such as a retro or classic look, everything – from the panelling, flooring to the various accessories and fittings – need to be considered. This is the best way for you to achieve the ambiance and total look you want.
With a total remodel, it's easier to implement interior design ideas and make your space look and feel bigger than it actually is. Of course, all this comes at a cost. An extensive remodel can cost as much as $15,000 or more (excluding any appliances), depending on how much you DIY and outsource to tradies. For a high-quality finish, it's usually better to hire specialists for each job. You may need experts to do the carpentry, plumbing, electrical, panel painting and sign-writing work.
If you're purchasing a new caravan, some fittings can be customised to a certain degree. This is actually being done on some Crusader caravans with the help of Lewis RV, some caravan interior design ideas and customisation options.
Of course, with new caravans, there are limitations as to the extent to which their look and style can be modified as newer models have modern interior designs. But there's another way to change the look of your caravan interior with the help of décor, soft furnishings, etc.
Caravan décor ideas
Making a few changes to the décor and soft furnishings can make a significant impact on the total look of your caravan interior space. Taking this approach is actually preferred when it comes to new caravans, as it won't require extensive changes. You need only a few caravan decor ideas to start.
Since the approach is mostly cosmetic, you can focus on achieving the look you want by changing or adding the following:
Upholstery
Window treatments
Carpets and rugs
Shower curtain
Beddings
Planters and foliage
Art, buntings and other decorative elements
If you're caravanning with kids, you can check online to get a few caravan bedroom ideas suitable for children. You can also get ideas on how to choose a colour scheme to achieve a seamless transition from the living/dining area through to the sleeping area.
By adopting this simple approach, you can transform an ultra-modern interior into one that has a homey, rustic or Bohemian vibe.
Interior colour schemes and ideas
When choosing caravan interior colour schemes, focus on hues that make a van feel spacious and won't date too quickly, with resale in mind. Also, the palette you choose must be neutral enough for you to be able to add other colours in the bedding and accessories.
Some popular colour schemes include soft blues, greys and white, or other pastel colours. You can also incorporate beige, cream or your preferred neutral or earthy hues to complement wood panelling and visually expand your space. However, remember that the darker you go, the smaller your space will seem.
A current trend you might want to consider is to have tapware, door hardware, and other fixtures in black, with timber-look benches and earthy-themed linens as optional upgrades.
Try not to introduce too many patterns or colours, as doing so will make an already-limited space look cluttered and make it harder to add patterns in bedding, towels, etc. later. For the flooring, choose a colour that won't show too much dirt and is easy to clean.
DIY caravan interior design and renovation ideas
As previously mentioned, it's better to buy a second-hand caravan if you want to change the look of the entire interior. If you have the required carpentry skills and tools to do a good job, you can renovate your caravan as a DIY project.
Our vans at Lewis RV are fitted out better than most. We use acrylic gloss cabinet doors, premium quality laminates and post-formed or bull-nosed edges for benchtops. We use commercial grade floor vinyl that's not only hardwearing but also easy to clean and maintain.
There are various upholstery options for the seating and bedhead. Make sure you choose quality upholstery fabrics if you want patterns and textures. Vinyl "leatherette" is a durable cost-effective option, whilst genuine leather is suitable if you want to go for a premium quality upgrade.
Whichever material you go for, these can all be treated with a protective application in-store to help maintain their good-as-new quality.
Most new caravans don't require curtains as the fly screen and pull-up blinds are built into the windows. However, some people do still like to add curtains for privacy when the windows are open.
To get you inspired, here are some caravan makeover ideas you can use to achieve the look you want:
Country charm for kids bedroom
For a colourful kids' bedroom with a country charm, you can never go wrong with these yellow curtains and muted yellow interior. Hang a multicoloured bunting and add print throw pillows and quilted bed covers to make the space welcoming for your kids.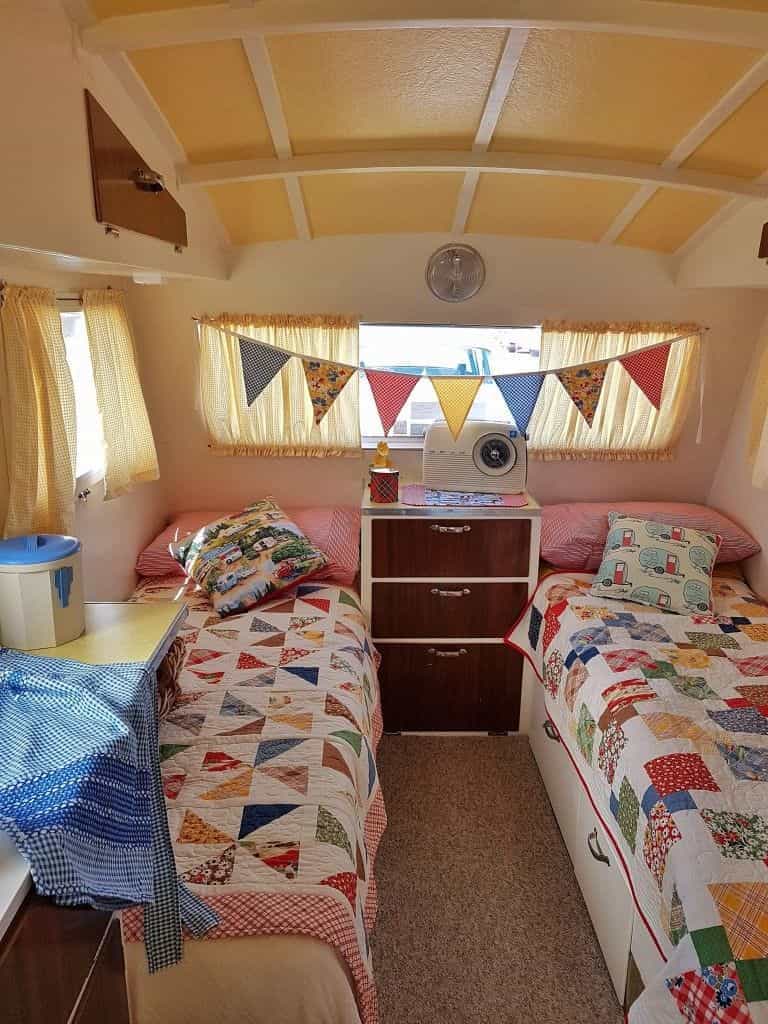 Vintage look caravan interior
Achieve a vintage look with these pastel-coloured tiles and upholstery that provide a nice contrast to the warmth of the wood interior. And check out the blue curtains, oven and sink!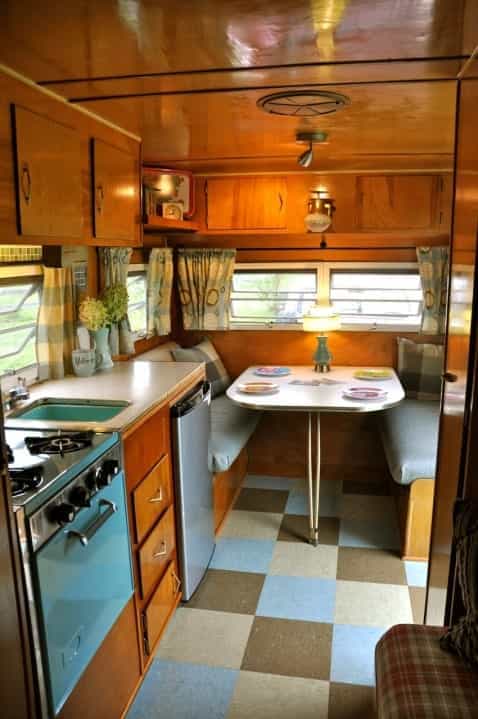 Retro diner look caravan décor idea
You can have this fun retro diner look by repurposing vintage tablecloths that add a colourful and unique vibe to your van interior. Check if you have old tablecloths tucked away somewhere and turn them into window treatments like the ones below.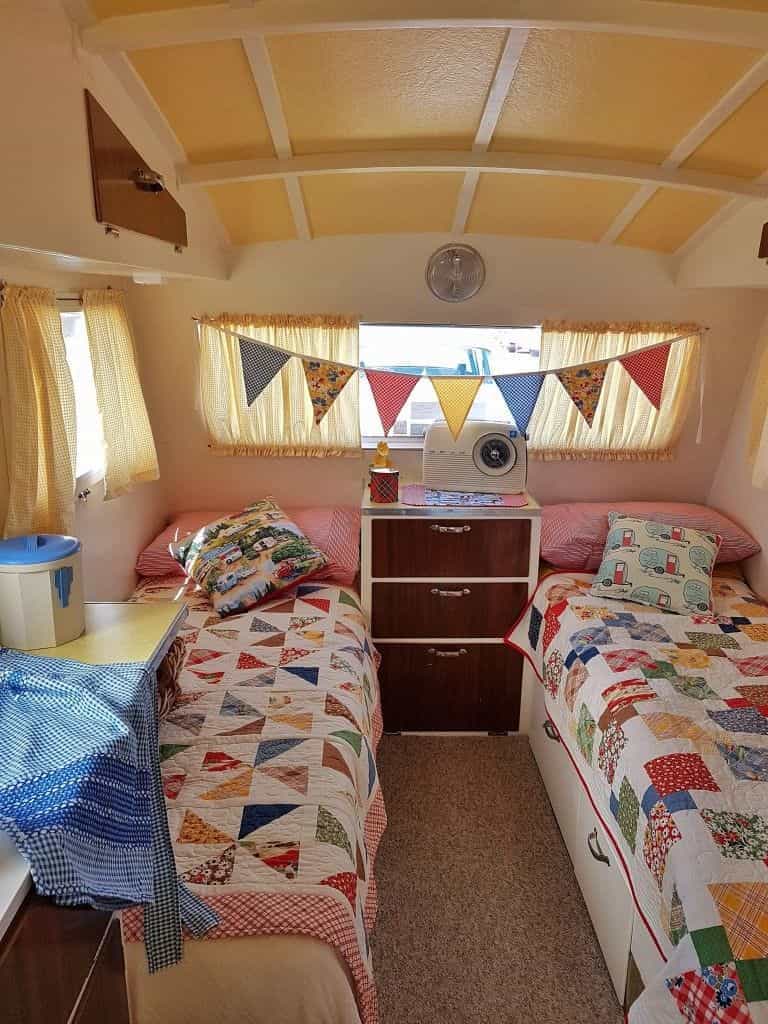 Playful rustic or country-themed caravan interior design
For a playful rustic or country-themed interior, you can go with a soft yellow theme and match it with small prints on white fabric for your curtains and tablecloth. The retro black-and-white checkered flooring serves as a not-so-subtle contrast to this feminine interior scheme.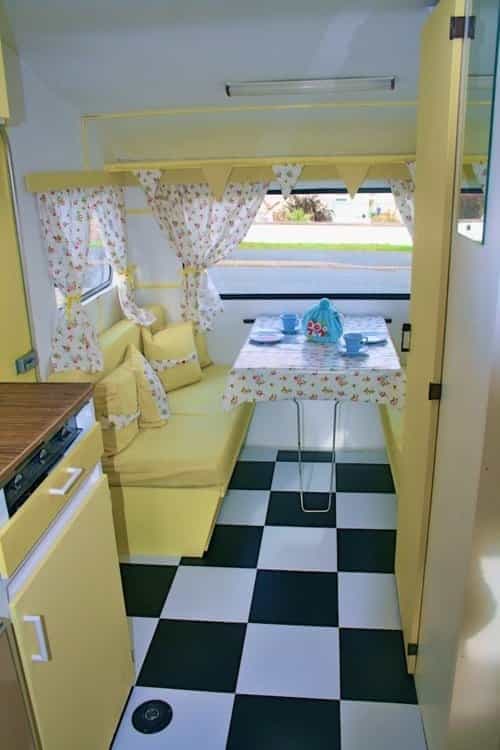 Earthy colour DIY caravan interior design
Another one to include in your list of great DIY caravan interior design ideas is this version of retro, where the designer has opted for earthy colours that work perfectly well with a white interior. The nature-inspired vibe of this theme is complemented by the use of natural fabrics and materials, as well as foliage.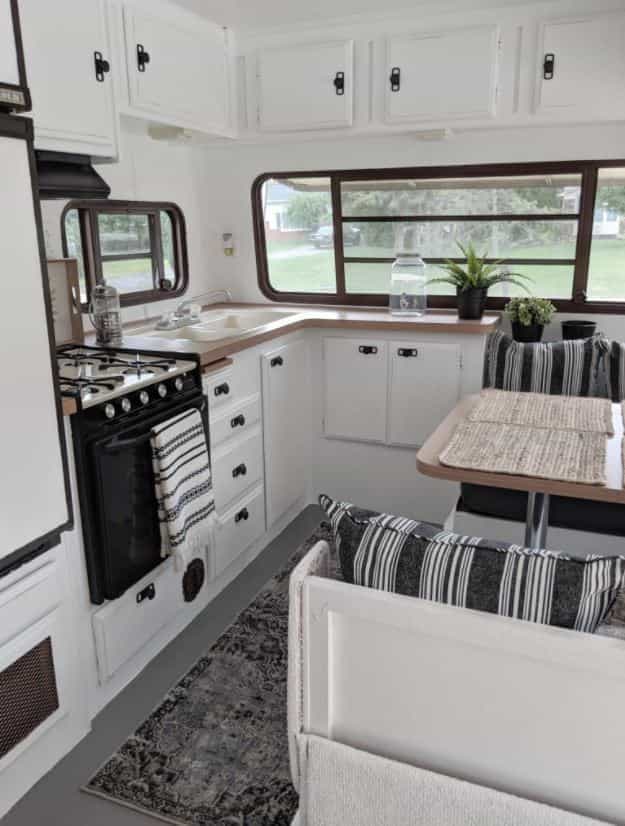 The elegant minimalist interior look
This elegant minimalist interior look combines the earth colours grey, brown and tan, and materials like leather, wood and cotton.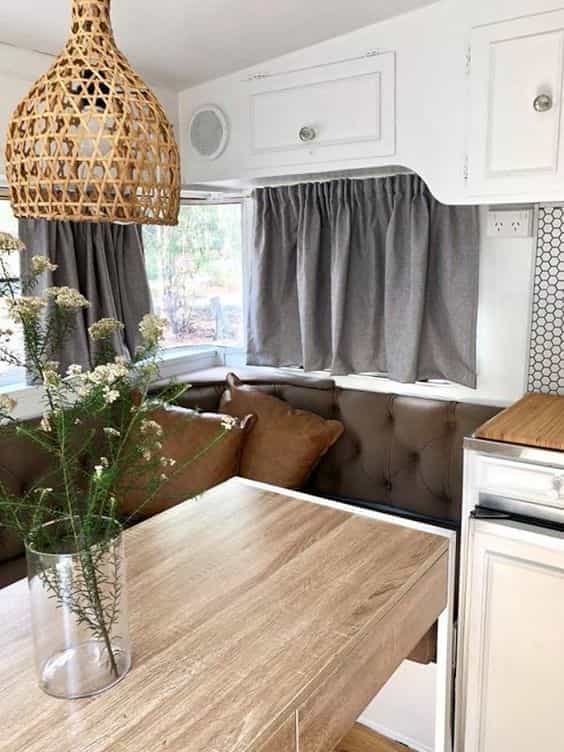 Lovely & cool caravan interior look
Check out this lovely, cool caravan interior where clean, sparkling white is the dominant colour scheme, and we only see splashes of colour from the checked bed cover, patterned area rugs and red pot inside a macrame plant hanger.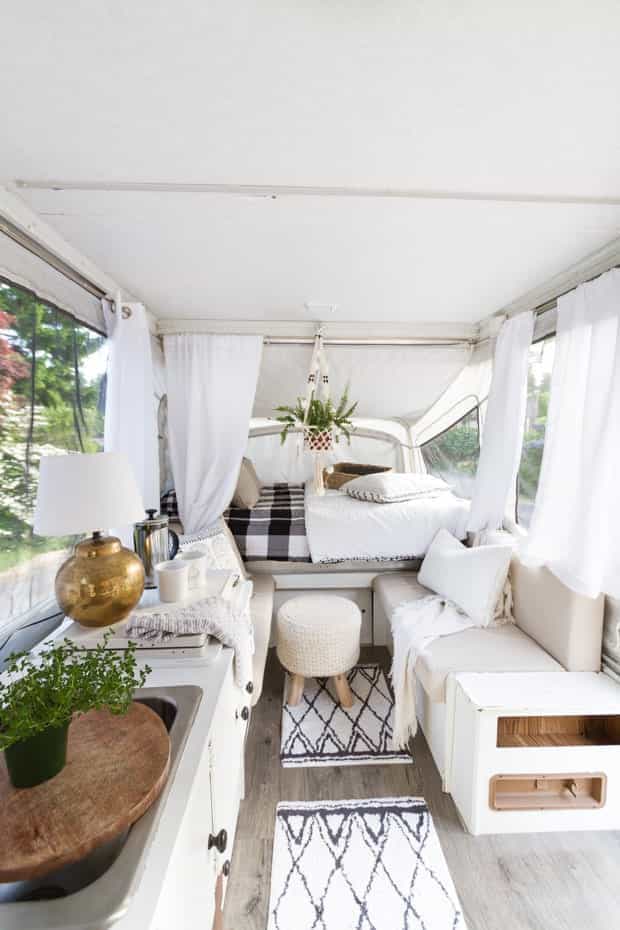 The tea spot & reading corner caravan style
Enjoy tea or coffee in this cool and classy nook where you can rest your cup on a repurposed metal table and sink into plush seats set in rattan chairs.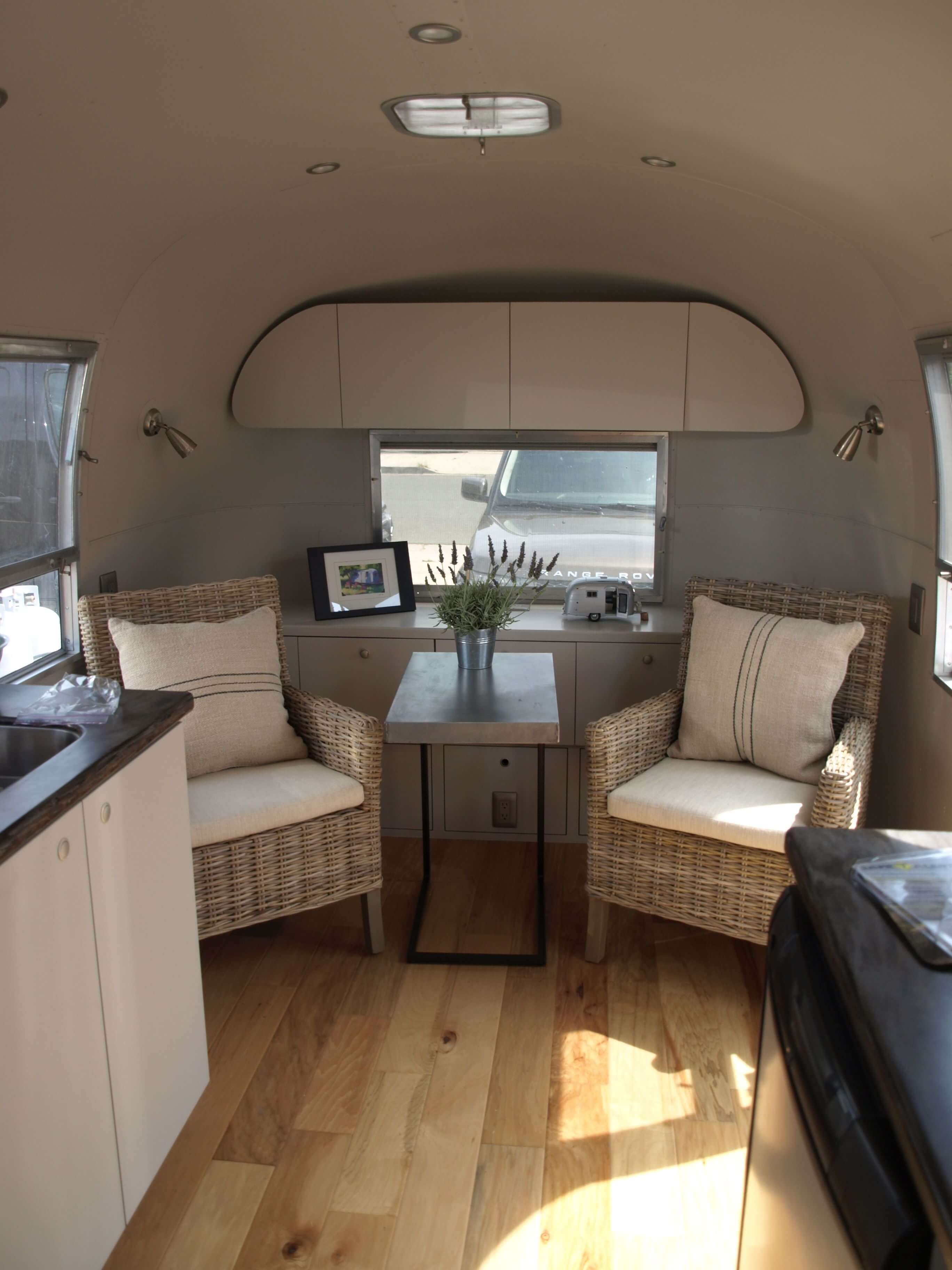 Pure elegance caravan interior
Dine in style on this elegantly set table complete with cutlery and goblets. The white and blue colour scheme makes the space look airy and spacious.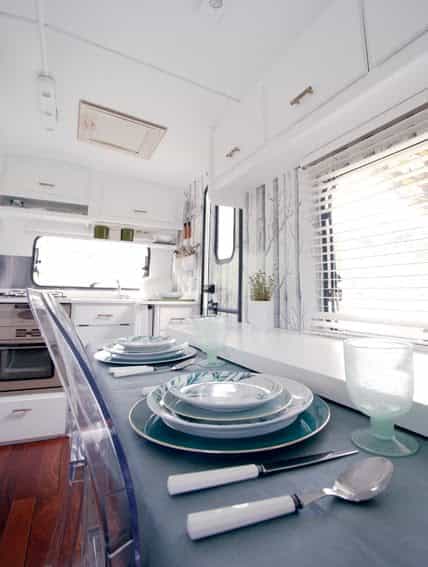 Modern interior design & décor
This is the epitome of an elegant, modern caravan interior where white and earth colours dominate, and the emphasis is on the use of various natural materials.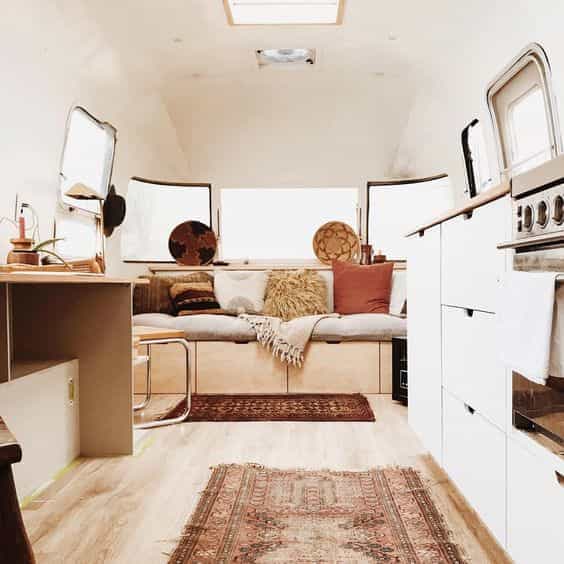 Final thoughts
Caravan interior refurbishment projects can be fun and exciting, but they do require significant time and financial investment, especially if you want to take a DIY approach. And our advice still stands: reserve remodels for second-hand caravans to make the most of your investment.
For brand new caravans, focus your efforts on making changes on the décor and soft furnishings to achieve the look and feel that you want.
At Lewis RV, we not only sell new and pre-owned caravans. We can also help you with your caravan interior design needs.