One of the best things about owning a caravan is that you can just pack up your stuff and head out on the road whenever you like. You'll have your very own place to stay coming right along with you, saving you from having to shell out for hotel rooms every night. While some campsites and caravan parks provide lighting, this isn't always the case, especially as you head farther away from civilisation.
To ensure you can see what you are doing after the sun goes down, you'll need the right caravan lighting. Here's what you need to consider when looking for efficient caravan lighting for your next adventure.
Start with the interior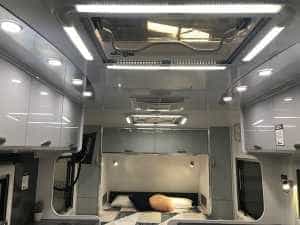 You'll likely be spending a fair bit of time inside your caravan, so it is a good idea to install your interior lights first. Overhead lights are great for dispersing light broadly but they can also cast harsh shadows. To prevent this, be sure to include lights at lower heights as well like those mounted on tables or in strips along the sides of your caravan.
You can also improve natural caravan lighting by installing sheer curtains or even adding or upgrading an existing skylight. Improving the quality and quantity of natural light entering your caravan allows your to reduce power usage during the day – essential when planning a long trip away from civilisation. Natural light is also much more pleasing on the eyes.
Beef up your exterior lighting
Lights outside of your caravan are just as important as those inside it. When the weather is nice, you'll love being able to relax and unwind under the open sky at the end of the day. Even as it gets dark outside, you can soak in the natural beauty with the right exterior caravan lighting.
When you are outside, your lights won't have the walls of your caravan to reflect the light back inside, so your exterior caravan lights will need to be a bit brighter in order to provide the illumination you need. If possible, look for a style with a dimmer switch so you can adjust the brightness as needed. This way, you'll have enough light so you can see what you are doing without drowning out the starry sky overhead.
Understanding different lighting types
In choosing the perfect lights for your caravan, you'll have a wide range of lighting styles available to you. To give you a better understanding of the options available, four of the most common caravan lighting options have been described below.
Incandescent – Incandescent caravan lights have been a mainstay of the lighting industry since they were first invented. These lights are affordable and easy to find in your favourite caravan supply store. However, the drawback is that they don't provide as much illumination, nor do they last as long, as some of their more modern counterparts. You'll save some money up front, but you'll need to replace the bulbs more frequently than with other lighting styles.
Halogen – Halogen caravan lights are a specific type of incandescent light. They function similarly, though halogen lamps burn more brightly and last longer. They don't produce quite as much heat as standard incandescent bulbs, but you will still notice a temperature increase in the area around the light.
Fluorescent – Fluorescent caravan lights typically come in long bars, making them great for use in caravans. They are significantly brighter than incandescent and halogen bulbs, and they produce far less heat. However, the quality and tone of the light aren't great for human skin tones, which can cause you and your friends to look wan and pale under them.
LED – LED caravan lights, while not necessarily new, are one of the newest styles on the market and they offer great energy-efficiency. These lights are incredibly long-lasting and provide bright light with minimal heat. You'll pay a bit more for them, but you'll rarely need to replace them, so it will be well worth the initial investment.
Visit the experts in caravan lighting at Lewis RV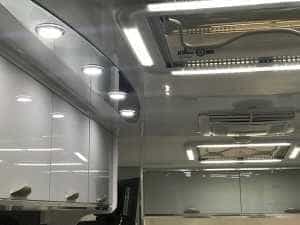 The caravan experts here at Lewis RV will gladly help you find just the right lights for various applications around your caravan. Our friendly team are always happy to answer your questions so stop by our Guildford shop or give us a call on (08) 6555 7755 to learn more.