In Western Australia, we're lucky to have so many great road trip destinations to explore. Esperance is located south of Western Australia and is known for its beautiful white-sand beaches with crystal clear blue waters. It's no surprise that Esperance is one of the most popular family caravan destinations for Perth locals. The drive from Perth to Esperance straight is roughly 8 hours. So to make driving 8 hours a more enjoyable road trip, we've put together the perfect 10-day Perth to Esperance caravan road trip itinerary for you.
Day 1: Perth to Hyden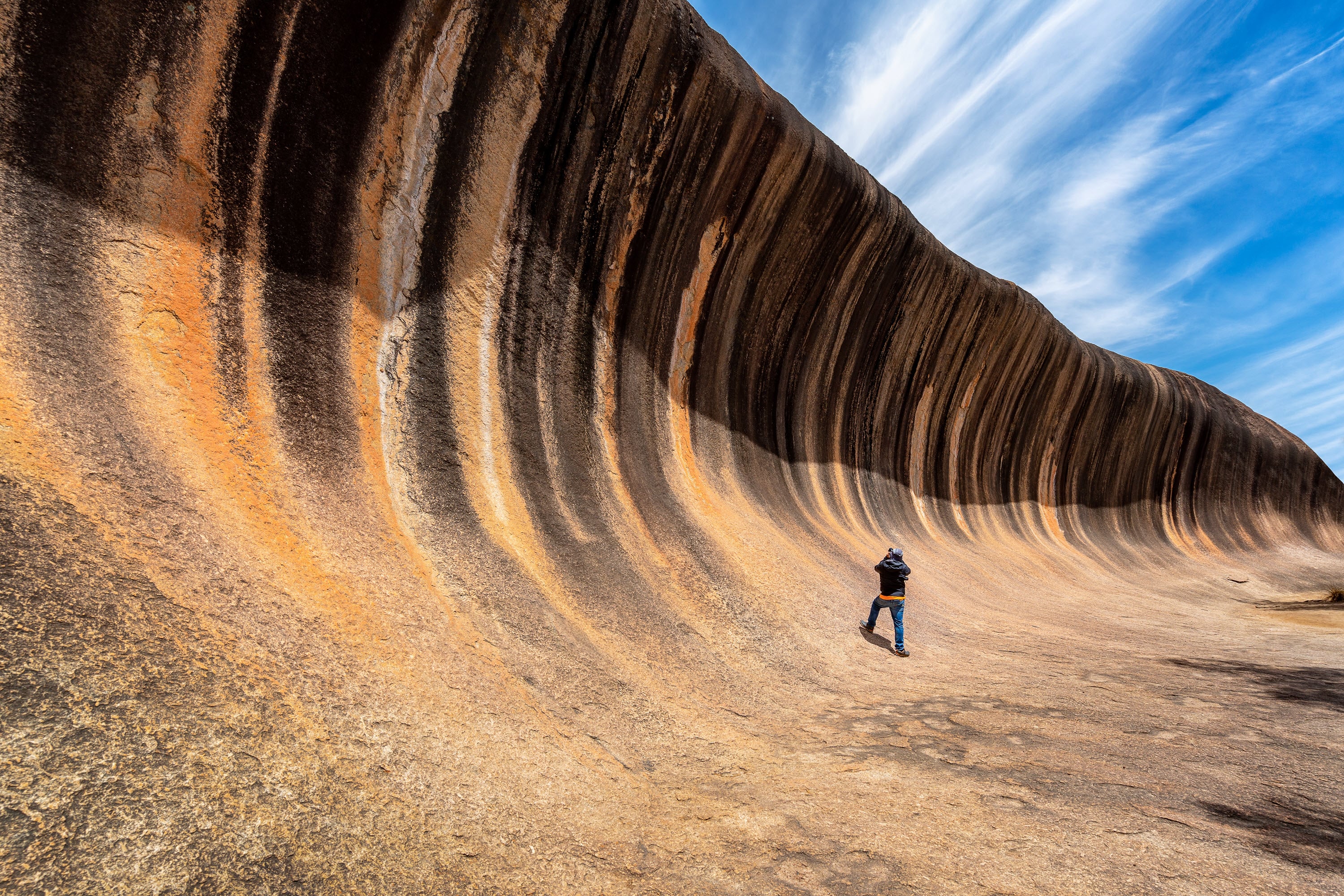 Start your road trip by heading east out of Perth on the Great Eastern Highway. After a few hours, you'll reach Hyden – the small town home of the Wave Rock. Stretch your legs with a hike to the top of this iconic rock formation and take in the panoramic views. You'll also pass through small towns like York and Brookton, which are perfect for a quick coffee break!
Wave Rock
No visit to Hyden is complete without seeing the Wave Rock. As one of Western Australia's most recognisable landmarks, this 15-metre high wave-like rock formation is a must-see. The best is, that it's right on the route on your journey from Perth to Esperance.
Hyden Wildflower Garden
If you've got a little extra time on your road trip, why not stop at the Hyden Wildflower Garden? The Hyden Wildflower Garden is home to over 12,000 native plants and flowers and is a nature lover's dream.
Where to stay in Hyden
After a busy day driving and exploring, it's time to rest and recharge for the night. You'll find plenty of caravan parks in or within close proximity to Hyden. These include:
Days 2- 5: Hyden to Esperance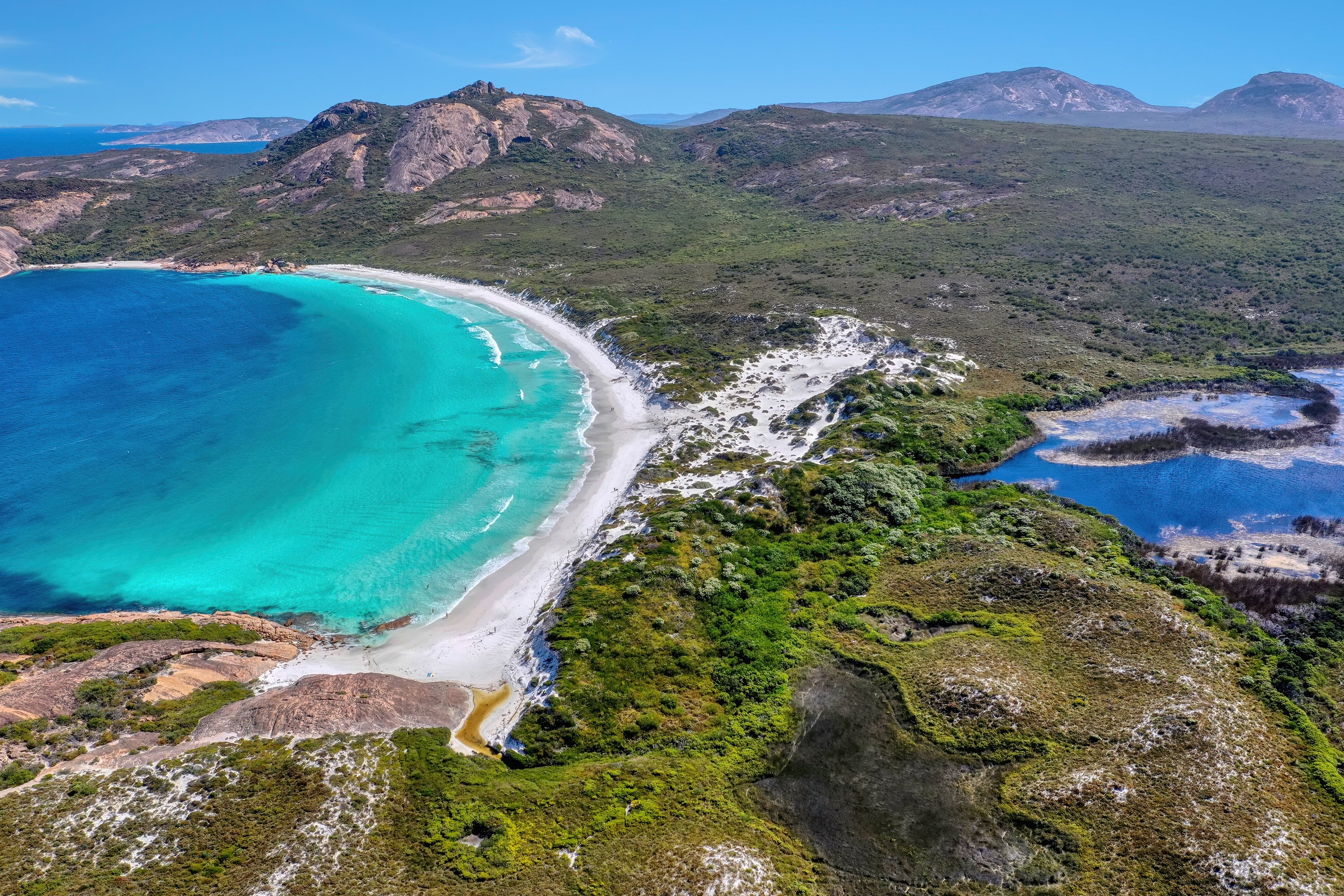 From Hyden, continue south east along Great Eastern Highway. Before you know it you will have arrived in Esperance, home of stunning beaches and lush national parks! In Esperance, there is something for everyone. Spend your days exploring the many beaches, national parks, and lookouts, or just kick back, relax and enjoy spending time with your friends or family.
Sunbathe with the Kangaroos at Lucky Bay
Lucky Bay is one of Australia's most iconic beaches. It's a sheltered bay which makes it perfect for swimming, snorkelling, and water sports. Lucky Bay is also the spot you'll get to hang out with the resident kangaroos on the beach.
See the iconic Pink Lake
One of Esperance's most unique attractions is the pink lake, otherwise known as Lake Hellier. As the name suggests, the water in this lake is pink! It's best seen from above, so be sure to check out helicopter tours or airplane tours before your visit.
Cape Le Grand National Park
No Esperance road trip itinerary is complete without a trip to Cape le Grand National Park. Cape Le Grand National Park is one of the best places in Esperance for hiking and camping. There are plenty of trails to explore, as well as beaches and lookout points. You can easily spend a couple of days exploring the many different hiking trails and lookout points Cape Le Grand has to offer! It's also home to Lucky Bay and Little Hellfire Bay.
Woody Island
Woody Island is a small island located 15km off the coast of Esperance. It's home to a variety of bird species, as well as some friendly kangaroos! Woodland Island is part of the Recherche Archipelago filled with rich history and plenty of activities.
Duke of Orleans Bay
Duke of Orleans Bay is a beautiful bay located just outside of Esperance. It's perfect for swimming, fishing, and picnicking.
Where to stay in Esperance
After a long journey from Perth to Esperance, it's finally time to park up your caravan and set up your awning. Esperance is a popular caravan destination in Western Australia therefore, you'll find plenty of parks including:
Day 6: Esperance to Bremer Bay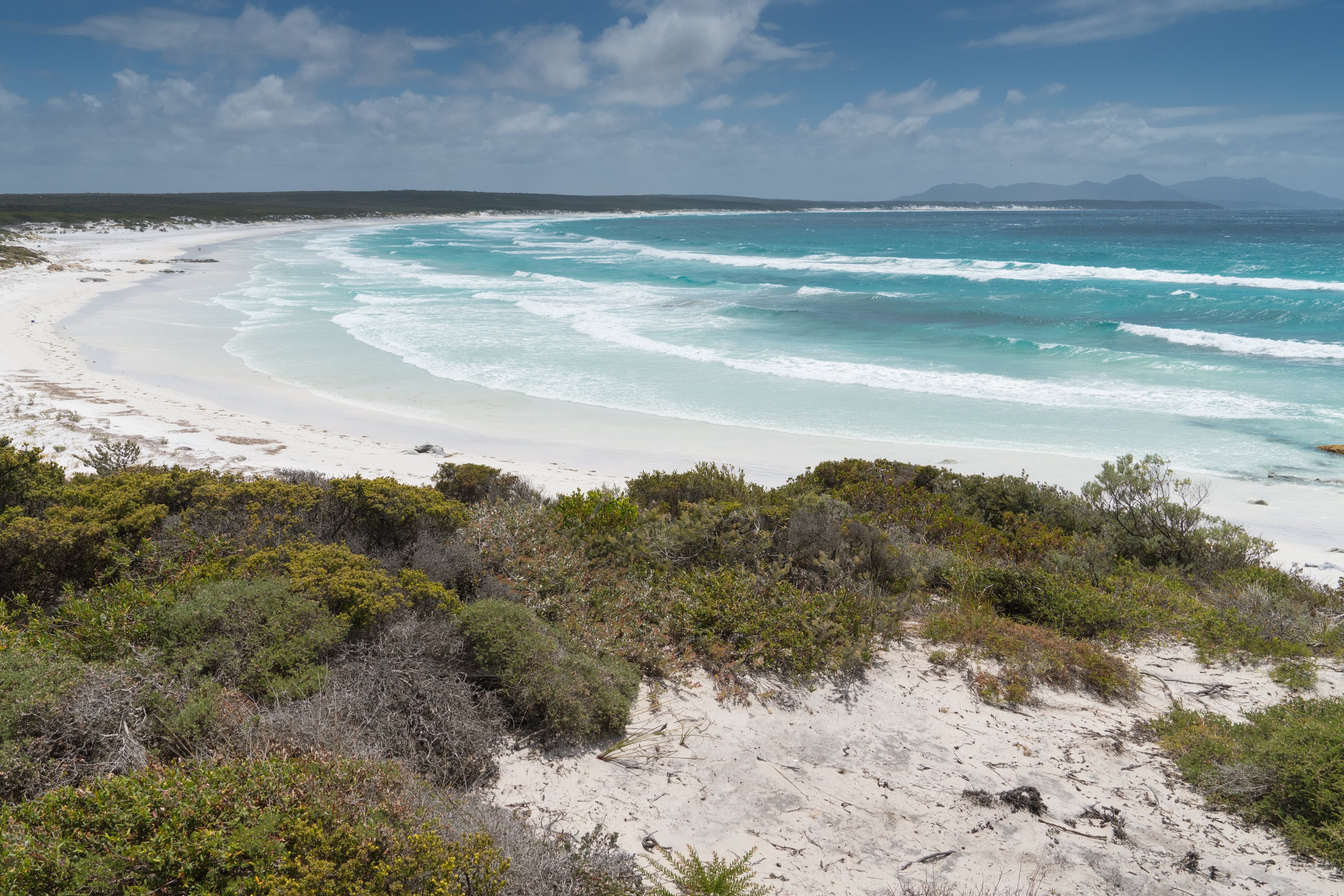 After exploring the beautiful beaches, parks, and walking trails Esperance has to offer, you can continue your road trip journey along the south coast towards Bremer Bay. The drive takes about 4.5 hours, so there's also plenty to see along the way to this small coastal town.
Fitzgerald River National Park
The Fitzgerald River National Park is home to an array of different landscapes, from lush forests to rugged coastline. There are also plenty of walking trails to explore, as well as opportunities for wildlife watching.
Bremer Bay Whale Watching Cruise
A cruise is a great way to see the wildlife that inhabits the waters off the south coast of Bremer Bay. You might see dolphins, whales, seals, and a variety of different bird species.
Where to stay in Bremer Bay
Bremer Bay is the perfect place to stop for the night on your road back towards Albany. Some of the most popular caravan parks in the region include:
Day 7 – 8: Bremer Bay to Albany
After your short stay in this quaint town in Western Australia, continue west on your road trip towards Albany. On the way, you have the opportunity to pass through some stunning scenery, including the Stirling Ranges and Porongurup National Park. With so much to do, Albany is the perfect spot to park up your caravan and explore for a couple of days.
Two Peoples Bay Nature Reserve
This beautiful reserve is home to a variety of rare and threatened plants and animals. Take the walking trail to see it all for yourself.
Albany's Historic Whaling Station
Take a step back in time and learn about Albany's whaling history at this unique museum. It was the last whaling station to cease operating in Australia and is now an interactive museum that the whole family can enjoy.
National Anzac Centre
The National ANZAC Centre is a must-see for anyone visiting Albany. This interactive museum tells the stories of the ANZAC and their experience during the first world war. It's located just a 5 minutes drive away from the main town centre.
Torndirrup National Park
Torndirrup National Park is one of the most beautiful places in Albany. The park is home to a variety of rare and threatened plants and animals. There are also plenty of hiking trails to explore.
Where to stay in Albany
There are plenty of things to see and do in Albany. Therefore, you'll find plenty of popular caravan parks to set up camp at including:
Day 9: Albany – Margaret River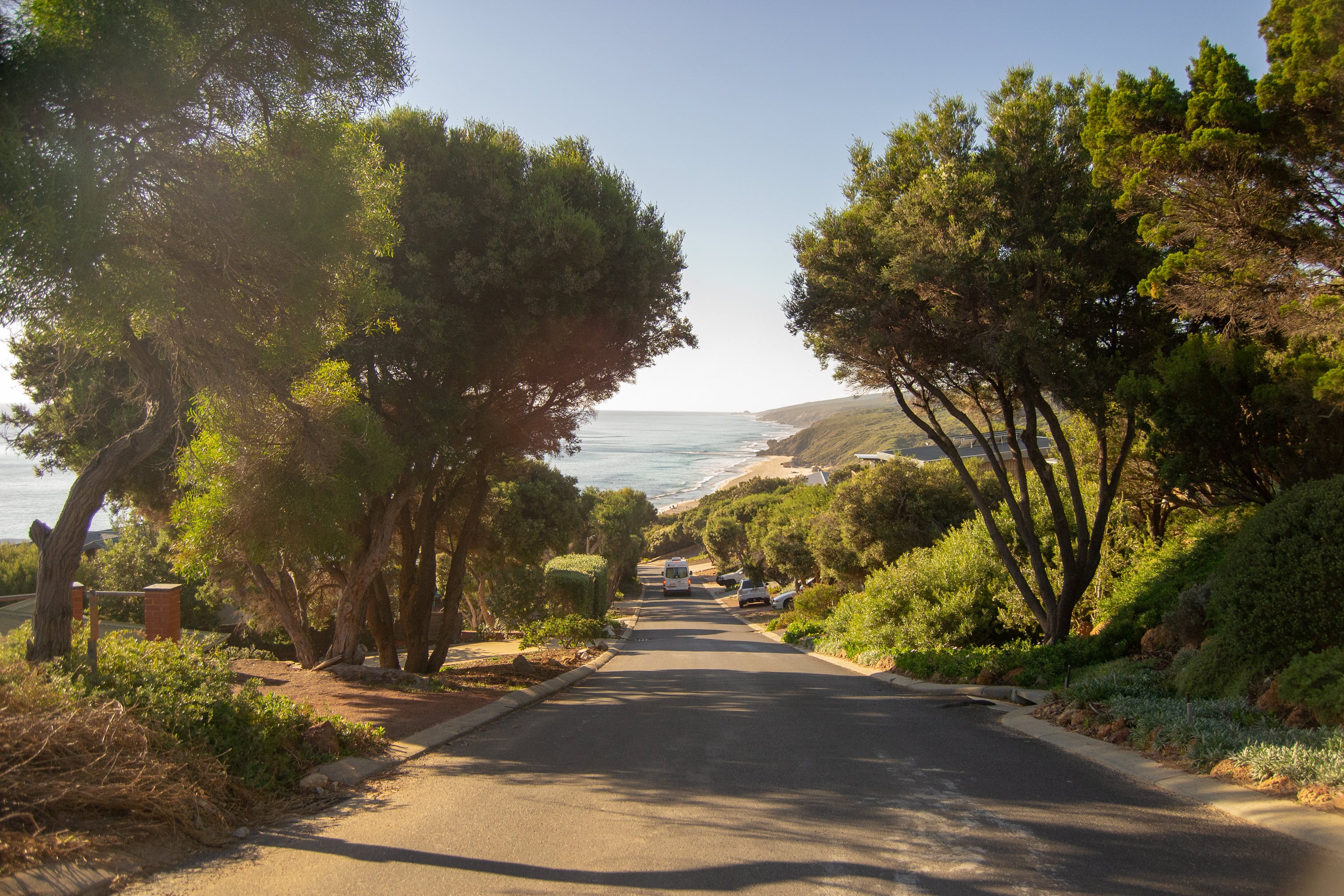 Once you've done sighting seeing Western Australia's great southern region you can begin heading to Margaret River in Australia's South West region. The Margaret River region is renowned for its world-class wines, beautiful beaches, and stunning scenery.
Boranup Karri Forest
The Boranup Karri Forest is one of the most popular attractions in the South West. Visitors can walk through the forest and see the giant karri trees that are native to the area.
Hamelin Bay
If you want to spend the last few days soaking up some rays at some of the South West region's amazing beaches. You're in luck. Hamelin Bay is many people's favourite beach as it's a beautiful bay with crystal-clear water and white sand beaches. It's a popular spot for swimming, snorkelling, and fishing. It's located South of Margaret River so it's also perfect for a stop along the way from Albany.
Wine Tasting
Western Australia's South West is known for its gourmet wines. Drive the scenic Caves Road and stop at a few of the many wineries for a tasting and lunch pairing.
Where to stay in Margaret River
The Margaret River region has caravan parks with amenities to suit all types of travellers. Here are some popular choices:
Day 10: Margaret River – Perth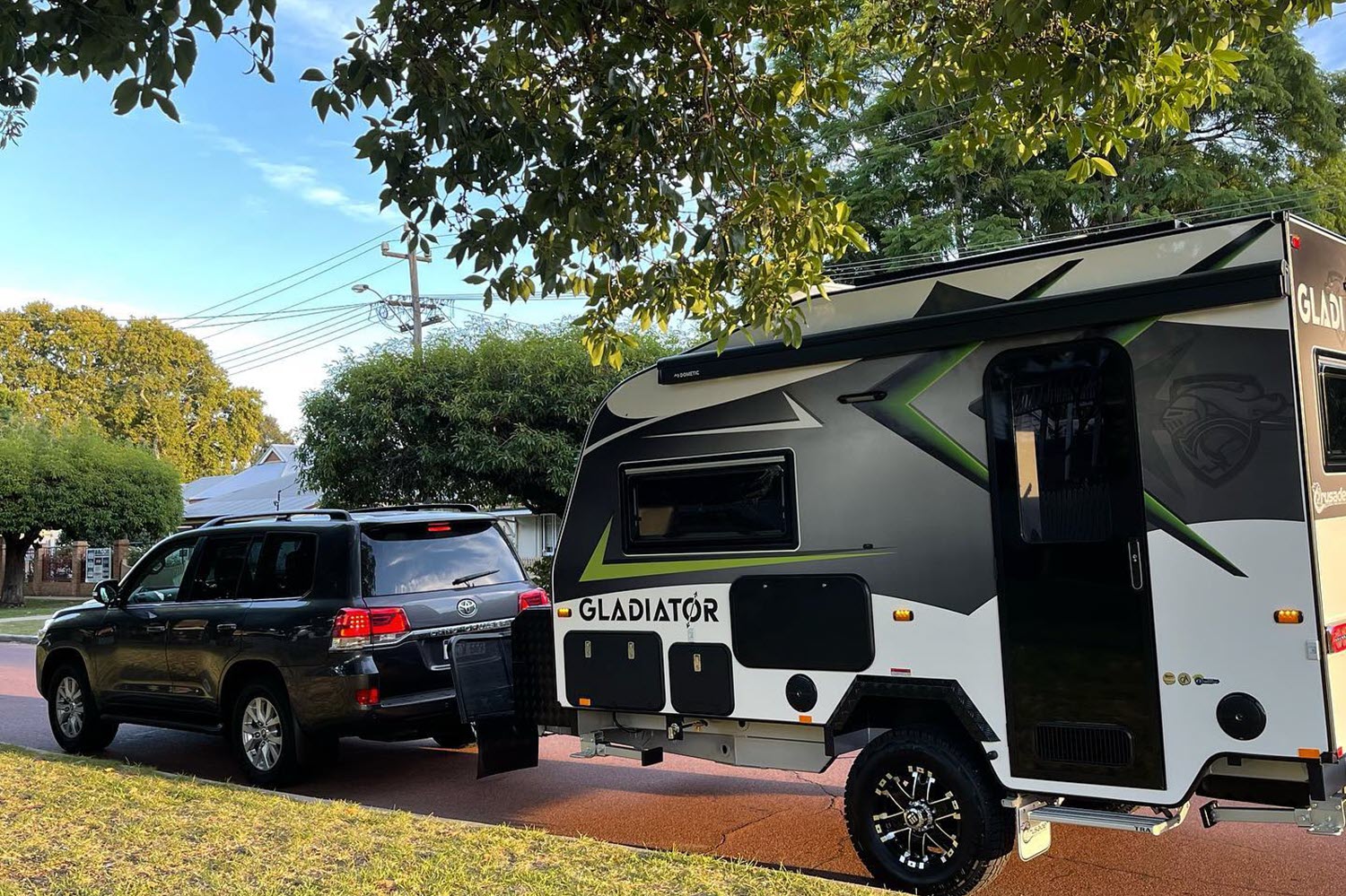 It's the last day of your Esperance road trip and it's time to leave the South West. You can head straight back to Perth or stop along the way at some of the best things to do in WA's South West region along the coastal route back home.
Get Ready For Your Perth to Esperance Caravan Trip
Whilst the Esperance drive seems long, your journey from Perth to Esperance doesn't have to be spent on the roads in your car. Lucky for us, Western Australia has plenty to see and do along the way from its incredible beaches to its national parks and hiking trails.
Now that you've got your Esperance road trip itinerary, it's time to start preparing your caravan. If you're planning a long road trip from Perth to Esperance, you should ensure both your tow vehicle and caravan have had their annual service.  Enquire about caravan servicing online or by calling (08) 6555 7755.