When searching for the perfect caravan, people usually begin their search for large, heavy-duty vehicles. However, owning a small caravan has plenty of perks.
The most common (and usually most annoying) compromise for couples and families purchasing a small caravan is that they often don't include a shower and toilet. While this is fine for travellers stopping in at caravan parks and camping grounds that have clean amenities, it becomes more bothersome for travellers seeking an adventure off the beaten track.
Luckily with the latest generation of small caravans from Crusader Caravans, you'll be able to find the best small caravan with a shower and toilet; great for small families, couples and solo travellers.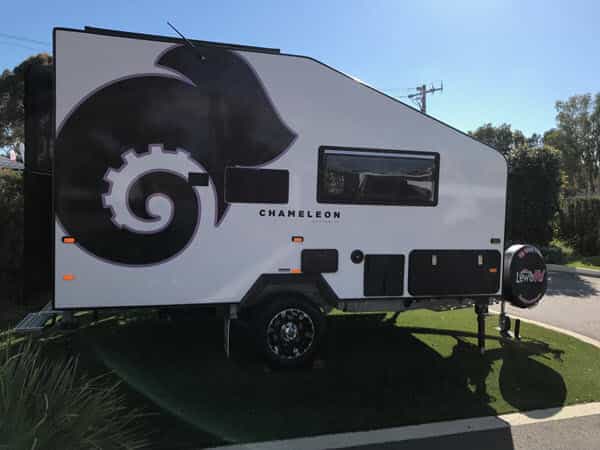 Benefits of owning a small caravan
Bigger isn't necessarily better. While larger family caravans often provide a more spacious indoor living area, there are several benefits that come with owning and travelling in a small caravan. Some of the most common benefits include:
Easier to store: Due to the compact size, small caravans are much easier to store in the off-season. You won't have to scramble to find space to keep it out of the elements, usually taking up the same space as a small vehicle.
Smaller vehicles can tow it: Larger caravans need larger vehicles to tow them to your destination (learn about caravan weights and towing requirements). The best small caravans are lightweight and compact enough for smaller vehicles to pull with ease.
Cost-effective: Although smaller caravans are often top-notch, they're still a cost-effective option for both individuals, couples and small families alike. They're much less expensive than a full-size caravan, and you don't sacrifice any amenities.
Easier to navigate: Since smaller caravans are compact, they're generally much easier to navigate, park and reverse. This includes getting the caravan on the road and to your destination, as well as manoeuvring them into the camping space.
Flexible travel speeds: It's typically slower to drive with a larger caravan, so a smaller one allows you slightly more flexibility when it comes to travel speeds. You'll be able to reach your destination quicker and enjoy more time there. The reduced surface area will likely also result in slightly less fuel consumption per km, saving you money on long trips.
Three of the best small caravans from Crusader caravans
Looking for the best small caravan with a shower and toilet?
Lewis RV would like to introduce you to the Crusader Chameleon range, including the Chameleon Action and Chameleon Liberty SV. These small caravans offer a compact design while still including all the essentials of a comfortable and spacious holiday. The minimalist design makes them the perfect lightweight caravans for small cars.
But first, learn more about the Lifechanger Pathway. This small caravan packs in all the benefits of a large luxury caravan in a small package. Find the perfect small caravan with a shower and toilet available at Lewis RV today.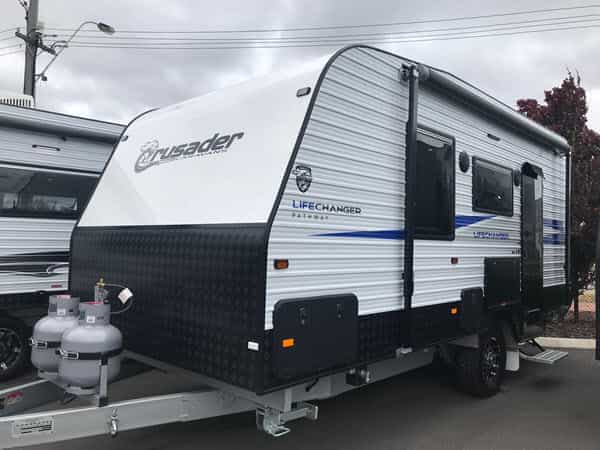 Luxury caravan in a small package
The Crusader Lifechanger Pathway includes:
Full ensuite with shower and toilet
Fully insulated composite floor
Rearview camera
Recessed cooktop
Higher 80" ceilings
One-piece composite roof
170w solar panel
The Crusader Lifechanger Pathway offers a light-weight and low price caravan design that is suitable for small-sized SUVs. With a caravan weight of 2200 ATM, the Crusader Lifechanger Pathway is the perfect small caravan complete with a shower and toilet.
The Pathway caravan provides a single axis design with all the essentials you'd expect in a Crusader Caravan. The 4" chassis and 6" frame helps reduce the weight of the caravan allowing a wider range of vehicles to be used to tow.
When speaking of standard extra's, the Crusader Lifechanger Pathway comes standard with a picnic table, outdoor TV hutch, a large two-door fridge and remote-controlled LED lighting. With a selection of colour finishes, you can customise this small caravan with shower and toilet to suit the design of your dreams.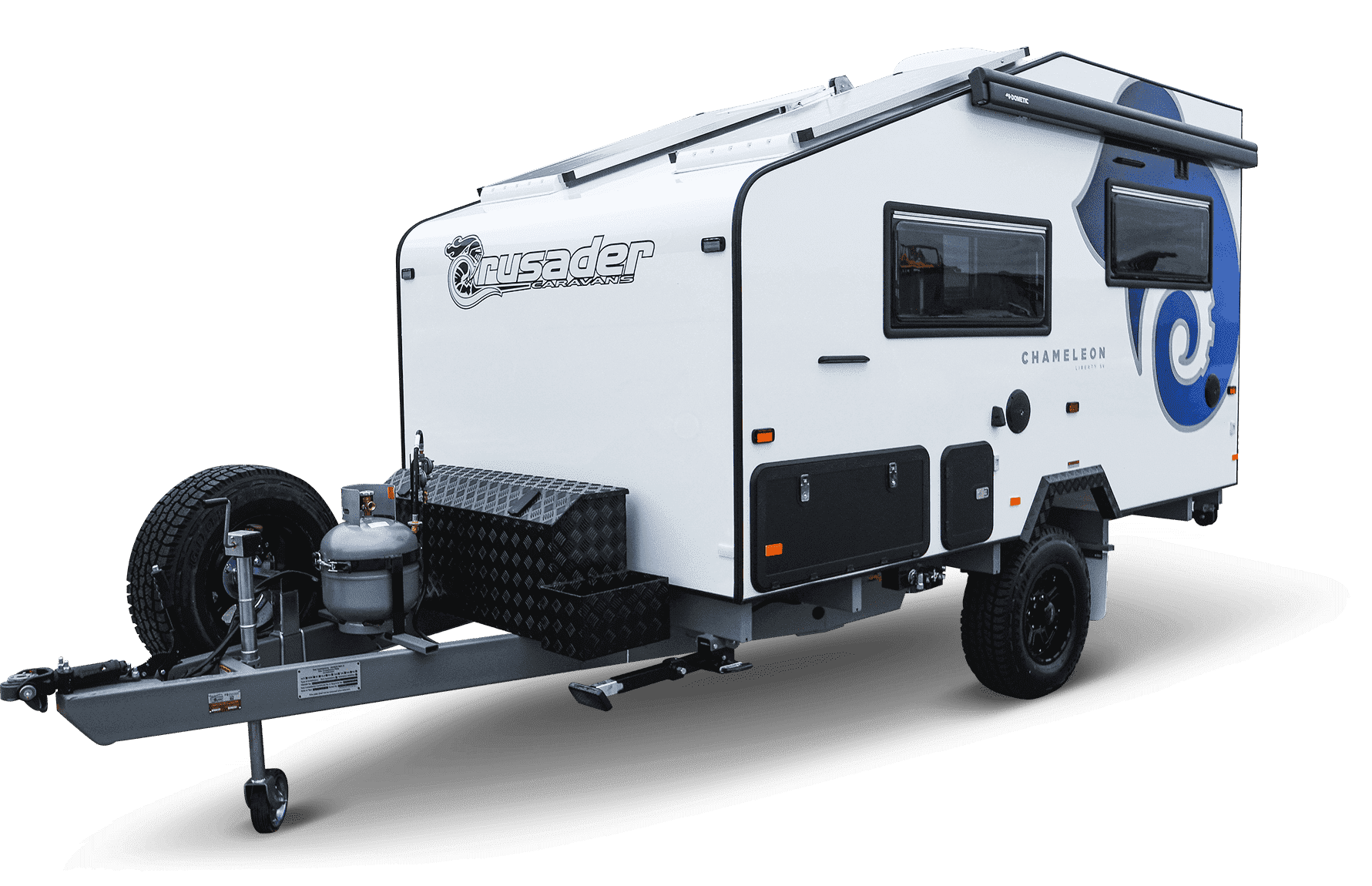 Small Caravan with Shower and Toilet
The Crusader Chameleon Liberty SV includes:
Internal ensuite with shower and toilet
windout awning
2 x Sirocco fans
240v power outlet
2 x 170w solar panel
120 ah battery
2 x 62L water tank and 9kg gas
Next is a compact camper that is just under 13 feet long but doesn't skimp on any modern amenities. The Crusader Chameleon Liberty SV comes built to suit a huge range of tow vehicles with an insulated fibreglass body. It's large enough for a family of four to sleep comfortably, and it has everything you need to keep everyone comfortable and happy on both long and short holiday getaways. It also makes it the perfect lightweight caravan for small cars.
This compact and affordable caravan comes with a powerful 160-watt solar panel and a 120-AH battery. These amenities mean that you'll always have enough power to relax in style. You also get a 9KG gas tank and two 62L water tanks. This is enough water and gas to jump in and go without worrying about stopping to fill up again and again.
Whether you enjoy weekends surfing, mountain bike riding, fishing or simply sneaking away for some peace and quiet, you can take the Chameleon Liberty SV just about anywhere. No canvas to pack up, no setting up camp in bad weather, just choose your site on the beach or by the river and open the door.
The Crusader Chameleon Liberty SV really is one of the best small caravans with a shower and toilet.
Outside, the Liberty SV features independent suspension with twin shock absorbers, an extended drawbar with toolbox for extra storage, slide out kitchen with hot / cold sink and hooded bbq/ gas burners. The rear entry door is a security door, with windows along the side walls allowing great air flow and shaded by the European style awning.
Crusader Chameleon Action
This model is sold out, but a new model is coming soon.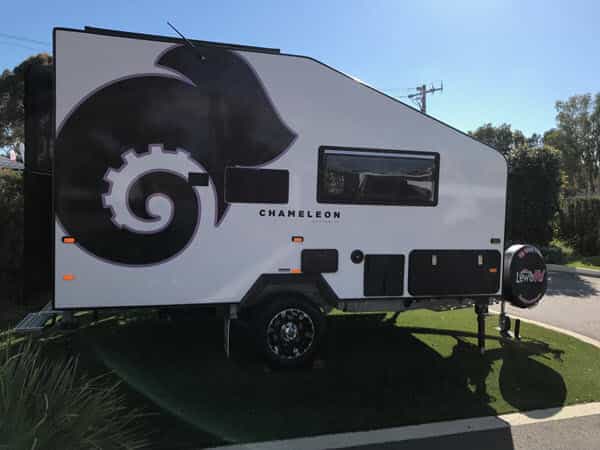 An Adventure Travellers Ideal Caravan
The Crusader Chameleon Action includes:
Compact & lightweight design
Single (slide together) double beds
External shower
Hot water system
Full height entry/security door combo
External slide-out kitchen
Offroad options available
Last in our line up is the Crusader Chameleon Action. This is an excellent entry-level camper with a fibreglass insulated body that is both lightweight and durable. It comes with a 160-watt solar panel that can help power your appliances as well as a 120-AH battery. Both of these items will ensure you can sit back and enjoy the modern amenities that this caravan offers any time of the day or night. It holds 9kg of gas and 62L of water as well. This capacity allows you to fill up less and enjoy your holiday more.
On the exterior of the camper, you'll find a hot/cold shower, hooded BBQ and a slide-out kitchen with a hot/cold sink. You can shower and cook your food quickly and easily while enjoying the gorgeous views. The windows in the side of the Crusader Chameleon Action offer excellent airflow during the day and night, and the rear security door gives you peace of mind.
When you go inside, you'll get an area that allows for full standing height, dual twin beds that can convert to a queen, a full-height pantry and a compact fridge and freezer set. You'll have plenty of storage space for your items, and there is additional space in the lounge in a locker and along the tunnel boot.
The Crusader Chameleon Action is light to tow, easy to store and dent-proof. This ensures that you can enjoy your camper in a variety of terrains and weather conditions without a worry. You can go out on holiday, save money and immerse yourself in the gorgeous scenery found throughout Western Australia.
Contact Lewis RV for the best small caravans available
Are you ready to go on your next holiday in style? Maybe you have questions. Either way, reach out and get in touch with our staff today! Call us on (08) 6555 7755 or visit us at 50 James St, Guildford 6055. We'll help you find the perfect lightweight vehicle for small cars.
For more information on the Crusader Chameleon range, download the brochure.
Frequently Asked Questions
Lewis RV endeavour to have most Crusader Chameleon caravans in stock to make your purchase quick and stress free. You can visit out team at our Guildford showroom or give us a call on (08) 6555 7755. To view what stock we have available, check our website.
If you're looking for a compact small caravan but still want the luxury of an ensuite including a shower and toilet, look no further than Crusaders Chameleon range. The Crusader Chameleon Family SV is one of the best small caravans with a shower and toilet, all wrapped up in a compact design. The size allows it to be towed by smaller vehicles, while still having enough space to fit the whole family.
The Crusader Chameleon range is packed with features to make your next adventure easy and stress-free. Depending on the model you select, your new caravan could include an ensuite (including shower and toilet), gas hot water system, external slide-out kitchen and more. Some models also include off-road options.