When it comes to purchasing a caravan, you're exposed to multiple brands and the options of used or brand-new vans. As you might expect, new caravans come with everything you need and are tried and proven to last the tests of time. However, they also tend to come at a higher price, so you'll need to balance getting the features you want while staying within your budget.
Buying a used caravan can help you save money upfront, but it can also complicate the buying process and could result in higher on-going costs due to wear and tear. Finding the right caravan dealership with experience in used caravan maintenance and repair will streamline the purchase. When purchasing a used caravan privately, it's also recommended that you have it checked by a caravan service department.
Follow these handy caravan essentials checklist to help you make the most of your purchase.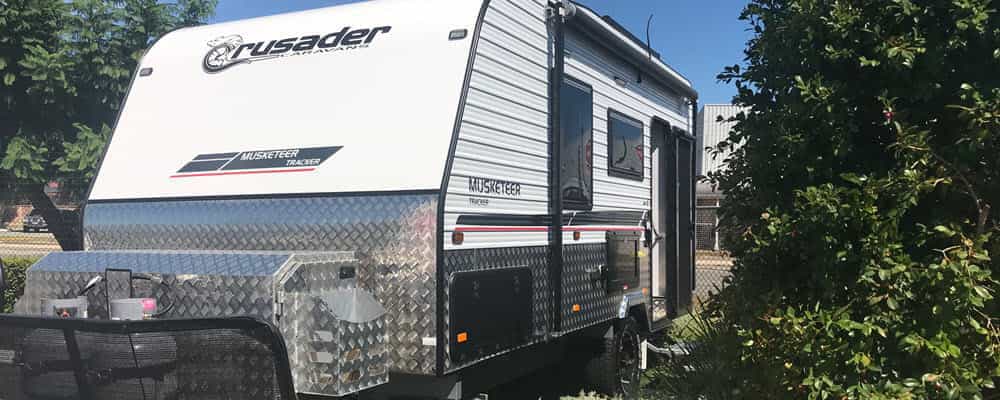 Essential caravan buying checklist
Before going into the specifics that distinguish buying new caravans from buying used ones, let's start with some tips that apply to any caravan purchase:
Start by casually exploring your options
It is difficult to determine what you need from your caravan when you don't even know what is out there. Browse through various options online and instore to get a feel for what is out there and what you can expect to pay for the features you want.
Hire a caravan for the weekend
If you have never gone on holiday in a caravan before, you won't know much about your taste and preferences. Start by hiring one for the weekend so you can try it out first. This way, you'll have greater insight into the features that will be most important for your travel style.
List your preferred features
Now that you have a better idea of what you are looking for, make a list of the features that are most important. Separate them into categories, including caravan essentials, top preferences and 'nice-to-have' extras. When you go to a caravan dealer, you'll be prepared, and the salesperson will know exactly what you are looking for, streamlining the overall process.
Know your vehicle's capabilities
Many people, especially those who are new to caravanning, don't realise that different vehicles have different towing capacities. Be sure to check your owner's manual or reach out to the manufacturer to find out what your vehicle can do. You don't want to buy a caravan only to find out that you'll now have to buy a new car, ute or SUV in order to tow it.
Don't be afraid to walk away
Don't feel pressured into making a purchase right away. Caravans can be expensive, and you want to ensure you have taken the time to consider all your options, so you make the right choice. Remember that you can always come back and make a purchase at a later date – just make sure you grab the dealers contact details to keep in touch!
Essential new caravan buying checklist

When you buy a new caravan, you can have confidence that it is in the best possible condition, as it has never been used previously. Follow these essential new caravan tips to ensure you make a great purchase:
Know the warranty details
Most new caravans come with manufacturer's warranties, but not all companies offer the same warranty benefits. Be sure to find out what is included in the warranty for your caravan of choice before you buy, as some are more generous than others. Keep in mind that certain aftermarket modifications or driving behaviours can void your warranty, so make sure you know what is and is not allowed to avoid losing your benefits.
Explore your financing options
New caravans can be quite costly, so you may need to finance your caravan purchase. Take the time to work through your budget to ensure you'll be able to afford the monthly repayments. Don't forget to factor in petrol costs and maintenance expenses, as these can add up over time.
Don't let excitement cloud your judgement
Today's modern caravans are packed with convenience features you are sure to love, but just because something seems really cool doesn't necessarily mean that you need it. Refer back to your list from the previous section, and always keep your budget in mind.
Essential used caravan buying checklist
Buying a used caravan can save you quite a bit of money upfront, but there is added risk involved, as there is no way to be certain a caravan has been cared for properly over the years. Stick to this used caravan checklist to help you find a great second-hand caravan:
Inspect the caravan thoroughly
When you are looking at used caravans, don't just give them a quick once-over; take the time to open all cupboards and look under furnishings. Be on the lookout for any signs of water damage, misuse or neglect. Issues inside could indicate that the previous owner hasn't kept up with the proper maintenance, potentially making the caravan unsafe. Look for rust, dents, scratches and other damage on the exterior as well.
Let the experts inspect the used caravan
Many used caravan dealers follow an inspection checklist to verify that caravans are safe. Purchasing your used caravan from a reputable caravan dealership gives you the certainty that the caravan has been inspected and any issues repaired or resolved before being placed on sale. They can also answer any questions you have about increasing the longevity of your van, storing tips when not in use, and best accessories to compliment your caravan.
Your caravan will last for many years to come, so it's important you've made the right choice. When inspecting the van, ask as many questions as you can to get a better understanding of the van and its history. Some common questions to ask include:
What year was the van manufactured?
When was the caravan last serviced?
Is there a history of caravan servicing/maintenance?
Are their any major problems that need to be fixed?
Find your perfect caravan at Lewis RV
Owning a caravan, whether you buy it new or used, opens you up to the possibility of many exciting adventures on the road. Whether you are planning on taking your caravan for short outings in your local area or going big and doing the lap, we've got everything you need here at Lewis RV. We have a wide selection of new and used caravans on offer, and our team will be happy to help you find the perfect one to meet your needs. We'll work with you to understand your needs and preferences so that we can make expert recommendations. Get in touch with us on (08) 6555 7755 or stop by our Perth dealership today to learn more!