Going on a caravan trip with the whole family is something many Australians look forward to. With Western Australia being gifted with the most breathtaking locations and scenery, the experiences gained while caravanning are sure to last a lifetime.
Caravanning gives you the opportunity to take a step back, commune with nature, get away from the stress of city life and reset with still enjoying some of the creature comforts of your permanent home.
However, one pet peeve of caravanning is what could sometimes be uncomfortable sleeping arrangements.
This doesn't only involve the effort it takes to put the beds up to use common areas of the caravan, although most good caravans today are fitted with comfortably sized permanent beds. It's also about how sleeping in a caravan is sometimes said to not be as comfortable as sleeping at home.
If you've ever been bothered by uncomfortable sleeping during one of your caravan trips or are planning for your first caravan adventure, be sure to keep these caravan bedding ideas and simple tips in mind. That way, you'll be more likely to have a memorable, comfortable and fun adventure.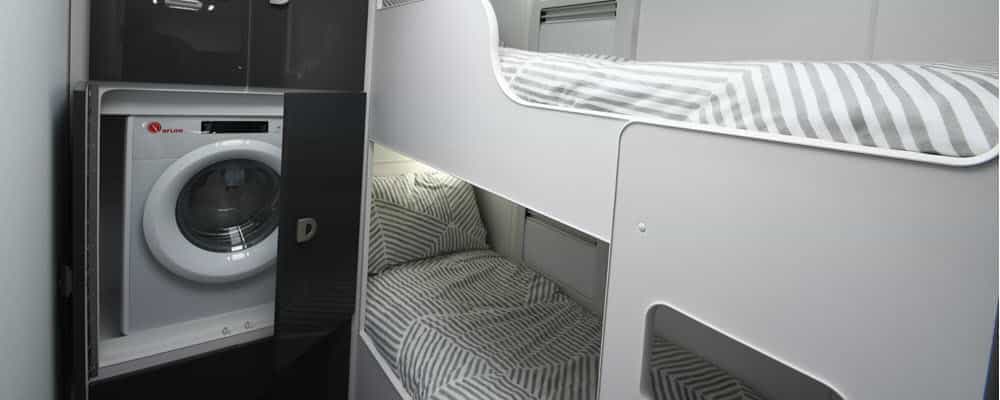 1. Use linen suitable for caravans
The most suitable caravan bedding includes adjustable sheets that fit even irregularly sized and shaped bed units, bunk and folding beds. Some of these can even be used as seat covers or bedspreads.
Select linen made of durable, high-quality fabric that's easy to wash and dry. These include fitted sheets, bed coverlets, duvets, dress pillows, plain pillowcases, cushions and curtains. For curtains, select fabrics that are block-out to keep the light out and help ensure a better night's sleep.
Also, choose curtains that are fire, mould and moisture resistant, and washable as the moisture buildup from extended periods of camping in the bush can cause your caravan bedding to become irritable.
2. Rotate the caravan cushions
If your caravan doesn't have a fixed-bed layout, and you need to convert the seating into your bed for the night, make sure to turn the cushions over. Doing this will provide you with a dead-flat sleeping platform that's great for the back.
Something extra you might think to bring, especially if sleep and comfort are of utmost importance on your caravan trip, is useful caravan bedding accessories such as mattress toppers with memory foam.
After turning the cushions over, you can set the mattress toppers on them, so you'll have a comfortable makeshift surface for the night.
3. Store bedding in ziploc vacuum bags
Whether you're going to a location nearby or you're travelling to the other side of Australia, additional caravan bedding such as pillows, duvets and sheets are a must.
However, these tend to be bulky and bothersome – things you'd want to avoid when you're in a place where space is limited. Since most of what's inside pillows and duvets is air, you can try using Ziploc vacuum bags to store each plump pillow and duvet set while on your trip.
These bags feature a simple one-way valve that can be connected to a small hand pump or vacuum for sucking out the air from the bag that you can then seal. Once done, you'd be surprised at how much space is freed up using this method. This way, you'll have less clutter and have more space for other essential caravan accessories.
You can even practice this once you get home.
Clean all the bedding, but this time, consider putting items back into the vacuum bags. Doing this means your bedding won't get damp or attract odours while in storage. Then, the next time you need to go caravanning, you'll have fresh and clean bedding ready for use.
4. Set the right temperature
Unlike the caravans of old, newer caravan models are no longer the leaky, cold and damp spaces they once were. Today's caravan-goers are fortunate to have warm, cosy and well-insulated units.
Knowing this, it's important to turn down (or even switch off) the heating at night. Reducing the temperature by around 3 to 4°C should be enough for a comfortable night's sleep. You may also consider opening a window (as long as it's safe to do so) if the heat of summer is too intense.
5. Decide on washing options beforehand
One of the more unpleasant consequences of caravanning is the piling up of soiled clothes.
If, like many caravanning enthusiasts, you've decided to travel light, having fewer clothes means making time for a bit of laundry along the way.
To keep the number of dirty clothes (and bed linen) in check, you have the following washing options during your caravan adventure:
Caravan park washing machines
Mini portable washing machines
Hand washing with a collapsible laundry tub
Using a washing bag
Bucket with screw-on lid
Or go one further and purchase a Crusader Caravan with many models including a washing machine as standard.
6. Ensure the caravan is level
Ensuring the caravan is level seems like a no-brainer for most; still, some people fail to take note of this. Not knowing how to level your caravan can actually lead to troublesome, poor quality sleep. Next thing you know, you'll be waking up in the morning tired with a bad headache.
If you set up camp on a slightly soggy pitch or soft ground, you may find that after a day or so, the caravan is no longer level, or it's become slightly tilted. To be sure, you can check how level your caravan is using a spirit level, so you can make a few readjustments to set the unit right.
Read on with these caravan tips: