Travelling with kids can be stressful but choosing a caravan holiday is a great option if you want the flexibility to do and see more, whilst enjoying comfortable accommodation.
You can easily bring all the toys, games and equipment you need with you and create a home away from home, wherever you are. It's also a more budget-friendly option than overseas travel or arranging hotels, especially if you have a large family.
A caravan holiday with children has unique benefits and new experiences such as helping build a campfire, exploring the outdoors around your camping area and meeting other families enjoying the same kind of holiday.
To keep your caravan holiday stress free and fun for everyone, keep the following tips in mind when you're planning your caravan trip with kids.
Get your kids involved in travel planning
Your children will be more excited about the trip if they're included in the planning process. It's also helpful to get their input about the places they'd like to visit and the activities they want to do.
Sit down together with a map and point out the places you'll be visiting. You can get your kids to help write out the itinerary and let them know how long it will take to drive between locations. This can help to avoid the inevitable "are we there yet?" when you set off.
Choose a family friendly caravan
Some caravans are better kitted out for travelling with kids than others. Opt for a model that's designed for families such as the Nova Family Escape, which has a queen bed and bunks at opposite ends of the van so there's room for everyone.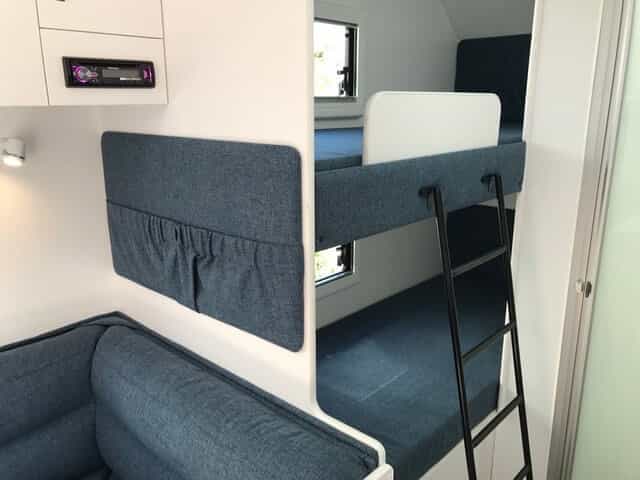 Family vans are usually built with two or three bunks but can be custom built for more. Another handy feature can be a table which converts the dining area into another bed.
Other family-friendly features might include a compact kitchen for cooking up family meals, a washing machine so you can easily stay on top of the laundry, and an ensuite with separate shower, toilet, and vanity.
Some bunk vans might have a compact "combo" shower/toilet rather than a full ensuite. If you're looking for a more compact family friendly caravan, have a look at some of the best caravans with a shower and toilet.
This gives you more living and sleeping space. You may not need a full ensuite if you plan to stay in caravan parks with ablution facilities. All the conveniences of home are included in a well-designed space, which is so important when you're travelling with young kids and 'roughing it' is no longer an attractive option.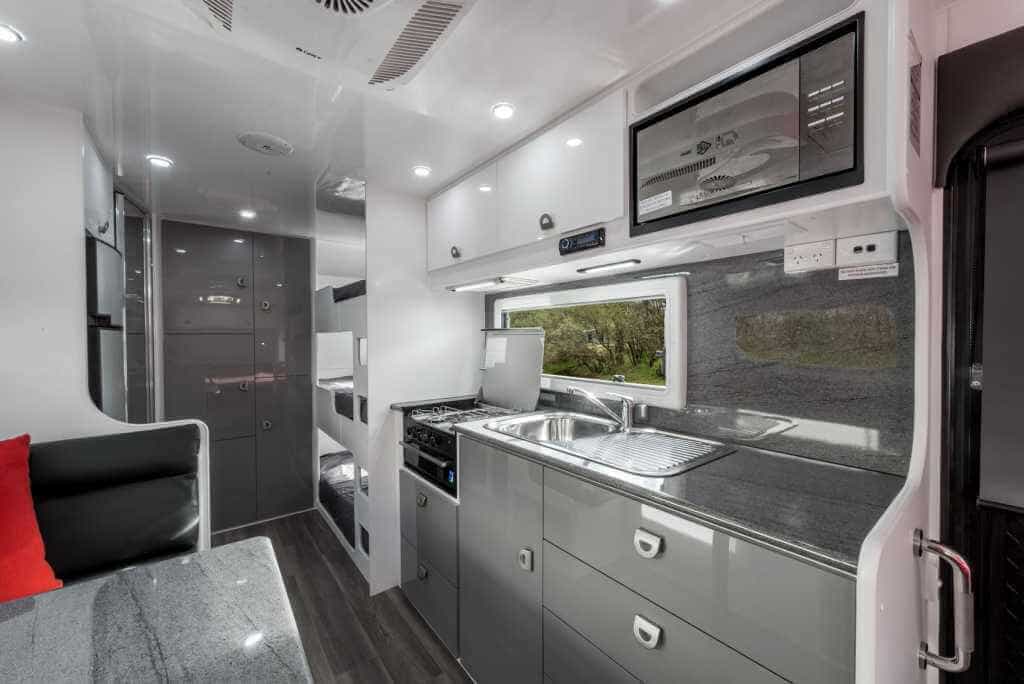 Look for a caravan which offers good storage spaces inside and out, but also take care to purchase a van which suits your vehicle. The team at Lewis RV can advise you which caravans might be suited to the towing capacity of your vehicle.
You should also consider whether you plan to explore off-road or just along bitumen roads as there are different warranties for different types of caravans.
Take plenty of snacks and activities for the car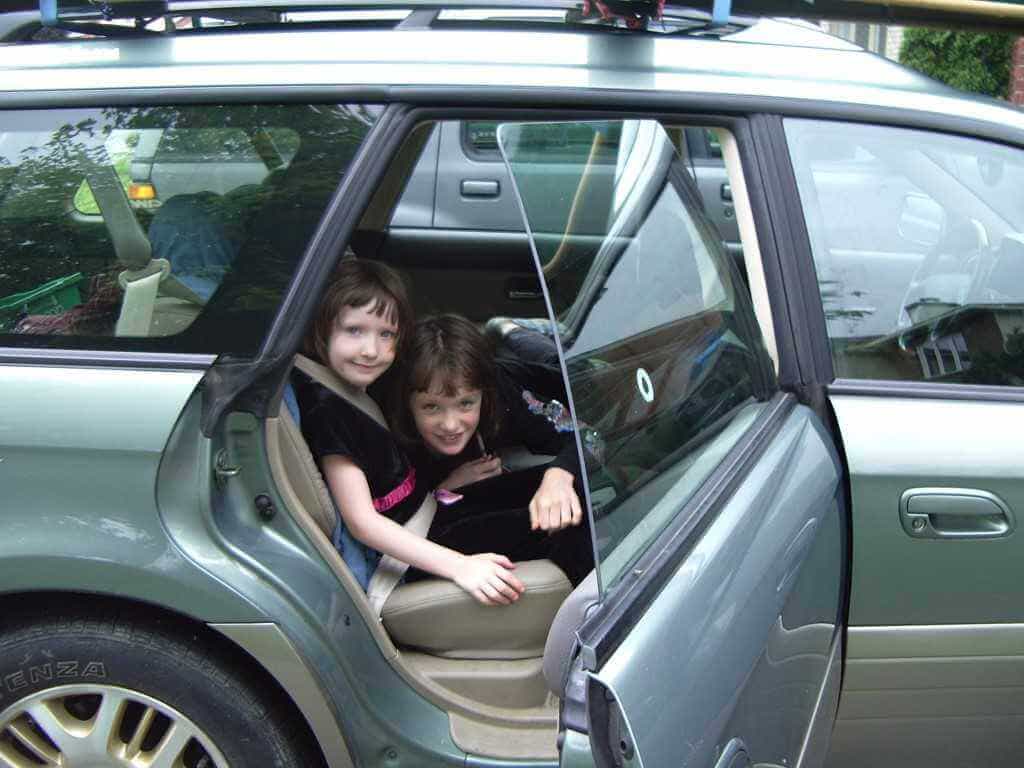 Children can get bored easily when driving long distances, so make sure you take plenty of things to keep them occupied.
Puzzle books and easy crafting activities like stickers provide an alternative to staring at a screen for hours on end, but DVDs are also a good way to keep the kids quiet for a couple of hours.
Keeping a scrapbook of their trip is a great way to remember everything and save bits such as tickets, photos, brochures.
Meals are a good opportunity to stop for breaks, but make sure you have plenty of snacks and drinks for consuming in the car too. Dried fruit and nuts and cereal bars keep energy levels high in a healthy way. You might also want to keep an emergency stash of lollies for when tempers are starting to fray.
Pack a first aid kit and keep safety first
Make sure you take a well-stocked first aid kit including band-aids, antiseptic cream, bandages, gauze, wipes, itch relief cream, and children's pain and fever reducers. Cuts, grazes, insect bites and stings are almost inevitable when you're spending lots of time outside. Being prepared can keep those tears to a minimum.
You should also educate your children on the potential dangers of being out in the bush and teach skills such as being aware of wildlife like snakes and spiders, being cautious near rivers and creeks, and safety around campfires. Make sure you always know where your kids are.
Stick to a routine
While it's easy for your normal routine to collapse when you're on holiday, it can be helpful for kids to stick to regular bed and meal times to avoid meltdowns caused by being over-tired or hungry. Routines can help children to feel secure and provide a timeframe that you can arrange activities around.
Enjoy your family caravan adventure
A little planning can help you to have the family holiday of a lifetime. Kids grow up fast but memories last forever. You'll never regret making the effort to enjoy some quality family time exploring the country. Travelling in a caravan is a great travel option that you can keep enjoying together year after year.
Need help choosing a family caravan for your next adventure? Talk to the friendly team at Lewis RV to find the best fit for your family.